In this neighborhood, a rooster strolls by buildings designed in Spanish Revival style. In front of the pastel-hued storefronts, vendors cut pieces of sugar cane with machetes, which passers-by purchase and chew to extract the sweet juice.
In another neighborhood not far away, other kinds of foods tempt hungry shoppers. Pigs' feet and papaya, coconuts and mud-thick coffee are among taste treats — some familiar, others less so — that stock grocery shelves and tiny carryout eateries.
The scene is very different in a section of the city where a nautical feeling pervades. Portholes, metal railings and deck-like porches speak of cruise ships and the sea. Other touches — like delicate friezes and a display of every pastel hue in the largest box of crayons — recall the dramatic Art Deco style of architecture.
Welcome to Miami and Miami Beach. Broad swatches of white sand, world-class shopping and glittering night life remain the major attractions for many visitors to that popular destination. But behind the glimmer of sun and glitz of entertainment lies a collection of diverse neighborhoods that offer an enticing mosaic of cultures, architecture and lifestyles for those seeking something more sedate, if enticing.
Enjoy an American Riviera in South Beach, Miami
South Beach, the two-square-mile enclave on the southern tip of Miami Beach, has been likened to an American Riviera. Shopping — window or otherwise — mixes world-famous designer names with local boutiques, galleries and antique outlets.
No matter what the time, the scene pulsates with life. Among people I've spotted gliding by on roller blades were a gray-haired couple holding hands, two policemen and a very large woman walking a very small white dog.
The whimsical architecture adds to the unique flavor. Dramatic styles from the 1920s-1940s, have names like Mediterranean, Zig Zag and Depression Moderne. A confetti-like mix of colors overwhelms the eye. This is the largest collection of Art Deco buildings in the world, more than 800 of them listed on the National Register of Historic Places.
A Taste of Haiti in Miami
The scene is very different in Little Haiti, Miami's most Caribbean community. During the late 1970s and early 1980s, more than 30,000 Haitians arrived in the city. Most of them settled in an area north of downtown, transforming the neighborhood with their culture.
Today, as then, women in colorful flowing dresses gather at markets to buy coconuts, plantain, salt pork and other favorite foods. Shops sell "kremas mapou," a blend of milk, egg yolk, sugar cane and light alcohol, and flaky dough pockets brimming with meat, fish — and flavor.
Tiny "botanicas" offer medicinal herbs, incense and other supplies for voodoo ceremonies. Dolls and pins are available for casting spells intended to bring happiness to friends and grief to others.
Cuban Coffee, Cigars and Color Greet Visitors to Miami's "Little Havana"
Cigars and dominoes predominate in another enclave known as Little Havana, along with other touches of the atmosphere of the island-country that lies only 90 miles from the southern tip of Florida. Signs are both "en espanol" and in English. Shops sell "fotos de Cuba," embroidered "guayabera" shirts and memorabilia.
Cuban music blares from radios that broadcast from storefront and house windows. The aroma of high-octane "café Cubano" draws people into little bakeries and snack shops.
Visitors to the streets surrounding Calle Ocho (8th Street) may stop by "tabacaleras" to purchase cigars made with tobacco from Cuban seed that is grown in several Central American and Caribbean countries. They also may check out markets where what some consider unusual parts of pigs and other animals are sold, along with tropical fruits and vegetables.
At Domino Park, gray-haired men puffing on cigars loudly slap
tiles onto tables in good-natured competition. The contest of which player makes the loudest noise with his dominoes seems as important as who wins the game.
Coconut Grove is home to descendants of Bahamians who were among the first settlers in the area during the late 19th century. Bahamian-style wooden homes serve as reminders of those early residents.
They were followed by writers, artists and other intellectuals, and later by hippies and counter-culture types. In recent years, gentrification and rising housing costs have priced many of them out of the neighborhood. A multitude of shops, galleries and cafes have sprung up along what has evolved into one of Miami's most pedestrian-friendly areas.
That is especially true at CocoWalk, a Mediterranean-style open-air mall that bustles with almost round-the-clock activity. Strollers may pause to listen to flamenco music, catch a comedy show or see a street magician baffle the crowd.
A must-see attraction in the neighborhood is the Vizcaya Museum and Gardens, the former home of millionaire industrialist James Deering. Built in the style of an Italian palazzo, the museum's 34 rooms, of 70 in the mansion, are packed with costly art and antiques. Surrounding the opulent palace are European gardens encircled by the tangled wildlife of a Florida hammock.
Coral Gables, Miami, the "City Beautiful"
Coral Gables is adjacent to Little Havana, but far apart in terms of atmosphere. Built during the 1920s by developer George Merrick, who called it the "City Beautiful," it was one of the first fully planned communities in the country.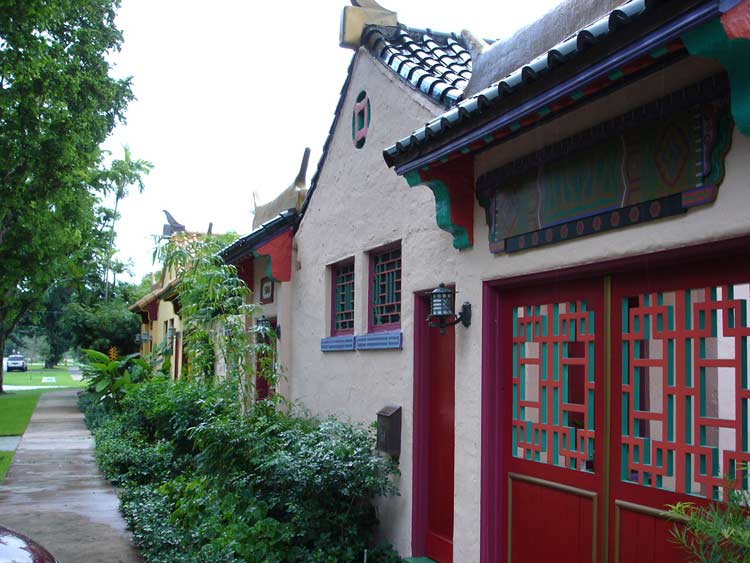 Merrick envisioned a kind of American Venice, interlaced with canals lined by gracious Mediterranean-style homes, splashing fountains and ornate gateways. Broad boulevards and lush landscaping complete the picture. Adding a touch of whimsy are "international villages" with homes in French, Normandy, Dutch, Chinese and other modes.
The Venetian Pool, built in a quarry that provided stone for many Coral Gables homes, is a fantasyland of caves, arched bridges and waterfalls set among lush tropical foliage.
The feeling of fantasy evoked at Coral Gables stands in stark contrast to the earthy lifestyle in Little Haiti and Little Havana. It is this intriguing variety that presents enticing alternatives beyond the sun and sand vacation attractions that draw the majority of visitors to Miami.
If You Go
For more information about Miami/Miami Beach and its neighborhoods, log onto Miami and Beaches .