"The Magic City" is a lofty nickname that Miami more than lives up to. With mild weather, beautiful beaches, a culinary scene that is as "fuego" as the spices used, plus an abundance of activities, Miami has a little something for everyone.
Visitors to this playground on the southern shores are in for some unique treats.
Where to Stay in Miami
W South Beach offers guests not only a beautiful property but a prime location to experience the most Miami has to offer. The pool (where celebrities have been known to enjoy cabana service at the E WOW cabana) is a see-and-be-seen spot only steps from the beach.
An extensive bar menu and plenty of areas to relax are primed for both A-listers and those looking for a sun-soaked getaway. Rooms have ocean views, and the E WOW penthouse suite is a luxury well spent complete with sweeping views, outdoor space and its own rooftop terrace pool.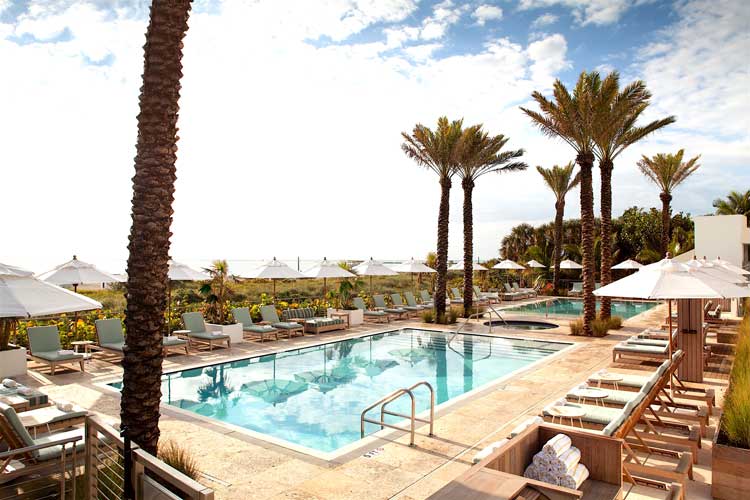 Mondrian South Beach Hotel, across the water from the exclusive Star Island residential neighborhood, offers panoramic views of Biscayne Bay. Sleek spaces with artful touches are found throughout the property, from rooms to lounges, the poolside terrace and elegant Mondrian Caffe restaurant.
Sipping a cocktail poolside while watching the boats go in and out of the Bay, visitors will find the relaxed pace a welcome South Beach refuge.
For an art deco experience, a stay at Stanton South Beach is a great option. Just south of the Marjory Stoneman Douglas Ocean Park, the oceanfront property affords guests cozy nooks and a prime pool deck steps from the beach.
The Azabu sushi restaurant is a must while in the area, with only 16 highly sought-after seats available at the sushi bar.
What to Do in Miami
The Frost Museum is a modern museum marvel for all ages, featuring the journey from the surface of the ocean to its depths. Thalassophiles will especially love the Gulf Stream Occulus, a 31-foot acrylic viewing platform into the wonders of the ocean as schools of fish, drifting sharks and flying rays whirl in front of visitors.
Wynwood Walls is a "must do" while in Miami, displaying world-renowned artists' work on murals throughout the open-air gallery of 90 murals on 40+ walls and surfaces. Marvel at the murals, take in an exhibit or purchase your own piece in this artist and art lover paradise of Miami.
Bal Harbour Shops is world-class shopping destination, with customers flying in from all over the globe to peruse storefronts such as De Beers Jewelers, Christofle Paris, Fendi Roma and Oscar de la Renta.
Opened in 1965, the notable shopping complex celebrated many "firsts" in the luxury shopping industry: enticing Neiman Marcus to open its first store outside of its native Texas, opening stores that were only found in New York and Europe previously, and now boasting a whopping 450,000-square-foot al fresco shopping experience.
For a bit of relaxation, head to the Rèmede Spa at St. Regis Bal Harbour, where the art-deco design of the property will take your breath away, while the customized message will soothe shopping-tired muscles.
With more than 100 bikes, Bike Miami is a great way to enjoy the city like a local. With two locations in South Beach and one downtown, guests can enjoy guided bike tours or appreciate beachside bike paths on their own.
Where to Eat in Miami
The new Bakan restaurant features specialty Mezcals, with authentic Latin food and house-made tortillas to boot. An indoor/outdoor space, it's a quick walk from Wynwood Walls. Gooey Queso Fundido, octopus tacos, watermelon Sera Melon and Sera Sandia margaritas are all spectacularly delicious at this family-style restaurant.
Gianni's at The Villa is located within the historic residence of the late Gianni Versace. Now The Villa Casa Casuarina, the former mansion welcomes diners to the incredible poolside spot for delightful cuisine. The unique experience includes a bar in a converted bedroom, a central courtyard and Ocean Drive location that are all exquisite and make for a memorable meal.
Located in the South of Fifth neighborhood, Upland Miami is the South Florida outpost of Chef Justin Smillie's New York restaurant, Upland.
A coastal version of its New York sister, Upland Miami is a chic spot to enjoy everything from a Margherita pizza to a bucatini cacao e pepe, from Kabayaki trout to char-grilled skirt steak, all while basking in the glow of lighted preserved lemon jars lining the walls.
Juvia Miami Beach soars above all others – literally. Located on a rooftop deck, the Peruvian, Japanese and French styles of culinary preparation are a unique and refreshing take on Miami cuisine. A living wall mirrors a stunning city skyline view, while everything from cocktails to artfully plated entrees stream from the bar and kitchen to eager eaters. Open for brunch and dinner, both experiences are unique and definitely should be relished.
Miami for Vegans
Miami is known for its warm weather, colorful nightlife, and fantastic beaches. But did you know the city also has an excellent vegan food selection? Whether you're a vegan considering moving to Miami, or a current local renting an apartment in Miami Beach, the city is jam-packed with all the mouth-watering vegan food you'll need.
To help you decide which spots to check out first, we reached out to vegan food experts and asked them to share the best vegan restaurant food in the city. Trust me, this list does not disappoint.
Read the full article here: Moving to the Magic City? Check Out the Best Vegan Restaurants in Miami | Redfin
Tips on Visiting Miami
Use Uber to get around Miami. Once in the city, many stops are close by or within walking distance.
Make dining reservations, as Miami's hot spots book up quickly. Casual chic attire is usually suitable for the dining scene.
Head to the beach, but be careful of Portuguese Man of War jellyfish. The colorful blue balloon-like marine life carry a painful sting.
Miami weather is typically pretty warm, staying in the 70s and 80s most of the year. Rain showers happen, but usually pass quickly, so even if the forecast calls for rain, you can usually be on your way to the beach after a short sprinkle.
Author: Chad Chisholm is a freelance commercial photographer and travel writer. Whether shooting architecture, lifestyle or food & beverage, his assignments take him around the globe. www.creationize.com