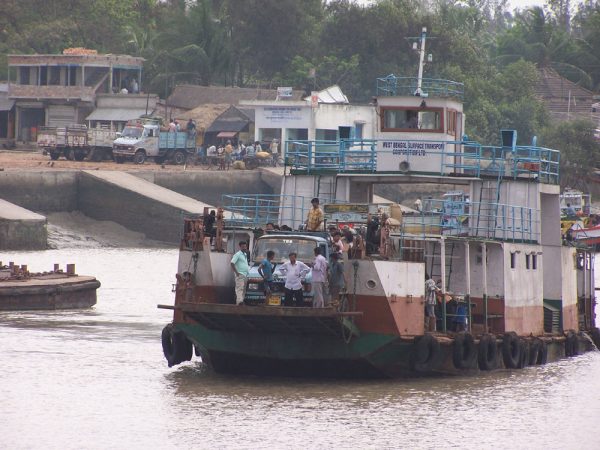 Stories such as these undoubtedly help to raise the aura about a place. Bakkhali too has been beautified and illuminated for tourists. The dilapidated house of Andrew Fraser, and the nooks and corners of Bakkhali where the lovers apparently met, are often pointed out to attract the interest of tourist thus elevating the magnetism of this sleepy sea resort.
Every evening the Bakkhali shoreline is abuzz with activities as fishermen return from the sea with their catch. As the sandy beach glistens with the silver toils of their labor, every house has a smile as good business is happily assured. Fishing is one of the major occupations for the people of the region with many families depending on it as their main source of livelihood. We join in the foray to get a good bargain for our menu back home.
Meanwhile in the horizon, there starts an oft repeated game that creates an alluring effect over the staid ocean lacing the islands. The sun prods the sea and both tickle themselves red over a hearty laugh. The gulls join in the laughter and their concerted cacophony makes us realize it is time to head home. As we trudge back along the shoreline, the diminishing light plays on our senses and we seem to envision the love lost lady yearning for her shipwrecked lover. Praying for her soul that blesses these lands, we move on to explore new stories that are waiting to help us build new memories and deliver new promises.
If You Go to Bakkali:
For best places to stay:
https://www.wbtdc.gov.in/
It would be ideal to base your stay in Kolkata and make a weekend trip to the sea side hamlet. For accommodation options in Kolkata visit:
https://www.tripadvisor.in/Hotels-g304558-Kolkata_Calcutta_West_Bengal-Hotels.html
Author bio: Amrita Chatterjee was born in Kolkata, India. Her early childhood memories are predominated by the storytelling sessions with her grandmother who used to weave a mesmerizing web of fiction that moved across continents and cultures and introduced her to a whole new world beyond the one she was living in. Amrita became intrigued to discover this exciting world and the treasures it encompassed. 
[mappress mapid="983″]