If you want to get a feel for Europe, travel to Switzerland.
That's the recommendation I got from a Switzerland Tourism representative at a press event in Denver. Swiss representatives were there talking about Edelweiss, a sister company to SWISS, that had just launched a direct international flight from Denver to Zürich.
Grand Tour of Switzerland
Switzerland's tourism board had come to convince us that Switzerland was a worthwhile destination. Which doesn't exactly require a hard sell because — Switzerland.
But there I was, being sold on things like pristine lakes – "Switzerland is so clean you can jump in any lake in any village!" – and legendary hiking – "We have 30,000 miles of well-marked and maintained trails!" – and five-star, celebrity hotels: "Audrey Hepburn was married in a chapel at the Bürgenstock Resort," the man at the podium proclaimed, adding, "Alfred Hitchcock got the idea for The Birds at Badrutt's Palace Hotel!"
"We're a small county, centrally located in Europe," he continued, adding, "We've absorbed the best parts of our surrounding countries. If you want to get a feel for Europe, come to Switzerland."
Challenge accepted.
Edelweiss Air
I boarded one of Edelweiss's debut flights from Denver to Zürich, beginning a weeklong tour through the topographical and cultural mosaic known as Switzerland.
Bordered by five countries – Italy, France, Germany, Austria, and Liechtenstein – Switzerland has four national languages: French, German, Italian, and Romansh, the latter of which, a romance language of the Rhaetian people, is spoken by a handful of Swiss in the eastern canton of Graubünden.
The country's 26 cantons (similar to states) are cut by the Alps, and most of Switzerland's 8.4 million residents live on the Central Plateau, many in Geneva and Zürich.
Switzerland's Urban Core
Zürich, a bustling city and banking hub, hosts a thriving arts scene, and claims the county's top nightlife. But it's more than the sum of its metropolitan amenities: Zürich is a reminder that, sometimes, man's creations can actually embellish nature.
Beginning at Lake Zürich's outfall, the Limmat River moves through Zürich's center, its shoreline interrupted by waterfront promenades and Gothic spires. Are the old churches shooting up toward heaven, or is an almighty being reaching down? Zürich makes you wonder about the true location of paradise.
It's natural to want to linger, but you'll have to keep moving if you're going to "get a feel for Europe." Switzerland's most densely populated canton (Zürich) differs from its westernmost cantons of Neuchatel, Geneva, and Jura, and from its southern tip, too, where Italian culture activates the canton of Ticino.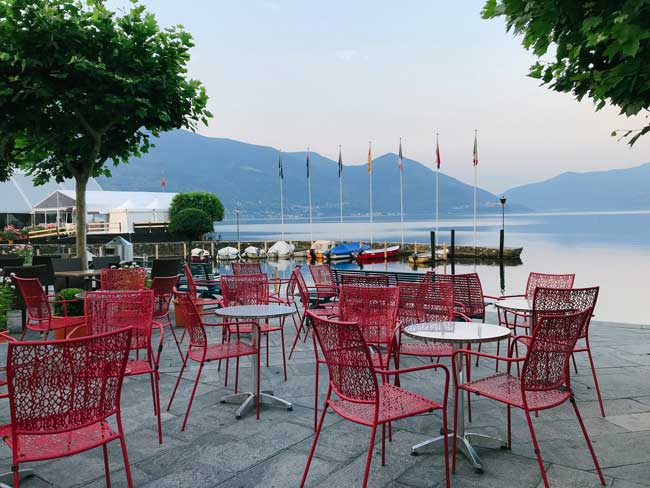 Getting Around in Switzerland
There are two options for tourists looking to travel Switzerland: the Grand Tour of Switzerland and the Swiss Travel Pass.
The Grand Tour of Switzerland is a scenic, 1,000-mile, self-guided drive passing 22 lakes, 12 UNESCO World Heritage Sites, and two biosphere reserves. To do the Grand Tour, you must: (1) rent a car in Zürich, one of four "starting points," and (2) obtain a Michelin Green Guide Grand Tour of Switzerland book, available online for $14.95.
"The Grand Tour is no place for speed, or, indeed, for completion in one sitting," according to the thick guidebook, which is loaded with restaurant, hotel, and sightseeing advice. Varying in length from 29 miles to 113 miles, the Grand Tour's 10 stages are meant to be traveled clockwise, from Zürich to Basel.
"To complete the Tour in one continuous journey would take a most enjoyable month," according to the guidebook. But several folks assured me that the road trip can be done in nine most enjoyable days.
Swiss Travel Pass
My preference was piecemeal consumption with a Swiss Travel Pass, an "all-in-one ticket" granting out-of-towners easy access to Switzerland's public transport network of trains, boats, and buses. (Don't worry: Swiss buses aren't anything like Greyhound buses.)
The small print is as follows: A Swiss Travel Pass offers unlimited transit on three, four, eight, and 15 consecutive days. Eight-day adult passes start at 398 CHF, and flex passes are available, too, for those who will be in transit on non-consecutive days. Children 16 and under travel free, and discounted youth rates are available for travelers under 26.
In addition to unlimited transit, the pass includes free admission to more than 500 Swiss museums, discounts on mountain excursions, and travel on premium panorama trains, including the breathtaking Glacier Express (highly recommend). You can also
Discover Europe by Train with Eurail.
Eden Roc
Technically I only spent two nights in Eden — in Eden Roc, that is, a standout hotel in Ascona, a chic southern village bragging the highest concentration of five-star hotels in Ticino.
Traversing Switzerland's eastern hemisphere, I hit Zürich, Chur, St. Moritz, Lugano, and Ascona. While Ascona's colorful architecture resembled Cinque Terre, Italy, the Swiss countryside (St. Moritz) looked exactly like what I'd been expecting from the Swiss Miss canister and the Heidi VHS box. Snow-capped alpine peaks cradled sparkling lakes, and framed meadows inhabited by roaming goats and cows with bells dangling from their necks.
What to Do in Switzerland
This Swiss are an active bunch. A native diet of gourmet cheese, chocolate, and wine sustained me during activities ranging from golf (try Golf Patriziale Ascona) to stand-up paddle boarding, mountain biking, and hiking galore.
Swiss wines aren't particularly expensive, but they're exclusive nonetheless, because you can't get them anywhere else in the world. Only 1 percent of wine produced in Switzerland is exported. It's not snobbery, just basic economics.
At 8 CHF per kilogram of grapes, raw materials are pricey. Add to that taxes and shipping fees, and it's too expensive to export Swiss wine. So it stays in Switzerland, and that's all the more reason to enjoy a few glasses of, say, a white merlot from the winery Delea, or any other local vineyard, for that matter.
I didn't have a single dip of fondue, a meal reserved for winter and special occasions. There was plenty of other satisfying fare, though, including creamy risotto at the Grotto America in Ponte Brolla, and exclusive cheese and charcuterie at Gabbani in Lugano.
At the alp hut Languard, I ate foraged mushrooms before sampling cheese-drenched vegetable capuns (traditional Swiss fare) at Chesa Veglia in St. Moritz. There are plenty of chocolate shops, too, but the chocolate stilettos at the Gianottis in Pontresina won my affection.
"We do eat some interesting foods," Switzerland Tourism's Sheila Moser said to me one night, over a gourmet dinner at the historic Hotel Chesa Salis in Bever.
"Oh?" I asked, before taking a bite of my vegetarian entrée, a plate of fresh vegetables, vegan sauces, and organic micro-greens.
Sheila rattled off a few examples: "Goat, marmot, horse," she said with a quick nod and a smile. It takes a certain je ne sais quoi to broach the subject of horsemeat with a vegetarian without inciting a scene. Sheila possesses that indefinable, pleasing quality. I think all the Swiss I met have it.
It's hard to complain about anything while sipping sparkling rosé on a Cook & Cruise boat ride across Lake Lugano on a warm summer day. But I did have one gripe for Sheila.
"Switzerland is too perfect," I grumbled. "My writing will never do it justice."
If You Travel to Switzerland
Switzerland Tourism: MySwitzerland.com
Grand Tour of Switzerland: https://grandtour.myswitzerland.com/en/
Swiss Travel Pass: https://www.sbb.ch/en/leisure-holidays/travel-in-switzerland/international-guests/swiss-travel-pass.html
Author Bio: Jamie Siebrase is a Denver-based travel journalist and a member of the Society of American Travel Writers. She covers family, adventure, and luxury travel for a variety of publications.  
Latest posts by Janna Graber
(see all)