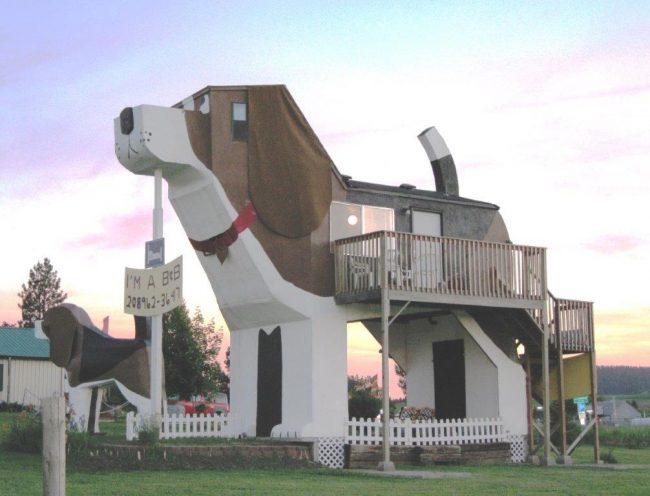 When it comes to finding a place to stay the night, you don't have to settle for blasé hotel rooms. Opportunities abound for those seeking a unique place to stay. Here are 10 of the most unusual accommodations in the United States.
A Beagle-Themed Inn
Are you a dog lover? Then check out the "world's biggest beagle." Overnight guests at the Dog Bark Park Inn B&B in Cottonwood, Idaho enter a 30-foot-high beagle-shaped structure that offers the usual hotel amenities.
The inn is a throwback to the kind of roadside architecture that was popular in the early days of automobile vacation travel. The unique B&B is open April 1-October 31. For more information, call (208) 962-3647 or visit dogbarkparkinn.com.
Deserted Island
In the Deserted Island room, you can sleep in a giant oyster-shaped bed (it even opens and closes) and be surrounded with island décor. This plush penthouse is one of 18 themed quarters at the Adventure Suites in New Hampshire.
Others include the Dragon's Lair, where guests sleep in a "floating" round bed, and The Jungle, a room complete with thatch roof and waterfall. For more information call (603) 356-9744 or log onto adventuresuites.com.
From Rail to Sail
Train buffs who check into the Chattanooga Choo Choo Hotel in Tennessee will think they've gone to railroad heaven. Along with standard hotel accommodations, there are four dozen train car rooms. They're lavishly decorated with Victorian furnishings, yet provide today's modern conveniences. For more information call (800) 872-2529 or log onto choochoo.com.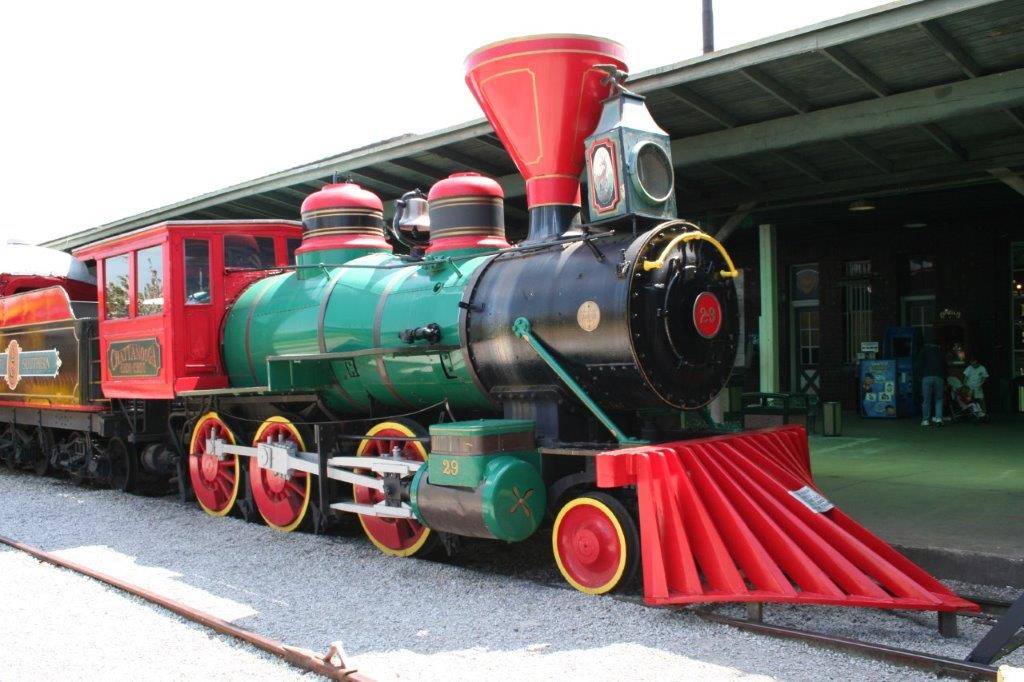 The accommodations are less luxurious, but equally as intriguing, aboard a World War II submarine moored along the shoreline of Lake Michigan in Wisconsin. The USS Cobia was launched in 1943 and saw action in the Pacific, sinking a total of 13 enemy ships. Guests, who bring their own bedding, receive a guided tour and admission to the museum the following day. For more information call (866) 724-2356 or log onto wisconsinmaratime.org.
Overnight in a Treehouse
Those who prefer to rise above it all have inviting alternatives. Some choose to relive childhood memories of playing in a treehouse. At TreeHouse Point, located in a lush forest near Seattle, Washington, cabins are perched above the aptly named Raging River.
The property offers, a "personal encounter with the trees and nature." Guests access their rooms by way of stairs or a swinging walkway, and find cabins that are rustic but comfortably furnished. For more information call (425) 441-8087 or log onto treehousepoint.com.
Another room with a view, the Jersey Jim Fire Lookout Tower, was built for a more serious purpose than playing in a treehouse. It's one of the hundreds of structures once located around the country from which forest rangers kept a lookout for fires.
Located in the San Juan National Forest in Colorado, the cabin sits 55 feet (and 70 steps) above a meadow at an elevation of almost 10,000 feet. Inside are the original furniture and ranger logbook, along with propane-powered heating, lighting, refrigerator and oven. The tower is available from late May to mid-October. For more information call (970) 533-7060.
Although it's 20 feet shorter than the fire tower, the Rose Island Lighthouse offers an equally dramatic, if different, view. It overlooks Narragansett Bay along the coast of Rhode Island.
The base of the lighthouse is a museum that occupies rooms that have been restored as if keepers still lived there. In fact, it's possible to become a keeper, sort of, for a night or longer. Short-term guests take care of a few chores like raising and lowering the flag and turning on the generator.
Those who opt to become a keeper for a week have additional responsibilities, including checking the weather on the radio and recording and managing the wind-powered electric and rainwater gathering systems.
After completing their tasks, keepers are free to swim, fish, use the kayaks or just take in the scenic setting from the top of the tower. The price of this unique experience for two people is $225-$350 a night and $1,000-$2,300 for weekly lighthouse keepers. For more information, call (401) 847-4242or log onto roseislandlighthouse.org.
Staying Low
Kokopelli's Cave Bed & Breakfast in Farmington, New Mexico is no mere hole in the ground. Carved into a 65-million-year-old sandstone cliff face, and almost 1,700 square feet in size, the carpeted grotto includes a full kitchen and bathroom, television, DVD player and other amenities not expected 70 feet below ground. The cave can accommodate up to four people. For more information, call (505) 860-3812 or log onto kokoscave.com.
Another low-down experience awaits guests at Jules Undersea Lodge. Originally built as an underwater research laboratory, the mini-hotel sits on the floor of a mangrove lagoon off Key Largo, Florida. The living area includes two bedrooms and a common space that serves as the galley, dining and entertainment area.
The best entertainment is provided by 42-inch round windows which look out onto a gathering place for angelfish, barracuda, snapper and other reef fish. It's even possible to enjoy a meal prepared by a chef who dives down to the hotel and prepares a gourmet dinner.
Non-divers receive a brief introductory course that allows them to access the lodge using scuba gear which is provided. Rates are $800 a night for two people and $350 per person for three or four. For more information call (305) 451-2353 or log onto jul.com.
Back to Basics
Some accommodations appeal to folks seeking a less exotic experience. That certainly applies to the Shady Dell in Bisbee, Arizona about 90 miles southeast of Tucson.
In 1927, it began to provide trailer and camping space for travelers along U.S. Route 80, the first all-weather coast-to-coast highway. Today Shady Dell puts up folks in 10 fully-furnished vintage trailers. Several of them have a toilet and sink, and group shower and bathroom facilities are available for the others. For more information, call (520) 432-3567 or visit theshadydell.com.
The word "basic" certainly applies to a home-away-from-home located in the Mississippi Delta region, with refurbished share-croppers shacks and tenant houses furnished in what is described as "a flea market lover's dream."
The atmosphere at the colorfully named Shack Up Inn in Mississippi lives up, or perhaps down, to that moniker and to its motto: "The Ritz we ain't." Once guests get past the ramshackle outside appearance of the little houses, they find rooms that have been renovated to add electricity, plumbing, heat and air conditioning. Mismatched furniture, walls adorned with old photographs and other period pieces embellish the theme. For more information call (662) 624-8329 or log onto shackupinn.com.
Author Bio: After gallivanting throughout the United States and to more than 75 other countries around the world, and writing about what he sees, does and learns, Victor Block retains the travel bug. He firmly believes that travel is the best possible education, and claims he still has a lot to learn. He loves to explore new destinations and cultures, and his stories about them have won a number of writing awards. Read his travel blog on Go World Travel.