My first attempt at a treehouse was a collaborative project with neighborhood friends in 1960-something. An aged maple standing alone in an empty lot provided the canvas.
A few 2×4's purloined from behind one of our garages, several 2×6 planks salvaged from the scrap-pile of a construction-site and whatever hammers, saws and nails we could "borrow" from our father's work-benches gave us the means.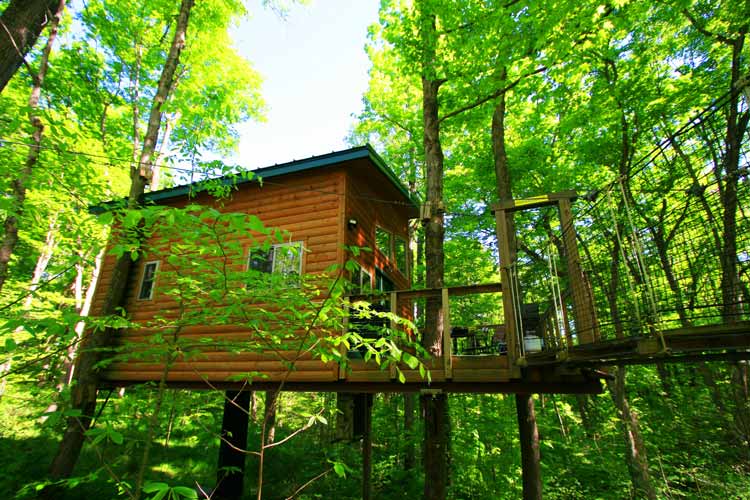 The 2×4's were used for the frame, the planks were the living area and an over-eager use of 8-&-16 penny nails ensured it was going nowhere. Architecturally, it had little appeal to discerning eyes, but for us, it was a masterpiece of grand proportions and provided an escape from terra firma. 
It gave us a brief feeling of stepping away from the bright glare of parents, the responsibility of chores and the ability to escape into our own kingdom.
That tree and its accompanying platform are long gone. However, the want of escapism and solitude still calls, and so it came that my wife, Kathy, and I found ourselves standing before our own house among the trees deep in the woods of southeastern Ohio. At least it was to be our tree-top nest for the next 3 days.
Maple View Treehouse
Christened the Maple View Tree House, it was built and is operated by Among the Trees Lodging. This treehouse is no slip-shod affair. Secured by four towering sugar Maple trees, the two-story log-built nest suspended in mid-air blended with the forest surrounding it.
A cable suspension bridge led us to a wide deck overlooking a deep ravine that fell some 20' away from it. As we trundled our belongings across the swaying bridge, a blue jay shot by screaming a warning as a nearby squirrel barked its annoyance. We had been announced.
Inside we found a 475-square foot model of compact efficiency. The knotty-pine shiplap interior walls brought the forest inside with us and provided a natural warmth. The front room held a sofa, chair, and electric fireplace, framed by large windows allowing for vibrant views.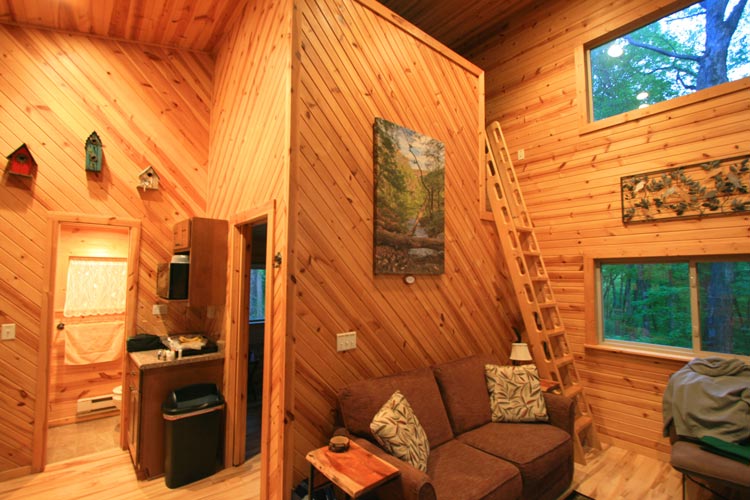 The kitchenette was equipped with a full fridge, sink, two-burner hot-plate, toaster oven & coffee-pot. A bathroom equipped with shower & toilet and a separate master bedroom with queen-sized bed completed the lower level.
A loft with twin beds finished our tree-top apartment. The nearly horizontal ladder to the loft might appeal to the young at heart, but could be a challenge to those lacking agility.
Once we had settled in, it was hard not to notice the solitude. Even check-in was a socially distanced affair. We were provided very descriptive directions on how to locate the property.
After we exited the highway, we followed a county road to a single lane bridge which led us down a gravel path, up a hill and through the woods, so to speak. Even checking-in required no human interaction; we were emailed an access code, and entered the treehouse using a keypad on the front door.
Silence of the Woods
During the entire 3 day stay, we saw no other humans on the property. We knew they were there, we just never saw them.
As darkness fell, a silence took hold of the woods that was deafening in its total lack of man-made noise. There was no traffic clamor to infiltrate our thoughts. Voices, loud or otherwise, were non-existent other than our own whispered words. The normal intrusions of "civilized life" simply weren't there.
It's not that the night was completely silent. An owl announced himself. The occasional rustle of the forest floor below us let us know that there was life out there. It was a type of silence that awoke the senses to a different world.
Above us, a full moon's shaft of light dissipated through the green canopy like a prism, splaying so many rays across the deck like miniature spot-lights. Soon we found ourselves enjoying the nocturnal "quiet" of the night-enveloped woods.
The following morning we were greeted by the orchestral renderings of an avian host. As wood thrushes and eastern towhees laid-down their continuous harmonizing, vireos warbled in accompaniment as chickadees and cardinals added in their timely refrains creating a melodic wake-up call while I sipped a mug of black coffee and sat in aural enchantment. Only the occasional caw of a tone-deaf crow sounded a discordant note.
After preparing a breakfast of pancakes and sausage using the gas-grill on the deck, we decided to explore the woods.
Hiking Near Treehouse
There is a 1.4 mile round trip hiking trail that runs around the 87 acre property, called the Heart Trail.  As we crested the initial ridge, a flock of turkeys bobbed their way across the trail, neither in a hurry nor having any interest in meeting us.
Downwards from the ridge we encountered a no-name stream as the trail followed its meandering course past a couple of small waterfalls. Across a dew-drenched meadow, past dogwoods in full flower we re-entered the forest and startled a small herd of deer, or they startled us as they went charging off into the deep brush, bounding over deadfall with the ease of an Olympian hurdler but with far more grace.
Shortly thereafter, we re-discovered the stream as it trickled over the lip of a cave and disappeared beneath the strata of a tumble of sandstone boulders before reemerging on the other side. A short hike from there took us to the #12 lock on the historic Hocking Canal, otherwise known as the "Sheep's Pen Lock".
The Hocking Canal, which hugs the property's boundary, opened in 1841 and was a major thoroughfare for coal, salt and lumber until its abandonment in the 1890's. Today, its slack waters are home to fish, deep-throated frogs sounding their bass-toned croaks and a family of ducks.
The trail continued to loop around the property, back uphill and past two other treehouses on the property.  Located in the Hocking Hills area of central Ohio, the 87-acre forest is owned by Linda and John Klug.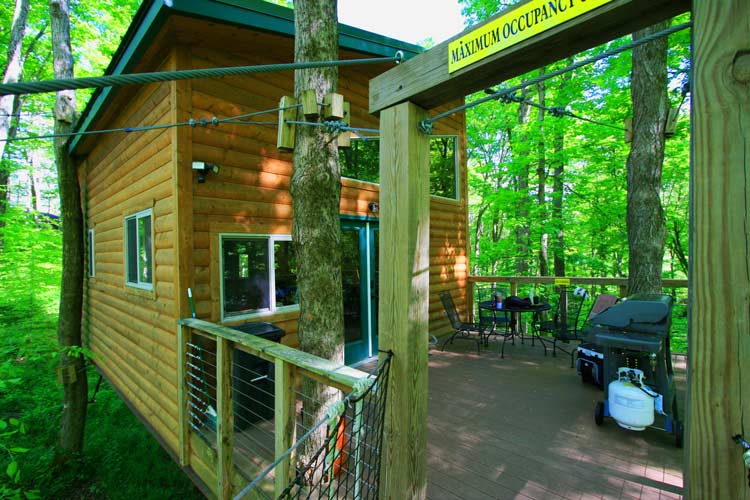 Tree-Top Lodging
Transplanted Californians, they purchased the property in 2016 to be nearer their Midwestern family and began construction on their idea of tree-top Lodging.
Each of the three houses of Among the Trees Lodging has a different theme: One is a miniature version of an aged barn, another is an octagonal-shaped getaway for two and, of course, the one we chose and their first treehouse features the maples and its sleeping loft. Each treehouse is separated from and not visible to the other, providing a comfortable seclusion.
In this day-and-age of instant digital gratification, be forewarned there is no cable or Wi-Fi available; there is a TV and DVD player. In addition, being that deep in the woods we seldom had a cellphone signal, either. It provided a wonderful sense of detachment.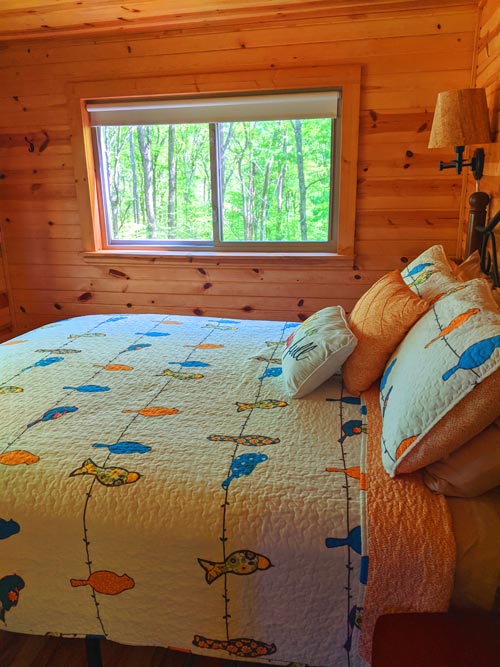 The Maple View Tree House proved a great base to explore the Hocking Valley region of Ohio. It rekindled childhood adventures while fulfilling the comforts desired by adult sensibilities. Each day that we left its wondrous heights, we found ourselves drawn back earlier and earlier to enjoy its peaceful pauses from the crowds.
Our final evening, we sat watching daylight disappear behind the trees and below the horizon. From our front row seats on the deck, we listened as the evening chorus from our feathered friends reached its crescendo. A woodpecker played taps against the bark of a distant tree.
Our three days in a treehouse were a pure escape from a concrete world of deadlines, digital overload and sensory deadening pandemonium. It was a quiet escape…among the trees.
Book This Treehouse Trip
Among the Trees Lodging is located in unincorporated Rockbridge, Ohio between Lancaster and Logan, approximately 35 miles southeast of Columbus, Ohio.
For the ultimate flight discounts, car rental options and vacation packages, check out CheapOair.
https://amongthetreeslodging.com/
Author's Bio: Frank Hosek is an Illinois-based Director of Human Resources who revels in traveling with his wife, Kathy.  He enjoys discovering new experiences, meeting the people that make those experiences enjoyable, and sharing their adventures. He is a freelance writer for newspapers and travel websites.