Many of us are waiting with bated breath for our Earth to regain some normalcy after the COVID-19 lockdowns.
We dream of a day when restrictions can be lifted, and we are able to explore and connect with the far-off places of our world once more.
Zimbabwean Artist Larry Norton
In the meantime, you can sit back and be inspired for your next African safari by the work of African artist, Larry Norton. His work will transport you virtually, to the dusty savannas and teeming herds of Africa's wild places.
Larry was born in Zimbabwe and grew up on a farm resting at the base of the Great Dyke range. He began drawing as a young boy, learning from his grandmother who gave him his very first set of oil paints. Hunting and fishing trips to the Zambezi Valley with his parents sparked a love of nature for Larry that has burned throughout his entire life and a habit that likely resulted in his many expeditions in later life.
After receiving the Catasus Medal (the Society of Animal Artists most prestigious award) he began his career under the generous mentorship of the late Simon Combes (1940 – 2004). Combes helped Larry master his skill with oil paints resulting in a series of exhibitions held in galleries in New York and London. He now has an established Gallery in the iconic Victoria Falls Hotel, Zimbabwe, The Larry Norton Gallery.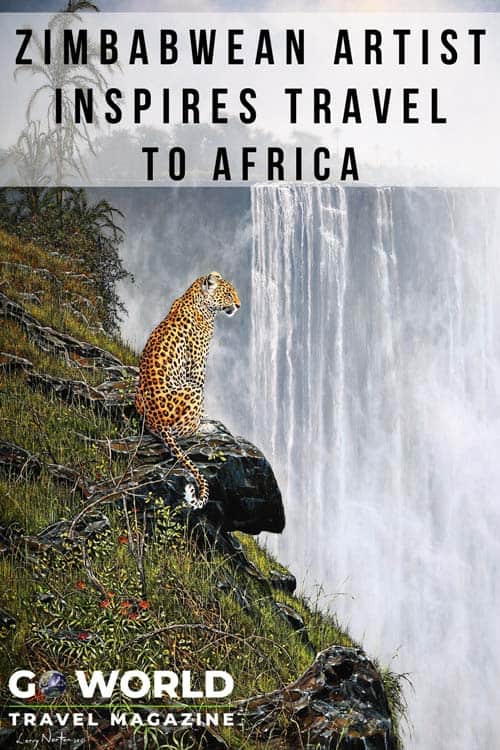 A Lifetime of Experience in Africa
Larry's work has taken him all over Africa, whether doing fieldwork or gathering materials during lengthy and precarious expeditions. A yearlong trip in a light aircraft with bush pilot Tom Claytor in 1991 led him through eighteen countries across North, East and West Africa during some particularly politically unstable times.
His exploration of the continent continued as he traveled the length of the Zambezi river, during the filming of National Geographic's "Life of the Zambezi, from its Source to the Sea." He has continued with many field trips in and around Southern Africa. These include several journeys to photograph and sketch the Okavango Delta, trekking deep within Botawana's Moremi national park and kayaking the Lugenda river in Northern Mozambique.
Today he lives in the cozy town of Victoria Falls in Zimbabwe, stationed between two national parks and the waterfall itself. When he is not in the studio Larry can usually be found kayaking the Zambezi rapids or escaping into the surrounding bush. His work does follow him home however, as a herd of warthogs have recently taken to pushing their way under his fence to visit the artist for a snack and scratch every couple of days.
Larry continues to capture the infinite moments of rugged beauty that his home provides, each brushstroke showing us what can be created if you truly love your subject matter. He undertakes commissions and sells fine art prints on canvas as well as a full gift range which are on display in the gallery. Follow his work on Insta Larry Norton and Facebook Larry Norton Art.
Paintings by Artist:
Phantom of the Falls
In early 2020 good friends had walked into the rain forest adjacent to the Falls and saw a leopard. The following morning in the pouring rain I went there to search for signs.
As the mist, rain and spray combined to create this mystical atmosphere, it was easy to picture a feline apparition on the edge of the chasm. Days later, we found spoor nearby to picture a feline apparition on the edge of the chasm. Days later we found spoor nearby.
Kabakwe
A legendary tusker of the wilds of Gonarezhou, this iconic bull was found and collared in 1979. By 1980 he had disappeared under suspicious circumstances. He inhabited the slopes of the Nyamatongwe massif, seen in the painting, and the area surrounding Benji's spring. This painting celebrates this magnificent bull.
Imperious
It's late afternoon on a channel on the Upper Zambezi River, not far from Victoria Falls. A leopard reclines on a palm covered sand bank, lord of all he surveys.
Place of Angels
This massive painting of the Victoria Falls, one of the seven wonders of the world, was completed in 2019. Double rainbows, and a diffused central rainbow emphasized the exceptional beauty of this place.
An elephant bull feeds on Cataract Island, a pair of bushbucks browse on the lip of Devil's Cataract and trumpeter Hornbills traverse the thundering abyss. This place of haunting beauty and exquisite light has long been described as a place of angels.