Editor's Note: Travel is complicated right now. Please check local regulations and location openings before you go. 
Siesta Key
Siesta Key is a barrier island off the Central Western coast of Florida, situated between Sarasota and the Gulf of Mexico. Vacationing snowbirds from the north dust the snow from their wings to enjoy this magnificent island, digging their toes into miles of blinding white sand filled with pearly white and iridescent seashells.
The main street is peppered with colorful souvenir shops filled with hip and trendy gifts, along with family-friendly and upscale restaurants to suit any discerning palette. Old Stickney Point Road lies just off of Main street in Siesta Key where gorgeous, lemon-yellow Florida-style condominiums line the streets alongside a hidden gem called, "CB's Saltwater Outfitters.
Our family stumbled upon this cool beach boutique looking for a replacement pair of flip-flops for our son on the way to the beach. We were immediately intrigued.
We were greeted by the friendly and knowledgeable store owner who not only helped us find shoes but described the many cruising and fishing charters they had to offer. Little did we know that CB's is the largest local on-the-water bait & tackle shop that offers boat rentals, fishing charters, fishing tackle and jet ski rentals in the area. We were hooked.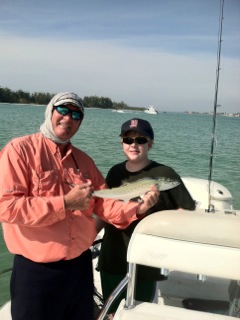 Captain Terry
We scheduled a half-day fishing charter the next day with an experienced, professional sea captain named, "Captain Terry," who guaranteed, "we will catch fish." We packed up a cooler, lathered on sun-screen, and were greeted by hungry Brown Pelicans staring at us in anticipation as we boarded the boat.
In the winter, the tepid waters of the Gulf of Mexico promise a wide variety of Spanish Mackerel, Flounder, Silver Trout, Ladyfish, Sea Bass and Sheepshead. We were eager to see who was going to "catch the first fish."
Passing through the Intercoastal, we encountered a wide variety of birds, including the majestic White Ibis, a medium-sized wading bird with a body shape similar to the Great Blue Heron, and a Roseate Spoonbill, an odd yet elegant pink bird often mistaken for a flamingo. To our children's delight, we spotted grey dolphins off of the bow gracefully bobbing in and out of the water. Heading into deeper water, Captain Terry shared many of his fishing adventures and lore of Siesta Key and the surrounding islands.
We started our fishing campaign near the shallow shores just off of Lido Key, discovered in the 1500s by Spanish Explorers Ponce de Leon, Hernando de Soto and Panfilo Navaez who arrived on the Gulf Coast in search of gold and silver. They did not stay, but in 1821, the United States acquired the territory of Florida and in 1824, allowed settlers to own land.
Captain Terry shared the history of John and Mabel Ringling, who arrived in Sarasota in the 1920s and purchased Lido, Bird, St. Armands and a great deal of Longboat Key and built bridges to connect them. John Ringling started a Ritz Carlton on Longboat Key and made Sarasota the winter home of the Ringling Bros. Barnum and Bailey Circus. The kids were fascinated by the history, but my husband and I couldn't stop thinking about the song, "Lido," by Boz Scaggs, showing our "experience."
With the patience of a saint, Captain Terry expertly assembled the rods and gave the kids safety instructions, making sure that no one hooked each other in the eye. He also showed us how to gig the lines to "make the fish want to bite."
Fish of The Day
We started fishing using rubber bait, and my son managed to snag a few Spanish Mackerel. The rest of us, however, had no luck. Sensing our dismay, Captain Terry switched the bait to real shrimp with bobbers and suddenly, hordes of Speckled Trout and Ladyfish started to strike at record speed.
A 24-inch Ladyfish struck my son's line and struggled like a gladiator to free itself to no avail. Every few minutes someone yelled, "fish-on," and the children happily reeled in another unsuspecting trout.
Throughout the afternoon, we weaved in and out of the shallow bay, and when the fish stopped striking, we moved to another location. By the end of the day, each family member caught 8-10, different types of fish, (including the author), and many tales to tell their friends. As the sun began to set and the temperature started to dip, it was time to head back. Oblivious to the time, the kids begged to stay out longer. The day had been a complete success and the kids' cheeks hurt from smiling.
The fishing techniques Captain Terry shared with us will serve us well on our next deep-sea excursion, or any fresh-water lake back home. Although we threw our fish back into the ocean, we all have our own fishing stories to share with our friends on how we caught a fish "this big!"
If You Go
CB's Saltwater Outfitters: 1249 Stickney Point Road on Siesta Key
CB's is an Orvis Endorsed Outfitter's Fishing Charter Service that serves Siesta Key as well as Longboat Key, Lido Key, Sarasota and Venice. The beach shop carries outdoor sportswear plus T-shirts for the whole family.
www.cbsoutfitters.com
Plan ahead for your future travels and fishing trips. Check out Kayak for the best hotel deals and accommodations for your specific needs here. If your looking for more of a home away from home check out VRBO for a whole new experience here.
Author's Bio: Lisa Stukel has been a freelance writer in Hopkinton, Massachusetts for the past 10 years, providing articles for The Hopkinton Patch, Community Advocate, and Today's Parent Newspapers. Her own column, "A Busy Mom's Corner," showcased family-friendly travel destinations and way's to make busy mom's lives easier. She published a book entitled, " A Busy Mom's Guide to Entertaining," in October, 2008.  To learn more about Lisa A Stukel see: www.busymomscorner.com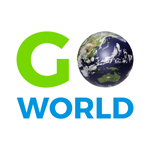 Latest posts by Go World Travel Magazine
(see all)