Have you ever wondered how states got their nicknames?
In the mid-1800s, so much precious metal covered the ground in Nevada that prospectors could shovel it up. A century later, an avian disaster struck birdlife along the Louisiana coastline.
Today visitors may relive those chapters of the past in Nevada, Louisiana and elsewhere while learning how they, and other states, got their well-deserved nicknames.
Nevada earned its "Silver State" moniker during its silver-rush days. Over millions of years, a crust of the metal formed on the desert's surface, which miners could scrape up in their quest for instant riches. It took only a few decades for the territory of Nevada and surrounding states to be picked clean of the treasure.
Both historic and modern-day silver, gold and copper mines dot the state. Many are open to visitors on guided tours.
The Brown Pelican has been the symbol of Louisiana since the first European settlers arrived. It was adopted as the official state bird and appears on the Louisiana flag and seal.
In the 1960s, the use of pesticides decimated the abundant native pelican population. In response, fledgling birds were imported, steps were taken to protect their habitat and the pelicans have recovered. They continue to amuse visitors to Louisiana with their untidy but effective dives into the water to catch fish.
Bees Add Buzz to Utah's Image
Another flying animal, the honey bee, is a symbol of hard work and industry. The bee is honored by the seal and nickname of Utah – the Beehive State; a beehive is emblazoned on Utah's flag, and the word "industry" is the state motto.
In addition, early Mormon settlers have been described as transporting a colony of bees with them. They named the area "Deseret," which references honeybees in The Book of Mormon.
Idaho is a Gem of a State
If the fact that "Gem State" is Idaho's nickname makes you think of precious stones, think again. Imaginative tourism promotion folks tout Idaho as a gem because of its magnificent scenery and abundant natural resources.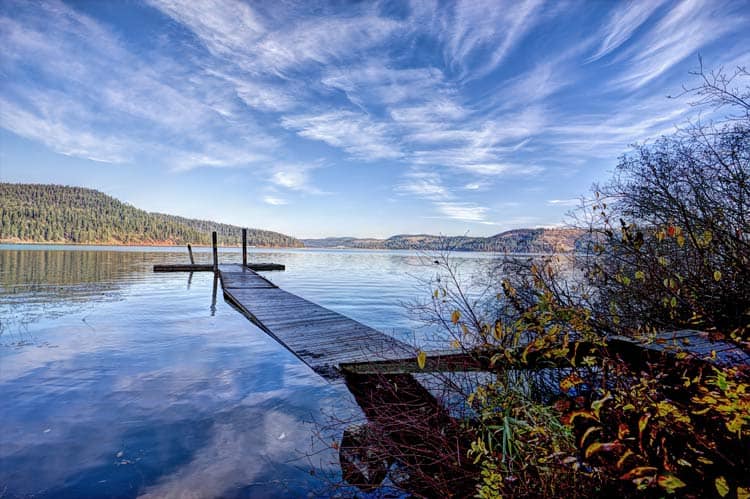 The rugged landscape includes some of the largest unspoiled natural areas in the United States. In that way, Idaho truly is a gem.
West Virginia Earned its Nickname the Mountain State
West Virginia also is a land of peaks and valleys so it's no surprise that "Mountain State" is its unofficial title. The Appalachian Mountains run through its eastern portion and the average elevation is higher than any other state east of the Mississippi River.
It has been said that if all of the mountains in West Virginia were flattened, it would be as large as Texas. No wonder it's also referred to as the Switzerland of America.
Or that exploring tiny, charming mountain towns is but one reason to visit the state. They combine exciting outdoor adventure and breath-taking settings with intriguing history, culture and heritage.
Flowers on Flags in South Carolina
The nicknames of some states refer to plants or flowers which proliferate within their borders. That includes South Carolina, which is known as the Palmetto State. The symbol of Palmetto trees first appeared on flags there in Revolutionary War times when historians tell us, troops used wood from them to build a fort.   
An image of a Sabal Palmetto tree was added to the state flag after it seceded from the Union in 1861. It's even mentioned during the salute to South Carolina's flag: "I salute the flag of South Carolina and pledge to the Palmetto State love, loyalty and faith."
Mississippi is Known for its Magnolias
In 1900, an election was held among school children in Mississippi to select the official state flower. The magnolia received nearly three times as many votes as the combined total for the cotton blossom and cape jasmine. 
Based upon that result, the Magnolia Grandiflora was designated as the official state flower in 1952 and became a nickname for the state. In late spring, large off-white blooms decorate the branches of magnolia trees that dot the local landscape. Fossils of the fragrant flowers have been dated back over 20 million years. 
Other factoids include that magnolia petals are edible and the flower gave its name to the Magnolia Bowl, a rivalry football game between the University of Mississippi and Louisiana State University first played in 1894.
The sunflowers in Kansas reach their height a bit later than magnolia trees and flowers. From late summer to early fall, they provide a lovely backdrop for colorful photos.
While sunflower fields are located throughout the Sunflower State, many that are open to the public are in central and eastern Kansas. Some farms allow people to pick a few stems and take them home for transplanting.
It is Easy to See How Georgia Got its Nickname
Food rather than flowers is the focus of some state nicknames. That's true of Georgia, where a tree, first cultivated in China, and later Persia (modern-day Iran) found favorable growing conditions which produce peaches that are known for having excellent flavor, texture and appearance.
The Peach State recognizes the crop as the official state fruit and the peach is featured on the U.S. Mint's bicentennial commemorative quarter for Georgia. Travelers may partake of this bounty at pick-your-own orchards and in cobblers, crisps, candy, pie and many other taste-tempting ways.
Other state nicknames also raise questions and offer opportunities to visitors to discover their source. These include the Yellowhammer State (Alabama), Tar Heel State (North Carolina), Badger State (Wisconsin) and Sooner State (Oklahoma).
Latest posts by Rambling Writers
(see all)