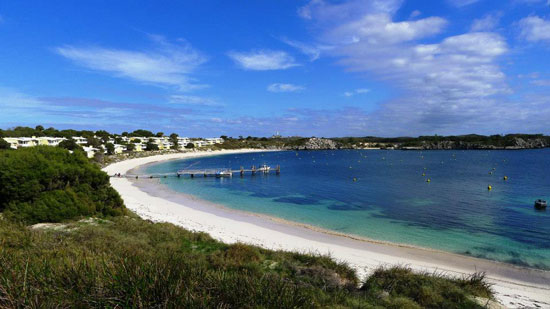 Sydney and Melbourne often draw the limelight when it comes to Australian destinations, but Perth, the capital of Western Australia, is not to be missed. Home to almost 2 million people, it is the fourth most populous city in Australia. Perth has a laid-back vibe all its own, and moves to a slower pace. So relax and sample some of these popular things to do in Perth.
Shopping in Perth
Fashion isn't Perth's strength, but the city excels in homemade, farm-to-table products. Get ready for an onslaught of homemade preserves, farm-to-market eggs, and pastries still warm from the oven. Watch your wallet and your weight, for there is a staggering amount of choices when it comes to homemade produce, gluten-free produce, cruelty-free produce—all sorts of fresh and delicious foods that will require vast amounts of willpower to turn down.
There are farmer markets on practically every other open space in Perth. Other than the famous Fremantle Markets, be sure to research on other markets near your accommodation. Typically, the markets that cater to locals offer the freshest goods and best prices.
There is perhaps no more idyllic manner to spend your weekend mornings tasting and browsing fresh produce then settling down with a hot crepe (crepes are big in Perth, and you will find them available in every imaginable flavour, from sinfully sweet to heart-warming and savoury). Wash it down with a cold bottle of pressed juice or hot coffee (with a shot of with caramel, perhaps?).
A lucky pet dog or three may amble by, craning their necks to stare at the organic pet food section while their owners look resolutely ahead. If you are in the vicinity of a shop or café that sells the HoneyCake go ahead and order a piece. This scrumptious pastry straddles being rich and moist and just the right amount of crumbly. I would have this cake for my birthday every year if I lived in Perth.
Fish Market and Brewery
About ten minutes away from the Fremantle Markets is the fish markets stretch. Here, you can feast on uber-fresh oysters, fish and chips, chilli mussels, and more. After getting your fill of seafood, make your way to the Little Creatures Brewery, just a couple of minutes away. Strict liquor laws (above 18 only) mean everyone who looks younger than 25 will be asked for identification, so bring your passport along with you if you're looking to get taste some booze on tap.
Mundaring Weir
On a fine day, pack up your things and drive up to Perth Hills. There are many scenic drives and treks here. Cross the long bridge that takes you from one end of Mundaring Weir to the other. You may spot ducks or fish if you peer into the water carefully.
Later, should you be in the mood for a bit of grub, check out Mundaring Weir Hotel. The highlight of this establishment is its dark and stoic bar, full of homemade good meals and beer on tap, which spills out to a beautiful, sun-filled courtyard. On the huge gallery steps are white lawn furniture where patrons can enjoy a pint or a pizza. Try the 4-flavoured pizza, an oblong, oven-burnt dough with anything from lamb to pumpkin on it. On Sundays, a whole lamb is spit-roasted and served burger style around 3pm (for only 12.50AUD) and there is live music from 2 to 5pm.
Follow the Wine Trail
The Swan Valley Wine Trail is immensely popular and great for large groups of friends and families for whom decision making may be a time-waster. If you have access to a car and are travelling with like-minded individuals, check out the Perth Hills Wine Trail (link: https://www.perthhillswine.com/). Make your way down the trails and taste a mind-boggling assortment of wine. Not only do you know what you are sinking your dough into should you be in the mood to lug a few bottles home, there may be special promotions not listed on the website. At one of the vineyards, I managed to get two bottles priced at 25 AUD each for a special price of 35 AUD.
There are four wine trails on Perth Hills, and I found my favourite spot along the Bickley Valley trail. The Fairbrossen Estate is a winery and café that is perfect for willing the afternoon away. Hearty items such as lamb shank, mushroom and beef pie or the seafood platter would appeal to those feeling a little light-headed after all the wine-tasting. If you're just after a light snack, try the Devonshire tea- two rich, flaky scones served with strawberry jam and an extremely light fresh cream. Wash all that down with a pot of tea while looking over the endless vineyards – as the saying goes – dolce vita!
The Sun and the Beach
Beach bunnies need not shy away from Perth, for just an-hour by ferry away from Perth City is the magnificent Rottnest Island (link: https://www.rottnestisland.com/). Quokkas, a marsupial that resemble a cat-sized kangaroo, hop around the island. Unlike the aggressive monkeys that have visitors of certain Thai islands at their mercy, quokkas are just the right level of brave when it comes to human presence- they neither shy away nor initiate interaction. The sea gulls here are also calm around humans – but not menacing – especially in contrast to their counterparts who hang out at fish markets and have no qualms about swooping away with a piece of lemon and thyme fish.
The adorable wildlife complements the main draw of Rottnest- white sand, gentle waves, views that even an iPhone camera can do no wrong to. In summer, the hot sun draws the sun-loving outdoor crowd, teenagers and families alike. In the cooler months, you'll find most of the beaches empty, but during midday, those who aren't afraid of a little chill will find a dip perfectly agreeable. There are bicycles for rent if you are keen on exploring the island, but even a 10 minute walk from the jetty will yield you unblemished views of the endless seas and coastlines. Anyone who enjoys nature will have a field day on Rottnest.
When to Go in Perth:
Always read up on the weather before booking your air tickets. The Australian summers, from December to February, can get unforgivingly scorching.
Perth Tourist Centre
Where to Stay in Perth:
For a splurge, check out the Richardson Hotel and Spa
Those who love pastries from the many Miss Maud cafes around Perth may check out its namesake hotel
Northbridge area is great for those seeking entertainment and nightlife, and Hotel Northbridge, an intimate heritage hotel, is ideally located on Lake Street
How to Get Around:
Whether by tour, self-drive or public transport, Perth is accessible enough. Transport can get pretty expensive though, so be sure to read up and budget accordingly.
WesternAustralia.com
For another exciting beach adventure, check out Byron Bay and its natural attractions.
Author Bio: Ling Xin is from Singapore, and likes cooking, reading and rehoming animals. A former print and online journalist, she now spends her time at asiarooms.com/en/community, where she travels and writes about her experiences. Also find her on twitter at @ohhellosailor. – See more at: https://www.goworldtravel.com/travel-ko-lanta-thailand/#sthash.FsuYwC6d.dpuf
Author Bio: Ling Xin is from Singapore, and likes cooking, reading and rehoming animals. A former print and online journalist, she now spends her time at asiarooms.com/en/community, where she travels and writes about her experiences. Also find her on Twitter at @ohhellosailor.
Author Bio: Ling Xin is from Singapore, and likes cooking, reading and rehoming animals. A former print and online journalist, she now spends her time at asiarooms.com/en/community, where she travels and writes about her experiences. Also find her on twitter at @ohhellosailor. – See more at: https://www.goworldtravel.com/travel-ko-lanta-thailand/#sthash.FsuYwC6d.dpuf