High in the trees above, a young gorilla baby swings from branch to branch, while her mother eats bamboo nearby. Her father, a massive silverback, watches carefully from a distance.
Here in the lush forests of the Virunga Mountains, such scenes are a daily reality. For those lucky enough to observe it – guests on a gorilla trek with Volcanoes Safaris – gorilla tracking in Uganda and Rwanda has been an experience to remember.
Only about 880 mountain gorillas remain in existence today. Most of these endangered animals can be found in the Virunga Mountains at the confluence of the Ugandan, Rwandan and Congolese borders.
Naturalist Dr. Dian Fossey came to this region in 1967 to study mountain gorillas. Her work, which was detailed in the film, Gorillas in the Mist, resulted in the Karisoke Research Center, which continues to be a leading center for gorilla protection and research. Many believe that her work helped to save the mountain gorilla from extinction.
Gorilla Trekking in Uganda and Rwanda
Fossey's passion for the mountain gorilla and this region lives on in the work of Praveen Moman, a former London political adviser who founded Volcanoes Safaris in Uganda and Rwanda in 1997.
Born in Uganda, Praveen has an obvious love for this region. He pioneered the development of sustainable gorilla and chimpanzee tourism in Rwanda and Uganda, and designed and built four unique lodges near the great ape parks – Virunga, Mount Gahinga, Bwindi and Kyambura.
Volcanoes Safaris: Luxury Lodges in Rwanda and Uganda
The luxury lodges are sensitive to local culture and aesthetics, and employ many local staff. Tourism plays an important role in helping to protect the mountain gorilla by bringing money to the region to support local people and to help protect the endangered gorilla.
For travelers, Volcanoes Safaris offers a bucket-list opportunity to view the magnificent mountain gorilla in their natural habitat.
During the Dian Fossey 6-Day Safari with Volcanoes Safaris, guests can trace the footsteps of the famous conservationist to track gorillas, hike to the Dian Fossey grave and visit the Dian Fossey exhibit at the Karisoke Research Centre in Musanze.
The safari also includes the opportunity to experience ancient Batwa pygmies culture, climb a volcano, and track golden monkeys.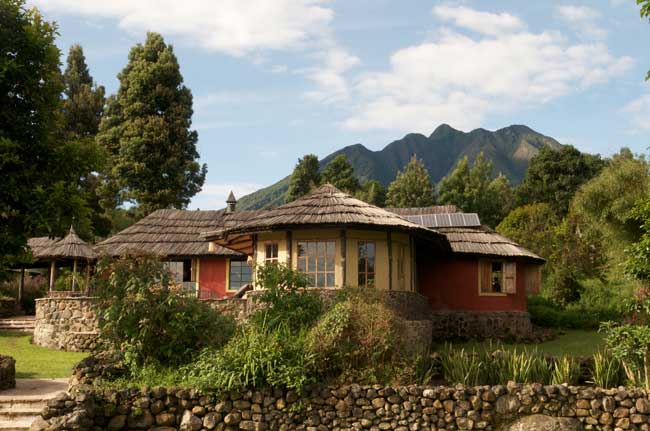 Mount Gahinga Lodge
The 6-Day Safari starts in Kigali, the capital of Rwanda. From there, guests travel to the beautiful Mount Gahinga Lodge, which is tucked away in the Uganda foothills of the Virunga Volcanoes.
A luxury adventure lodge, Mount Gahinga offers rustic charm which is inspired by traditional design and building techniques. There are six guest bandas with papyrus roofs, ensuite luxury shower rooms, fireplaces and private verandas. Wifi and charging stations are available in the main lodge.
Mount Gahinga Lodge is an excellent base for gorilla tracking, and has beautiful views of the volcanoes and Kisoro Valley.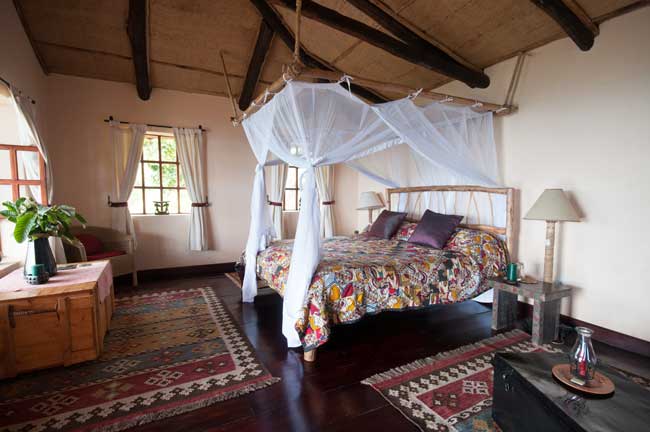 Virunga Lodge
After a two-night-stay Mount Gahinga Lodge, guests travel just across the border in Rwanda to the lovely Virunga Lodge, located on a high ridge with magnificent views of the volcanoes and twin lakes of Bulera and Ruhonda.
The highlight of the 6-day safari is gorilla tracking in Parc National des Volcans, Rwanda. The trek to the gorillas runs through bamboo forest on the slopes of the Virunga range of volcanoes. Gorilla trackers must be fit and able to track in thick vegetation some 3,000 meters in elevation. Traversing these steep mountainsides can be strenuous, but the result is worth the effort.
During the gorilla tour, guests will see a variety of other animals, possibly including lions, leopards, and chimpanzees. A gorilla viewing permit is required, which allows for one hour of gorilla viewing with a gorilla family. A limited number of permits is available at each gorilla park, so it's important to book your trip far in advance.
Volcanoes Safaris: International Recognition for Excellence
Volcanoes Safaris has been recognized for its unique and sustainable great ape tourism model, and has received both the Travel + Leisure Global Vision (2012) and Condé Nast Traveler World Savers (2013) awards.
Traveling to Uganda and Rwanda to see the mountain gorillas with Volcanoes Safaris is an experience to remember.
Latest posts by Janna Graber
(see all)