The world of nature is wild yet at the same time a calm universe. The natural activity of lions on a hunt as antelopes run for their life are some of the things that make the African safari such a wild adventure. While this is usually part of the rare highlights of the Uganda safari holiday, there is more to be explored.
Besides encountering Africa's big five, there is nothing on an Uganda safari that comes close to seeing mountain gorillas in their natural habitat. So, what do you need to know to ensure you get the best gorilla trekking experience?
Physical fitness, packing lists, trekking permits and dress code have been discussed by many. Also, choosing Bwindi Impenetrable Forest National Park and Mgahinga Gorilla National Park is well-known.
But all that aside, here are a few more things you need to consider to have a good gorilla trekking experience in Uganda.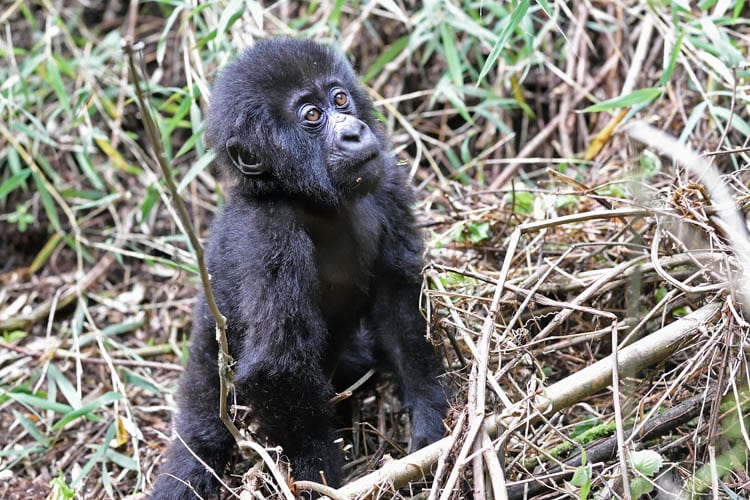 A Gorilla Safari in Uganda Takes a Minimum of 3 days
There are common packages of one-day or two days gorilla trekking safaris advertised. But once you have a few facts at your disposal, you will agree that a minimum of 3 days is best for a gorilla safari in Uganda.
First, Uganda has one international airport located within a 9-hour drive to any of the gorilla national parks in Uganda. This means that for a proper trip, you will take a day to transfer from Entebbe or Kampala to either Bwindi Impenetrable National Park or Mgahinga Gorilla National Park.
The following day, you will then take at least 3 hours to 6 hours of trekking for the mountain gorillas. Then you will repeat the full-day transfer to either Entebbe or Kampala to end your 3-day trip.
This 3-day gorilla safari in Uganda would also be tiring for someone on holiday. But, it is a far better option compared to a one-day or two-day gorilla safari in Uganda. Furthermore, to execute a one or two-day gorilla safari in Uganda, you must be willing to wake up very early.
To ensure that you get the best out of the gorilla trekking safari holidays in Uganda it is recommended that you plan for two days of rest, two days of transfer and one day for gorilla trekking.
This is highly recommended because it gives you an opportunity to explore more of Bwindi Impenetrable Forest National Park instead of merely rushing in and out to simply spot the gorillas.
Best Time to Go for Gorilla Trekking in Uganda
Tour operators often recommend that the best time for gorilla trekking is June, July, August, September, December, January and February. This is because these months are relatively dry compared to other months. But the truth of the matter is you can trek gorillas throughout the year with ease.
There is no guarantee that it will not rain even in the so-called dry months. The weather patterns in Uganda are more or less the same throughout the year. The best time for encountering the mountain gorillas is determined by how close the mountain gorillas are or how far they might be.
Your gorilla trekking experience is highly dependent on your preference for a long trek or a short trek. The length of the trek is based on where the gorillas are feeding. Sometimes, they are feeding closer to the gorilla trekking inception point and other times from quite a faraway location.
Uganda Wildlife Authority has not established any reliable pattern for the mountain gorilla movement. They use trackers to locate the mountain gorillas. They must keep following the gorillas until later in the evening so that the next morning, they have an idea of where to begin from.
With such location unpredictability, it is hard to recommend the best time to trek the mountain gorillas in Uganda. I would suggest focusing on something else besides the experience of encountering the mountain gorillas. That would be the lower accommodation rates in the low season months, especially if you are on a budget. 
Booking a Gorilla Trekking Safari in Uganda
Gorilla trekking is one of the most expensive safari activities in Uganda. A gorilla trekking permit alone goes for $700 for foreign non-residents and $600 for residents. The East Africans have the pleasure of trekking gorillas for Ugx250, 000 per permit.
However, it is very important to note that only licensed tour operators are allowed to buy permits from Uganda Wildlife Authority. Before booking your gorilla trekking holiday in Uganda with any tour operator, it is highly recommended that you do a background check to verify whether you are dealing with a legit company.
There are two things you need to verify the authenticity of a tour operator. First, they must have a tourism license from the Uganda Tourism Board. Plus, they should be a registered company in Uganda.
You can visit the official website of the Uganda tourism board to do a company search. Also, the Uganda registration service bureau can verify company registration.
You should never get lured into booking with a company because it is offering you the best price without a background check on that company. You might end up scammed simply for failing to do a background check.
Once you have done your background check you can then freely book your gorilla trekking holiday with any verified tour operator of your choice.
Author Bio: K.J Lincoln is a Tour Consultant in African Jungle Adventures Ltd. He holds a bachelor's degree in Tourism and Hospitality Management from Makerere University.