Is it respectful? Perhaps macabre? Voyeuristic?
For reasons I don't fully understand, I have taken to visiting the final resting places of some of the brightest stars of show business. It seems strangely surreal to stand next to or just above the remains of superstars one never would have been in the same space with during their lives.
Even if you had the good luck to run into the likes of Walter Matthau in the Polo Lounge, Truman Capote at Chateau Marmont, or stars such as at Farrah Fawcett at Spago, you may not have had the courage to approach them. Now, though, you can have them as a captive audience.
Paparazzi Peeping Tom?
I confess I have felt a little self-conscious when visiting glamorous graves – somewhat like a paparazzi peeping Tom.
But then again, it never felt awkward visiting the Presidential graves at the museums of Commanders in Chief. I've paid respects to George HW Bush in College Station, Texas; Gerald Ford in Grand Rapids; and Herbert Hoover outside Iowa City. If you're checking boxes, Dwight Eisenhower's grave in Abilene, Kansas is only 161 miles from Harry S. Truman's in Independence, Missouri.
Tourists and schoolchildren pour into Washington D.C.'s Arlington National Cemetery to see the eternal flame next to the panoramic place John F. Kennedy is interred.
I'm pretty sure I've seen the sarcophagus of Napoleon in Paris. I know I've walked on the graves of historical figures, artists and philosophers placed in the floors of cathedrals in London and throughout Italy. The relics of Saints and bodies of Popes are actually visible in Vatican City. In some cases, this drawspilgrims and tourists.
All very significant, respectful experiences. But instead of Beethoven, Shakespeare, and Churchill, what if, in addition to encyclopedic individuals, I wanted to view the last tour stops, if you will, of pop culture stars? Would it be gauche to seek out Sinatra, Marylin Monroe, Judy Garland, and others?
I took my chances. And in some cases, I didn't show up empty-handed.
Honoring Frank Sinatra My Way
It was a sunny Sunday Palm Springs afternoon when I approached, wearing a blazer out of respect, the grave of Old Blue Eyes. The Chairman's grave plaque, flat and flush with the earth, was surprisingly modest. That marker, at Desert Memorial Park in Cathedral city, has since been replaced by a more show-busy one preferred by his last wife Barbara. But the one I saw read: Beloved Husband and Father.
Engraved atop was the title "The Best is Yet to Come." One of the standard songs Sinatra would chomp through as tenaciously as he chose to during his live performances. Sinatra sometimes sang it in an aspirational tone. Other times he barked the lyrics out like an unavoidable warning: "…and you're gonna be mine."
Francis Albert Sinatra was known to favor Jack Daniels Whiskey. So that's what I brought him, to honor him "His Way." It was a small bottle for sprinkling. I think he might have considered spilling more on the browning desert grass to be a shame.
I took a sip first because I didn't want Sinatra to drink alone. He was famous for keeping his Vegas Rat Pack pals up all night. But I also wanted to be able to say I shared a Jack Daniels with Frank Sinatra.
Dean Martin's Crooner's Crypt
Dean Martin, a paisano pal who was affectionately known as "Dago" by Frank Sinatra, is buried a short private jet flight away. He lies between Brentwood and Beverly Hills in the Pierce Brothers Westwood Village Memorial Park and Mortuary.
The crypt of the crooner is located at eye level in a wall. His old comedy partner Jerry Lewis, were he alive, would have to look up to see his grave marker.
Like Sinatra's stone, it bears the lyric of one his popular songs: "Everybody Loves Somebody Sometime."
I noticed it had been some time since any love had been paid to "Drunky Dean's" drawer. So, I felt compelled to pick a plant from the cemetery's shrubbery and place it in the planter.
"That's amore," I thought, though Dean probably would have preferred a martini. (Or, if being honest, a glass of milk. Reportedly, his true idea of "Ring a Ding Ding" was being the first Rat Packer tucked away in bed watching TV each night.)
Jackie Gleason's Eternal Laughing Place
Driving through the expansive Our Lady of Mercy Catholic Cemetery, bordered by the freeway and the Everglades on the far west side of suburban Miami in Doral, I saw, set back amidst the mature trees, the pillars of a white altar suitable for a Roman Caesar. In this case it would be an innovated, enduring Irish Catholic comedian who changed television forever.
After I walked across the expanse of grass and read the words chiseled into the steps leading up to the super-sized sarcophagus, I knew I'd found the grave of "Honeymooners" hero Jackie Gleason:
"And away we go."
It was one of the "The Great One's" standard sayings, applied, in this context, with aplomb.
I crept up the steps, a humble admirer of the "Poor Soul," Oscar-nominated for his perfect portrayal of Minnesota Fats in The Hustler.
A vase of flowers was tipped over and had spilled some soil across the white top of his tomb. Instinctively I began dusting dirt off the surface. Then it hit me. "I am cleaning dirt off the grave of The Great One!"
I hoped maybe Jackie was looking down at my gesture and remarking, in one of his other signature sayings, "How sweet it is!"
The Big Bust of Burt Reynolds
I then found the other star of Gleason's hit film "Smokey and the Bandit." The Trans-Am-driving rascal Jackie Gleason's Sheriff Buford T. Justice was in "high-speed pursuit" of, laid to rest an entire continent of speed-limited highways away from Gleason. Burt Reynolds, who is ironically a Florida native, is buried beside a pond at the Hollywood Forever Cemetery in Tinseltown.
Burt's bust is his life-sized tombstone, complete with a cowboy hat.
Reynolds played football at Florida State and his Hollywood grave is a first down away from that of legendary director Cecil B. DeMille.
Reynolds most memorable moments were roles in "One Flew Over the Cuckoo's Nest" and "Deliverance."
Residents in Hollywood Forever
There's no need to be star-search sheepish at Hollywood Forever. The gift and flower shop near the front gate at 6000 Santa Monica Boulevard will sell you a map for $6. This struck me as a macabre take on the "maps of stars homes" sold along Sunset Boulevard.
The deceased buried at Hollywood Forever, even the non-famous ones, aren't shy about taking the stage in death, either. Many of the gravestones list elements of their show biz bios or their titles: "film director," or "television producer," etc. Many even bear the passed person's photo or engraved image.
I enjoyed the engraved mausoleum of modest Mickey Rooney. It read, under his name: "One of the Greatest Entertainers the World Has Ever Known. Hollywood Will Always Be His Home."
Judy Garland, "The Wizard of Oz's" Dorothy, is potted in her own pavilion while her soul is presumably "Somewhere Over the Rainbow."
One of the other stars of Hollywood Forever's show is the grave of animated voice legend Mel Blanc. His grave bears his iconic Looney Tunes cartoon's closing phrase "That's All, Folks," again, in eternal irony.
Blanc, who voiced the likes of Bugs Bunny, Daffy Duck and many others cartoon characters, lies on the left just off the main road which offers a full view of the Hollywood sign.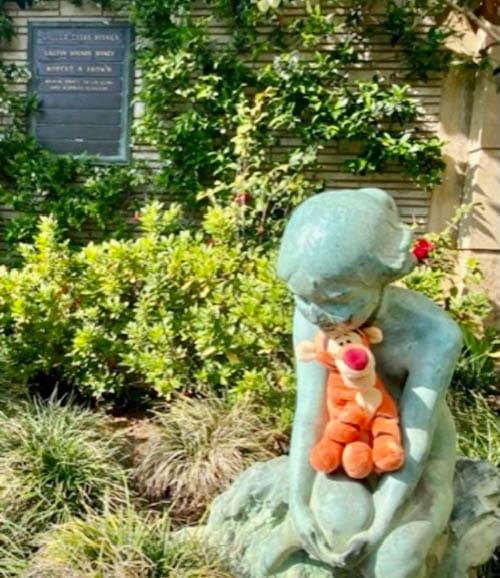 The Subtle Grave of Walt Disney
But the king of cartoons, and theme parks, and movies and merchandise is Walt Disney. The Missouri man who drew and voiced the iconic Mickey Mouse. After that, he and his brother, in their Burbank studio, drew Donald Duck, Goofy, Pluto and so many more. In addition to creating full-length, Academy Award-winning animated and live-action films.
The Disney empire expanded to Anaheim. His theme park Disneyland, which he dubbed the "Happiest Place on Earth," was the model for similar resorts in Florida, Tokyo, Paris, Hong Kong, and Shanghai. Plus, cruise ships and Epcot Center.
Walt Disney's stately yet subtle grave is in a small grass courtyard parcel in an expansive, resort-sized cemetery of rolling hills, trees and monuments called Forest Lawn Memorial Park. The address of this particular cemetery is 1712 South Glendale Avenue, in Glendale.
I respectfully entered the gate into the shrub-surrounded, sacred space. Then I tucked a Tigger stuffed animal into the arms of a copper-carved angel statue. The angel was guarding the grave of the giant and some of his family members.
Marilyn Monroe and Hugh Hefner Together
Two of Hollywood's supreme sex symbols, Marilyn Monroe and Hugh Hefner, are laid, pardon the pun, in side-by-side vaults. They are in the wall in an outdoor corner (not quite a "grotto), in the hidden but openly accessible Pierce Brothers Westwood Village Memorial Park and Mortuary.
You would never spot it otherwise, but if you're going to the enclave, it is at 1218 Glendon Avenue in Westwood. Hefner's infamous grotto at his Playboy Mansion is now gone, as is the mansion, which was only two miles from where he lies.
Playboy's publisher Hefner, who the modern era would have cancelled long before he was eternally "cancelled," is rumored to have reserved his resting place next to Monroe at a price of $75,000 long before his passing in 2017.
"Spending eternity next to Marilyn is too sweet to pass up," Hefner told the Los Angeles Times.
Monroe, who died in 1962 and is forever to Hef's right, was on the cover of the first issue of Playboy magazine and was the issue's centerfold. The two, both born in 1926, never met.
You can tour the last home Monroe lived in (it's the only one she ever bought) very nearby in Brentwood at 12305 5th Helena Drive. She lived in the hacienda for only six months before dying on her bed there.
I saw, at her grave, a single rose in the vase affixed to her wall plaque. I also spotted a woman taking a selfie in front of the grave while a man waited in the car. You can do a drive-by right through the small cemetery and straight to the spot. It's in the very back corner next to the left of a reflection room.
Entertaining Past the End
Hamming it up by being entertaining even in death are the high concentration of bigshots buried at the tiny Westwood Village.
Comedic actor Jack Lemmon, who starred with Marilyn Monroe in the crime comedy Some Like it Hot, is buried in the ground across the lawn from the blonde icon. Lemmon left them laughing with a tombstone etching resembling a movie's opening credits. Ending at the grass, it reads:
"Jack Lemmon
In"
Comedian Rodney Dangerfield, whose act included him repeating the line "I don't get no respect at all," has a gravestone that reads, under his name: "There goes the neighborhood."
You'll also find the graves of Bob Crane, Jackie Collins, Richard Dawson, Kirk Douglas, Merv Griffin, Donna Reed, Tim Conway, Peter Falk, and many more.
One would never ever know this hidden cemetery, which also has no entry fee, is surrounded by the high-rises countless cars drive by on busy Wilshire Boulevard. But the legacies of these stars will forever, in our imaginations and on the screens, be forever apparent.
Read more of Michael Patrick's work at The Travel Tattler and contact him at [email protected]