I have, in a series of columns, let my mind and keyboard wander across some of the destinations in which I have experienced some situational sweetness.
"From the City of Angels near the Pacific Ocean…" is the way radio star George Noory opens his late-night broadcasts. When his spooky overnight radio show is not on the air, he might very well be found holding court in Hollywood.
The Polo Lounge at the Beverly Hills Hotel has always been one of the most aspirational and exciting places on "planet Hollywood." Golden age, modern age, you name it—it is the posh place to see and be seen. While the Bolognese, McCarthy Salad and souffles may be the time-honored stars of the menu, the room, managed by Pepe de Anda, oozes generations of glamour.
When I started frequenting Polo Lounge, Jimmy, in his white tuxedo jacket behind the bar, heard what I did for a living. "I have another radio host who is a regular," he told me. "His name is George Noory. Have you ever heard of him?"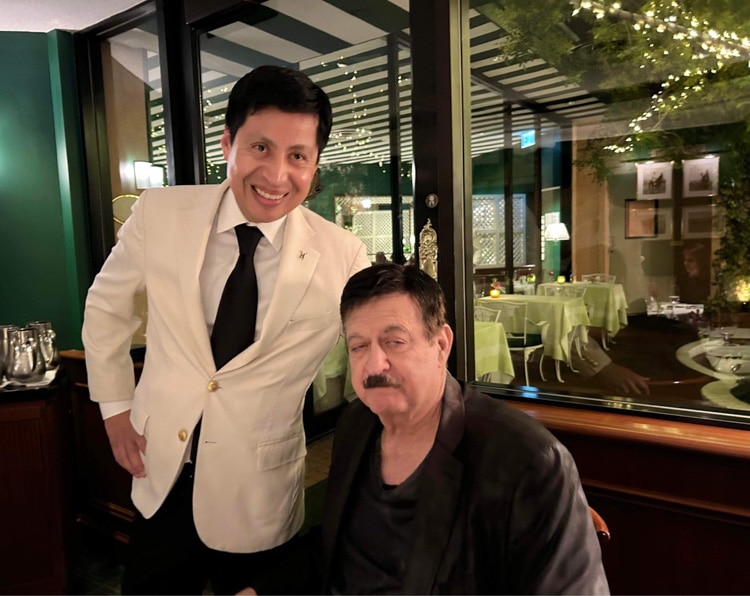 Heard of him? Noory has spent the last 21 years hosting the "Coast to Coast" overnight supernatural talk show. It airs on more than 650 radio stations across America and Canada.
Noory originally worked in radio and television in Detroit, my hometown, at WCAR and WJBK TV. But it was a decade before I jumped into the industry at WJR, WCSX and WCZY. By then, Noory had already moved to St. Louis. Here he adopted the on-air persona of "The Nighthawk" on KTRS in the "Gateway to the West."
Jimmy, a bartender but always a diplomat, kindly promised to introduce me if my Polo Lounge path should cross with Noory's. I had, for 17 years, been hosting a morning talk show syndicated on 13 radio stations throughout Michigan. On many of those affiliate stations, Noory's "Coast to Coast" AM show precedes me and leads into my morning show. So, in a sense, at those radio stations, we are on-air "stablemates." Nevertheless, to be mentioned as a radio host in the same class as Noory was flattering.
Small Talk, Small World
A few weeks later, scrolling through social media, I spotted a post by Gail Gabriel. I hadn't seen her for 30 years. However, I remember working with her on the producer's staff at WJR in the Golden Tower of the Fisher Building in midtown Detroit. She produced the overnight show for longtime luminary Bob Hynes.
Gabriel, on her Facebook page, posted "happy birthday" wishes to Noory. This coincidence intrigued me, so I sent Gail a private, direct message with the customary pleasantries. Then I asked her,
"I notice you posted a greeting to George Noory. Do you happen to know how to reach him?"
She responded by answering, "Of course I do. He is my brother."
Small world, indeed.
Gail gave me her brother George Noory's email address to reach out to him.
"I am nervous," I confessed to her.
"He is a great guy and so are you," she graciously insisted. It was sweet of Gail to say this. But still, I was respectful, deferential and polite when I sent an email to Noory. I later learned that Gail had also thoughtfully written to her brother advising him that I would be in touch and asking him to meet me.
West of the Rockies
Introducing myself by email to George Noory I mentioned that Gail gave me his address because I, too, was in radio and from Detroit. I detailed the story about Jimmy the bartender at the Polo Lounge and that I hoped to run into him there someday just to say "hello" if it would not be an inconvenience.
The mysterious Noory replied to my introductory email with a five-word response:
"I will be there Saturday."
I sensed I would be bothering him, or pushy, if I wrote back to ask what time. So, I planned to hang at Polo Lounge Saturday evening. This is never a bad idea, anyway.
It gave me a few days to also study-up on Noory to show respectful interest and help with small talk, should he decide to engage me beyond a handshake.
I already knew, as successor to the late Art Bell, Noory's overnight radio show explores current events, conspiracy theories, UFO's, life after death, shape-shifters, remote viewing, demonic possession and angels, Bigfoot and other mysterious subjects.
I didn't know he'd served nine years in the Naval Reserves. Also, that the young Noory, in Minneapolis and St. Louis, was a prodigious news director and Emmy Award-winner. Noory authored a number of enlightening books. These included Worker in the Light; Journey to the Light; Talking to the Dead and Mad As Hell. Plus, he wrote an examination of what happened to the missing Malaysia Airlines Flight 370 entitled Someone is Hiding Something. He even penned a novel called Night Talk, the protagonist in which is, you guessed it, a late-night talk-show host.
The father of three appears on television's Beyond Belief with George Noory and is frequently seen on Ancient Aliens.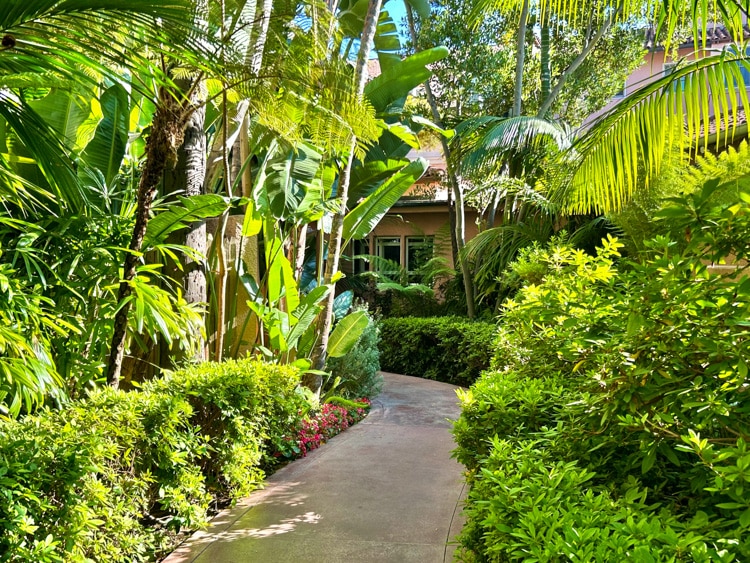 I Will Be There Saturday, Too Then…
Arriving and walking up the Beverly Hills Hotel's permanent red carpet always feels glamorous. But, I then slipped softly into Polo Lounge, intending to not crowd Noory's apparent routine.
As Noory advised, he was there, seated at the most prominent, green banquette table covered with white linen-covered next to the piano. The table faces the maître d' stand at the door past which Hollywood dealmakers, recording stars, and golden or modern age actors pass.
As recognizable as Noory is, he managed to spot me first.
"C'mon over, Mikey," Noory said, gesturing with his hand. I found it to be a very warm welcome.
Noory possesses a dark-haired aura at 72 – just like the classically-decorated, yet ageless, Polo Lounge itself, which is 82 years old. Its' outdoor courtyard is filled with colorful fauna and bejeweled in twinkling lights. Noory's intense eyes are in contrast to his friendly nature and the warm voice millions of listeners have depended on during dark nights.
"Mike, you just missed Paul Anka," Noory told me, pointing to the corner. "He was at that table."
Sinatra's Table
When it comes to show biz, Polo Lounge's big legacy makes for a small world. Anka, a singing superstar, wrote the hit ballad "My Way," for Frank Sinatra.
"This was Sinatra's table," Noory told me sliding his hands across the linen between us. He also pointed out a sealed mount near the lamp atop the banquette upon which a telephone used to sit.
It is alleged that Sinatra, on a June night in 1966, used the phone mounted there as a weapon. Apparently he hurled it at the head of a patron at the next table who asked Old Blue Eyes and his entourage to quiet down. It took two days in the hospital for the man to come to; and (maybe) lots of dollars to settle the dispute.
Noory adores Sinatra now, but told me he had never been a fan of the "Chairman of the Board," even after seeing Sinatra perform a concert in St. Louis.
"I wasn't until I started sitting here at his table," Noory insisted.
"Well, your radio program each night is all about auras and ghosts," I offered. "Maybe when you sit here Sinatra is channeling you?"
Noory, who drinks Jack Daniels whiskey because that what Sinatra sipped, did not refute my theory.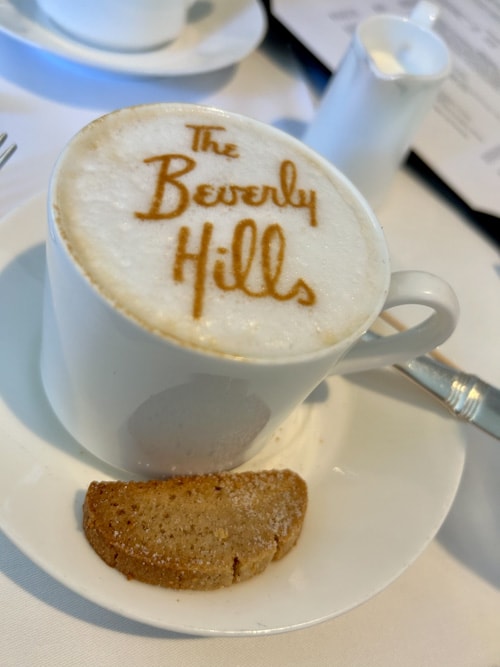 Channeling the Crooner
Noory does, on occasion, literally channel the crooner. He sings standards when performing stage shows across the country. Some Sinatra, some Elvis, and some storytelling between the songs. Noory produced and emceed a lunch presentation in at a Burbank ballroom with his singing star friend Pat Boone, the Elvis of his time, who lives in the Beverly Hills neighborhood.
On another night with Noory at Sinatra's table, he turned to the piano player and softly sang along with Tony Cobb, that night's performer. Cobb is one of the best-known and most inventive piano performers in Los Angeles. His father was acting great Lee J. Cobb.
"….promise you'll never leave me alone…love me. Love me completely now and forever, as I love you…" he warbled with an impressive ability to hit the wide range of notes needed for that ballad. "It's the song I close all of my stage shows with," Noory told me.
The piano-playing singer enjoyed every minute of their impromptu performance, playing off of each other.
"Kid, I love the Polo Lounge. I just love this place," Noory turned back to me and stated with sweet sentimentality.
Channeling Paul Anka
At my age of 55, I like it when Noory refers to me as "kid." In that respect, of age and careers, if he is channeling Frank Sinatra, I am happy to channel Paul Anka.
The Polo Lounge piano, on Saturday nights, is manned by Jon Alexi, who brought his musical talents from Mexico City. He is one of the intriguing people Noory, in what is now many meetings at Polo Lounge, has generously introduced me to.
"When you noticed Mr. Anka was in here," I asked Alexi in front of Noory, "did you play his songs on your piano?"
Alexi answered that over the years of playing at Polo Lounge or private parties with guests the likes of Lionel Richie and David Foster, he learned artists prefer not to hear their own tunes.
"George," I then asked, "if you walked into a shop and your radio talk show was playing, would you mind?"
"I certainly would not mind," he chirped back.
It may seem surprising that Noory, a radio host devoted to discussion of shadow people and the world of the dark magic and mystery, is a very visible regular at Hollywood's most high-profile "Pink Palace." He recognizes each of the white-jacketed servers who greet him by name.
Noory's Rat Pack
And whether it is Pat Boone or any generation or genre of luminaries, Noory is interested. The former "Nighthawk" keeps a quiet eye on the Polo Lounge door. I have seen Kelsey Grammer, the star of "Cheers" and "Fraser," approach Noory to chat. I've also seen the same of hockey's "Great One" Wayne Gretzky.
When Noory tried to send Al Pacino a cocktail, the Academy Award-winning Godfather actor thanked Noory for the gesture but explained he does not drink.
"Pacino asked me if he could have the cash equivalent," Noory joked.
Former NBC News anchor Brian Williams sat down at Noory's table for a spell. Singer and actress Linda Hart, from television's Dukes of Hazzard, Desperate Housewives and film features Get Shorty and Tin Cup also sat at the table.
We sat one night with our radio friend-in-common Kerri Kasem. She is an activist, model and daughter of the late "American Top 40" and "Scooby Doo" voice performer Casey Kasem. He, like Noory and I, began his storied radio career in Detroit. Another Michigan native, comedian Tim Allen, starred in the show Home Improvement. Noory's friend Billy Riback, who occasionally drops by and tells showbiz tales, was the warm-up comedian for Allen's show. He collaborated to write the show "Home Improvement" and even named it, in addition to being the warm-up comedian.
Noory's Michigan connection, appropriately, also goes into the afterlife. "I was the last person to interview Jimmy Hoffa before he disappeared," he revealed.
If Noory, like Sinatra, has his own "Rat Pack," Mark Rollings, who got his radio deejay start in Michigan but met Noory in St. Louis and went on to own radio stations before moving to L.A., is his closest confidant.
Star Sightings
"George," Rollings asked him one night at the table, "have you ever seen Elton John?"
"Sure…I saw him at the bar over at Craig's," answered Noory nonchalantly, referring to a West Hollywood restaurant originally funded by George Clooney. We laughed because Rollings question was Noory seen Elton John perform, like most mere mortals. Then Noory continued, "Russell Crowe once stopped me in the Polo Lounge and said, 'You are the guy I see on the "Ancient Aliens" TV show!' I answered him, "…And you are the 'Gladiator!'"
I have been at Noory's Polo Lounge table to witness U2's Bono stepping in. The Irish rocker headed to the corner table in the dining room. I wanted to wish him a St. Patrick's Day, but resisted interrupting him.
Norman Lear, at age 100, rolled by one night in his trademark hat. This, after a career of creating more than 100 of the most formative and memorable shows in television history, including All in the Family and Sanford and Son. Two talk radio hosts, Noory and I, were speechless at the sight of Lear as he passed the table.
Talk host met another talk host when Noory appeared on Larry King's CNN television show. King started out, like Noory, hosting a syndicated overnight radio show. King, doing television later in his life, lived in Beverly Hills and bumped into Noory socially from time to time.
We Are Not Alone
Noory, who likes lavender dress shirts under his blazer, is a creature of habit. Noory and Rollings dine frequently, and at least weekly, at Carmines. It is a tiny Italian bistro on Santa Monica Boulevard near Beverly Hills in West L.A. Why Carmines?
"Sinatra and Dean Martin frequented the place," Noory answered. Then he showed me the bullet holes near the ceiling when Sammy Davis Jr.'s gun was used to shoot at an exit sign during an all-night, rat pack poker game.
Speaking of card playing, Noory and Rollings follow the Rat Pack footsteps to Las Vegas, too, at Noory's beloved Palazzo Casino Hotel. Palazzo is part of The Venetian complex. A memorial plaque out front pays homage to the Rat Pack's presence on that property when it was The Sands.
I watched, in the Palazzo high-stakes gaming salon, the poised Noory calmly dismiss losing a hand of black jack by saying, "It is what it is."
Noory and Rollings are fast friends are business partners, too. In addition to commercial messaging on "Coast to Coast AM," together they founded ParanormalDate.com and ConspiracyDate.com.
Whether or not Noory's listeners find love on the web, they know he will spend every night with them.
"There are some people listening to my show who are alone. They need someone there for them," Noory explained.
For a man who broadcasts in what Sinatra called the "wee, small hours of the morning," Noory insisted he gets virtually no sleep – three-hours-a-day – and in terms of time-off takes only occasional long weekends. He even works holidays.
"I love every minute of it. I have not taken a vacation in 20 years. My vacation is my radio show. That's my 'relaxing.' I enjoy it," Noory insisted.
Talk is Cheap
Noory enjoys talking, and listening, on the air during his show, but he does not spend much time talking about his show. Believe me, as a radio host myself, I have asked Noory lots of questions, some of which he answers.
"Am I being interviewed here?" he joked. Then he looked at his longtime pal Rollings and, in a dramatic voice, said, "We tell him too much."
I am flattered that, after our initial meeting, Noory invites me to join him at Polo Lounge on a regular basis. I am a fair foil for his jokes.
"Don't you own any black jackets?" he asked, wincing at the sight of me showing up in yet another of my candy-colored blazers.
Noory offered his coat to a woman who was about to be refused entry to Polo Lounge because her stylish, designer top left her shoulders bare.
He even once stuck up for me when my big mouth and a poor joke riled up a menacing movie producer who took a verbal shot at me the next table.
A True Gentleman
He is very much a gentleman, which is the same style in which he hosts his radio program.
While his predecessor Art Bell was acerbic and had the tempestuous spark of a bare wire, Noory's Midwest mode is more genteel. The show's phone lines are jammed nightly with callers ringing in from east and west of the Rockies on the "First Time Caller" and "Wild Card" lines. Noory encourages his often off-beat guests and wacky callers as a therapist might. "Go on," he says, without a hint of mockery or irony.
Does Noory believe them all? He answered my question with a story.
"I had a police officer call my show one night and tell me about a time he responded to a call that a man was having a heart attack. He said got to the house before the EMT's and when he knocked, a little old man opened the door allowing him to rush into the house. Once inside he found an old man face down on the floor. When he rolled him over, it was the man who opened the door. When he turned around, the other guy was gone. And the man on the floor was dead."
These kinds of tales go on through four hours of airtime each night on "Coast to Coast AM."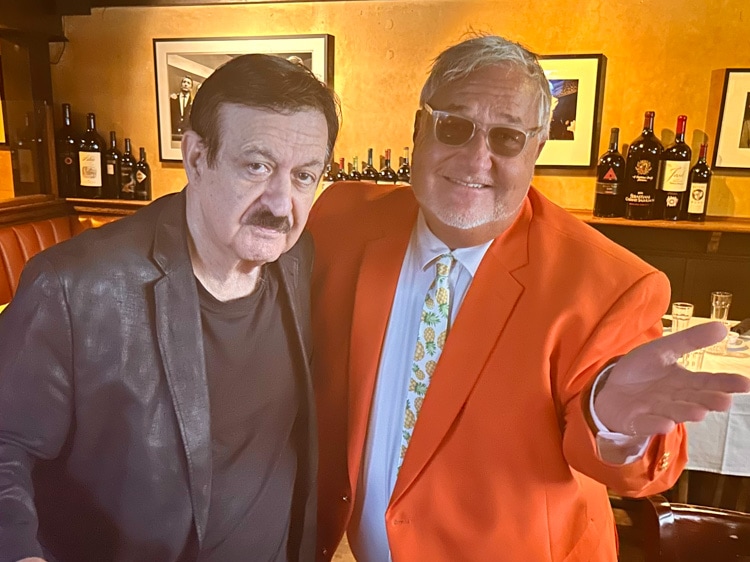 Home is Where His Microphone Is
Noory told me he splits time between St. Louis and Los Angeles. He flies occasionally to Denver to tape his television show and, like Sinatra, "jets himself to 'Crapsville" on Vegas weekends, but outside of performances in places ranging the high desert of Palm Springs to Columbus, Ohio, Noory is not keen on travel.
"I can barely stand two hours in an airplane," he insisted.
When I once asked him where he lived in L.A., Noory was cannily less candid, answering only: "west of the Rockies." This is the traditional, intriguing way – "east or west of the Rockies" – he and his predecessor Bell identify welcome listeners who call in to the radio show.
"What do you say if someone calls from in the Rockies?" Rollings once teased.
Noory's voice is all over the United States and Canada, and worldwide through streaming. And, I suppose, in the resulting dreams and nightmares which come from listening!
Read more of Michael Patrick's work at The Travel Tattler and contact him at [email protected]