The Capitol Gate building is the world's most leaning manmade tower, surpassing the lean of the Tower of Pisa. The Gate Towers boast the world's highest penthouse bridge, with a floor that people afraid of heights may not want to relax on. Aldar's Headquarters building is the world's first circular skyscraper. The disk appears as a giant pill or coin of glass and metal. The ADIA Tower looks like a sheet of paper swirling back and forth, while another nearby building looks like a rolled up sheet of paper.
Ferrari World, on Abu Dhabi's Yas Island, is the world's largest amusement park and it features the world's fastest roller coaster as well as the largest roof, resembling the hood of a red Ferrari. The Yas Viceroy is a hotel located over a Formula One racetrack, and it looks like a giant glass fishing net.
The world's largest book (This is Mohammad) and Atlas are located in Abu Dhabi.
Still under construction are an official Louvre Abu Dhabi and Guggenheim Abu Dhabi, as well as a Sheikh Zayed Musem.
As in Dubai, the one place you can count on seeing locals in Emirate garb is at the mall. At Abu Dhabi's Marina Mall, which features an actual full-size mammoth fossil inside and its own version of a London Eye Ferris wheel outside, has an express elevator up to a Sky Tower, offering a great view of the coastline, or a meal at the revolving restaurant. Opting for the less pricy and more authentic food closer to the surface, we just went up for the view.
Down a Notch
As in Dubai, it's the audacious skyscrapers and feats of architecture in Abu Dhabi that amaze, but the history and culture that satisfies—although you have to dig for it.
The United Arab Emirates Heritage Village, run by the Emirate Heritage Club, is a great place to get a feel for traditions and culture before the skyscrapers took over.
Much like a Williamsburg of the United States, this is a working village with craftsmen and craftswomen working much as they would have a couple hundred years ago. You can watch a glass blower making perfume bottles, a weaver creating scarves or rugs, a tinsmith pounding out Arabic coffee pots, a potter making pottery, and the likes.
The museum displays ancient artifacts from past culture, including early coin and paper money, pottery coffee pots, goatskin containers with the legs still attached, textiles, camel saddles, weapons, writing desks and utensils, and even a traditional home complete with wind tower, bed, and seating.
It's worth noting that the center is as much for locals as it is tourists. And that brings up the question: who is local?
Fewer than 20 percent of people who live in Abu Dhabi and Dubai are native Emirate people. Most residents who spend their lives in UAE are foreign workers—who are drawn by high wages and no taxes. With so much wealth to spend and so many projects in the works, there is no shortage of work for people who want to enter the country.
And UAE is one of the most open-armed when it comes to welcoming workers and visitors alike. That said, we also learned that there is no path to citizenship for most workers who may end up at the end of a career with no social security or pension and no home. The children of workers who spend their lives working in UAE are also not citizens, setting them up to either find work in UAE or become strangers in the homelands of their parents.
So, places like these heritage centers, museums, and the extremely popular desert excursions, which include traditional dance and food, are popular for tourists, as well as people who live in the country but aren't natives. These programs, excursions, and museums are also popular with Emirati natives, who have an entirely different lifestyle in the wake of wealth, and who want to reconnect with their past…not unlike a modern-day American wanting to visit Historic Jamestown or Williamsburg or a historic inn for a brush with history. There is much to learn from our pasts, after all.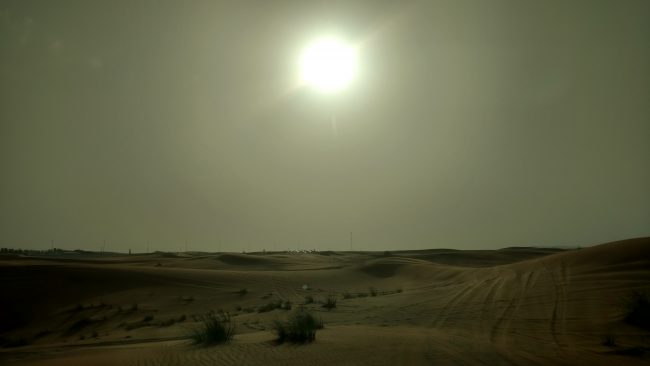 Dubai and Abu Dhabi: Somewhere in the Middle of Nowhere
Dubai and Abu Dhabi are the twin oases of United Arab Emirates. Between the two, Bedouin culture still lives — in the desert.
The middle of nowhere may not seem like the most exciting destination — but it is when you're here. The most popular excursion in UAE for a tourist or local alike is to reconnect with the Bedouin culture of yesterday by taking a desert safari.
Our 4×4 Jeep picked us up at our hotel in the early afternoon to begin our excursion. We were comfortably accompanied by our host, Khalid, and two other couples, one from Sochi and the other from Singapore. We considered ourselves fortunate to have another air-conditioned tour of Dubai's modern architecture as our Jeep picked up the other couples, and then headed out of the city, into the dusty horizon.
When we hit the desert, the first agenda item was something that has become somewhat of a modern sport: dune bashing. Khalid stopped the Jeep at the end of the road, the brown-red ripples of the wind-kissed desert stretched out before us. We got out and enjoyed the windy view as Khalid let air out of the tires, switching from asphalt to sand mode. We got back in, and he got to work.
Squeals of exhilaration and delight erupted inside the jeep as Khalid zoomed up and down the sand dunes, sometimes sliding down the side of a dune sideways, often launching the tires off the ground and into the air before plunging back into a dune with a sandy splash.
This "dune bashing" offered the ultimate off-road experience. Before long, we were joined by other Jeeps and Toyota 4x4s along the dunes. Our collecting band joined another one in the distance.
As though competing, the drivers bashed the dunes, taking turns plunging into an enormous pit and then up again.
"Safety in numbers," the Singaporean man said. "If one of us has auto trouble, there are others to help."
That was a good thing, since our thrill-ride over the dunes lasted about an hour. We stopped in a remote dune sea with nothing but sand as far as the eye could see. Then, we proceeded another ten minutes or so to our camp of Bedouin culture.
Coffee and Dates, Camels and Sunsets in the UAE
At camp, a host greeted us, one by one, with dates and our choice of Arabic coffee or tea. A man chopped the tops off of coconuts with a machete and offered them for us to drink. After camp orientation, we were allowed to explore.
Nataliya and I opted for a camel excursion first, while the sun was still visible along the horizon. In the orange glow of the sinking afternoon, we boarded our camel and headed out into the desert for about half an hour's ride. Aside from our traditionally dressed guide and the other camels around us, the view was a wonderful sea of sand dunes, dry green bushes, and orange to brown sun as it lowered in the sky. Occasionally, a falcon looped overhead and then returned to its master back at camp.
After our camel ride, just outside camp, Nataliya and I walked about ten minutes into isolation and enjoyed the desert sunset together. Then, in the still-light post-sunset dusk, we entered the camp again and partook of the festivities.
We watched a fire dance, with a man juggling fire, swallowing it and dancing with it. As we did, we sat in an open tent and sampled shisha, the Arabic version of hookah. We opted to pass on the traditional tattoo, or henna, although the woman from Sochi was all over it — or rather, it was all over her.
Seated around the stage, in traditional floor-pillow seats and low tables, we enjoyed a large meal of traditional foods, including dishes of beef, goat, chicken, rice, couscous, beans, chickpeas, and lentils.
As we finished our meals, we enjoyed entertainment on the stage, where the fire dance had been performed earlier. In a traditional tanoura dance, a man in a iridescent skirt carrying colorful drums spun around in circles so fast and for so long that we were shocked to see him walk in a straight line after. As he spun, he arranged the drums in different patterns, and his decorative skirt also spun out, creating a rainbow of blurred beauty.
The next beauty to hit the stage was the belly dancer, who shook more than just her belly to the sound of loud applause.
Continued on next page