The Caribbean boasts some beautiful hotels and resorts, many of which could be a destination all their own. With over 26 island nations to choose from, the West Indies is a most sought-after destination for travel enthusiasts. Your stay at a luxurious hotel will make you feel at home away from home.
Top Caribbean Hotels
Here are six of the most astounding hotel getaways in the Caribbean where you can enjoy rich dining, perfect sunshine, pleasant beaches and get to learn the culture of the people – all in one package deal.
Eden Rock Hotel (St. Barthelemy)
Eden Rock Hotel in St. Barthelemy, also known as St. Barts or St. Barths, is a leading resort. Top celebrities from all over the world vacation there. Although the hotel is over 60 years old, it has managed to retain its elegance.
The hotel's unique accommodations include private terraces and spacious rooms. Eden Rock also boasts a private art gallery, the Villa Nina, and a recording studio, the Rock Star Villa. The hotel's sandy beach is pristine.
Other attractions include an in-room spa treatment facility and the acclaimed On the Rocks restaurant. Spending quality time at the Eden Rock Hotel will leave you asking for more.
Jumby Bay Hotel (Antigua)
Jumby Bay Hotel is Antigua's top-notch guesthouse. Each room in the hotel has its own taste of luxury. When staying at this comfortable hotel, you can take a short trip to the small islet on Long Island, which is only 2 miles away, and bask in the sun as you lie on the pristine sandy beach.
In addition, the hotel has octagonal cottages with rondavel-style rooms featuring four-poster beds, a wraparound terrace and a well-positioned outdoor shower. If you can afford the cost and rent a private villa on the property, you can have your own personal swimming pool to enjoy and beach access to go along with it.
Other attractions include water sports, two pools for all the guests to enjoy and a spa to help you relax while you are away from home. For dining facilities, you can choose from four feasting venues where you can get any type of food to eat, from tasty hamburgers to specially prepared grilled lobster tail.
Book your stay at the Jumbo Bay Hotel here.
Jamaica Inn (Ocho Rios, Jamaica)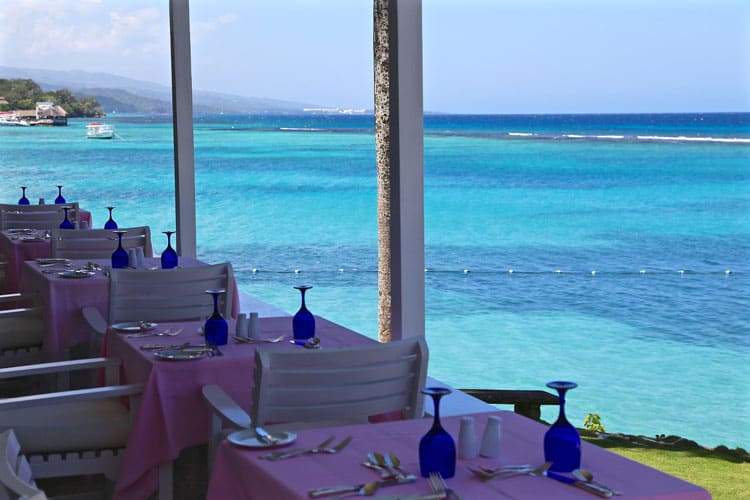 Established in 1950, the Jamaica Inn makes every effort to assure that guests get the best experience from being away from home and enjoying a comfortable atmosphere. The inn's cottages and suites are air-conditioned to deal with the hot temperature that makes the island of Jamaica a sunny paradise.
The walls are cerulean color and the furnishings come in blue and white to complement the sky, beach and sea. You have access to Wi-Fi service and private verandahs or balconies.
The open-air ground-floor restaurant has some of the tastiest Jamaican dishes available, and if you are an avid beer lover, you can enjoy the country's popular Red Stripe beer at any time of the day.
There is a massage facility at your disposal, and you can have lemongrass tea to drink all day at the Ocean Spa. The beach has its own equipment for kayaking, sailing and snorkeling. Light snacks, tea and hot and cold hors d'oeuvres are always available on the house for you to enjoy.
Another outstanding resort to explore: ALL-INCLUSIVE RESORT IN JAMAICA
The Palms Turks and Caicos
The Palms Turks and Caicos is an ideal getaway for the entire family. The pool that snakes around the hotel grounds are an ideal spot for the kids to splash in while grownups enjoy a cool and relaxing drink at the bar called Plunge.
The guest rooms are immaculately furnished with one or more king-sized beds and individual balconies. The Palms also boasts a fitness center that employs personal trainers (at no additional cost to you). A 25,000-square-foot spa also is available to add relaxation to your vacation away from home.
To satisfy your food cravings, you can visit any one or both of the Palm restaurants where the chefs provide delicious meals. After dark, you can spend time sipping a nightcap at the bar before going to bed.
Book your stay at The Palms Turks and Caicos here.
The Ritz-Carlton (Grand Cayman)
The Ritz-Carlton in Grand Cayman is a top-notch hotel on desirable Seven Mile Beach. The coral sand will keep you happy while taking a sunbath. However, if you prefer to stay indoors, you will find guest room amenities such as soaking tubs, private balconies, mini-fridges and Asprey toiletries.
For outdoor attractions, schedule a tee time on the golf course designed by Gregg Norman; visit the spa, where you will get the royal treatment, or go on an adventure using the hotel's rafting, kayaking and snorkeling gear. Dine at one of the hotel's restaurants and sample some of their delectable meals or sip alcoholic beverages at the bar.
Book your stay at the Ritz-Carlton here.

Tortuga Bay Hotel in the Dominican Republic is a luxury guesthouse that caters to visitors from all parts of the globe. With rooms created by fashion designer Oscar de la Renta, the hotel features spacious accommodations with kitchenettes, Jacuzzis and flat-screen TVs.
Tortuga Bay Hotel is known for its scrumptious meals, and its leading restaurant Bamboo sees to it that guests sample some of its best appetizers. In addition, you can enjoy meals at one of the other five restaurants located on the property, or at the famous Puntacana Resort and Club.
This Caribbean hotel owns two golf courses designed by Tom Fazio and P.B. Dye, respectively. If golf is not your love, then try relaxing at the Six Senses Spa and take advantage of an array of body scrubs and massages.
Any of these six best hotels to visit in the Caribbean will be a memorable one, and you can learn the culture of the Caribbean people while you are at it as well.
You don't want to miss this amazing video on Sunset at Jamaica 
Author Bio: Lancelot Tucker is a book author and freelance writer living in Jamaica.