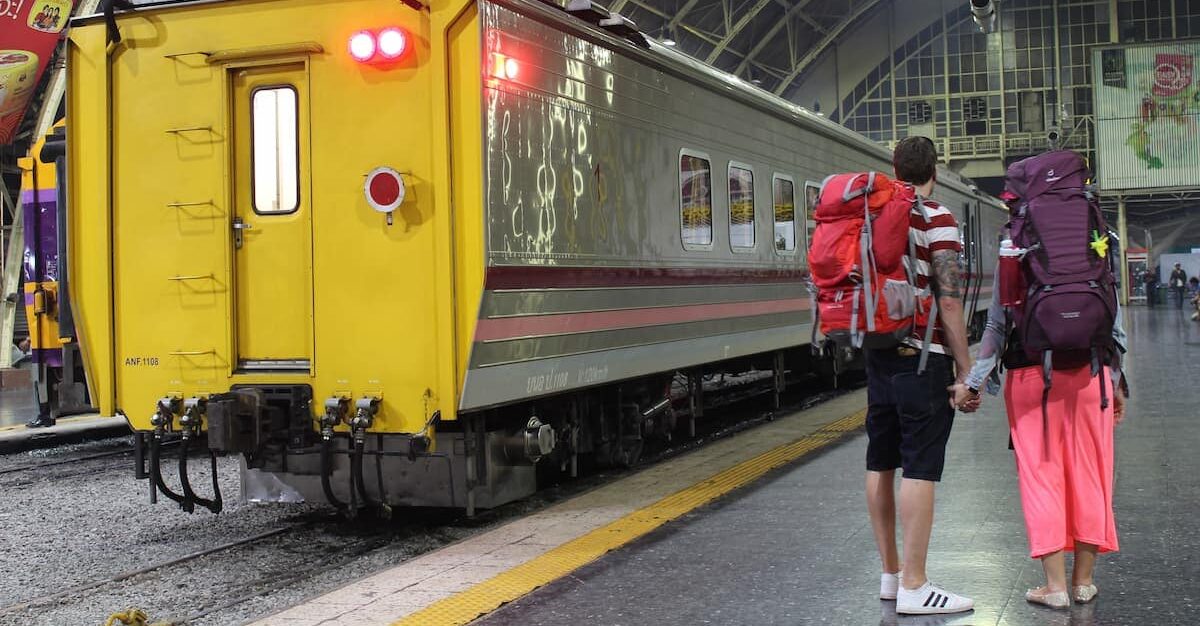 Southeast Asia represents the number one destination for backpackers from all over the world. It is hard to compete with the amazing landscapes, crystal clear ocean waters, friendly mentality of the people, and amazing cuisine of countries, such as Thailand, Cambodia, Laos, or Vietnam.
A particularly common route of traveling lies between Bangkok and Vientiane, the capital cities of Thailand and Laos, respectively. With a distance of about 650 km, the selection of the most efficient way of traveling can be overwhelming.
Basic Routes of Traveling
In this first paragraph, I would like to briefly go through the possible routes of traveling before I give a detailed insight in my number one choice, the overnight train.
Basically, there are 4 direct ways to get into Laos via Vientiane (Flight, bus, self-drive, train) when coming from Bangkok (and vice versa). The most obvious and cheapest way is flying from Bangkok Suvarnabhumi Airport to Vientiane International Airport.
This direct one-hour flight costs approximately 150 – 250 US$ and departs Bangkok multiple times per day. A bus trip usually takes about 10 – 12 hours and costs roughly 25 – 50 US$, depending on the bus line and time of booking.
Best Tips & Tools to Plan Your Trip
Driving directly with a rental car is also possible, but really has no clear benefit. The road structure is not really well developed and renting a car for a backpacking trip seems a little counterproductive, since it needs to be returned, mostly to the place of rental or an extra charge will be applied.
The rental fee for the smallest car with all recommended insurances is about 50 US$ per day excluding gas. The drive itself takes about 10 hours. The last way of direct traveling is by train. A regular train ride can be as cheap as 10 US$, whereas the "overnight sleeper train" costs about 35 US$ per person and trip.
Why the Overnight Sleeper Train Is a Perfect Choice for Anyone
Giving all the options, the main question really is: What does "traveling efficiently" mean for us? Some people want to save time, others money. And this is exactly why I highly recommend the overnight sleeper train. It represents a perfect compromise considering both aspects.
First of all, the sleeper train is quite affordable when compared to flights or rental cars. The second advantage is one of comfort. In a sleeper train, actual beds exist, which give you a perfect place to sleep.
We all know how it feels to do time-consuming long-distance trips on busses or trains while always having to sit up straight. Compared to using a rental car, the train gives us the possibility to relax.
However, the biggest advantage of the overnight sleeper train is the fact that, as the name indicates, it goes overnight. This means that you don't lose any precious day/adventure time. You are on a train that smoothly gets you to your next destination while sleeping comfortably in an actual bed.
Before you know it, you wake up in a different country. Well, this was now the theory, but how was it in real life?
An Adventurous Journey Between Thailand and Laos
After a few days in Bangkok, my wife and I started researching the best ways to get to Laos. Once we went through all the pros and cons of each way of traveling mentioned above, we decided on the overnight journey with a sleeper train, which was scheduled for leaving Hua Lamphong station in Bangkok at 08:00 pm that day.
The train station is pretty central and offers a huge variety of food places in close proximity. Getting there a bit earlier (06:00 pm) gave us just enough time to get familiar with the train station and to grab a romantic dinner together.
After our favorite meal, Pad Thai, we walked over to the platform, which already had our train waiting for us. We quickly talked to the railway official, who pointed us to the right wagon.
The two seats that were allocated to us were actually part of a 4-seat arrangement. The kind where 4 seats are facing each other (2 seats on the left and two seats on the right). We were wondering if other people would sit next to us and how the sleeping situation would be.
At around 10:00 pm, a railway official (not the same one we talked to outside the train right before departure) walked through the train and folded out the matrasses that were partly hidden in the walls. And voilà, our 4 seats turned into a bunk bed.
That entire transformation happened so quickly that we were a bit overwhelmed. The railway official barely spoke English and we initially didn't know what he wanted. Eventually, he just started to fiddle with the seats, so we stepped aside and watched the magic happen.
He did not only turn the seats of those people into beds that occupied seats but the entire wagon. Soon after, the lights over the aisle turned off and it got really quiet. There were about 10 other passengers in our wagon.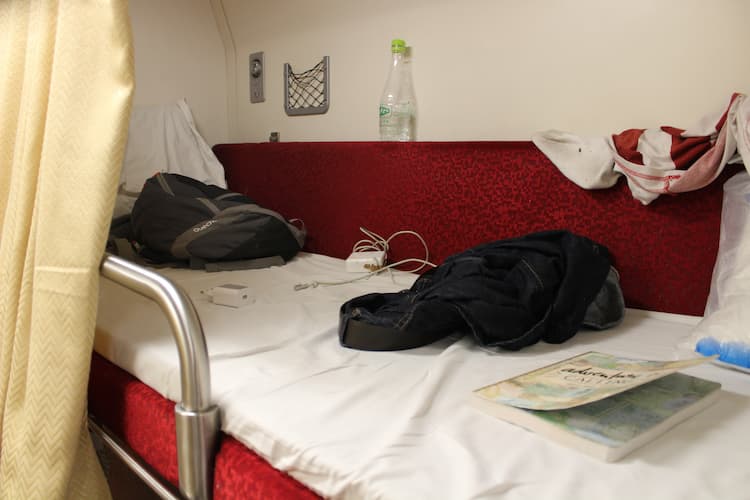 Some traveling solo, others in groups. As soon as the lights went out, we couldn't hear a single person talking anymore. A brief look showed us that all the people with beds had closed the yellow curtains hanging in front of their night´s lodging. We accordingly did the same.
With the lights of our headlamps, my wife and I squeezed us into my upper bed to continue writing in our travel journals and to spend some more time together. We tried to be as quiet as possible and happily talked about our past experiences in Bangkok.
Eventually, my wife climbed back down to her bed and we quickly fell asleep like two babies after their first walk. Before we knew it, the same railway official that turned the seats into beds walked through the aisle and woke everybody up at 06:00 am, 30 minutes before arriving Nong Khai, which is the northernmost point of Thailand.
If there is anything negative about that way of traveling, it is the fact that we still had to cross the border to Laos by ourselves. However, this was not a hard task at all, and the way to the border was very easy to find. We could have taken a taxi, but were informed not to do so.
First, the taxis will definitely charge an insane amount of money and second, the distance was easily walkable. Especially after not being on our feet for 10 hours, this was a great morning exercise to wake us up.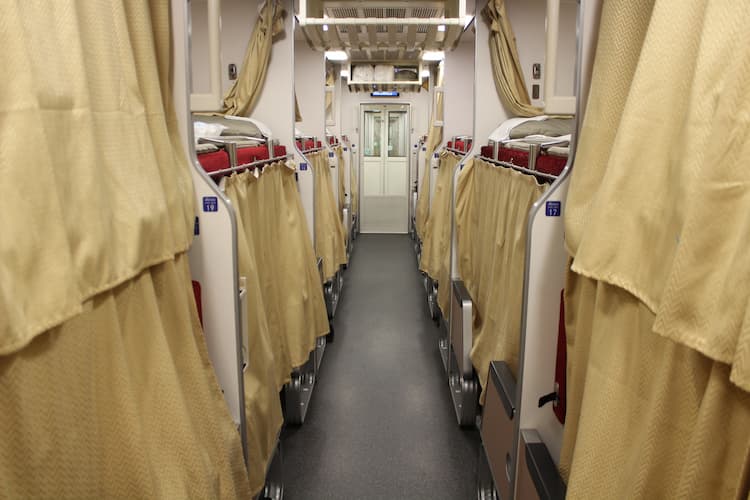 Although we had no cellphone service, we decided to follow a dirt road that looked like the only plausible way to go. We had no cellphone service but knew that (worst case) we could just follow all the other passengers. After all, everyone had to walk the same way.
There was nowhere else to go to, just the border crossing. With that in mind, we felt very comfortable and soon reached the Nong Khai Customs Boundary Post. Nobody checked anything there, so we just walked right through it. After passing the Thai part of the border, we noticed that we were not allowed to walk any further. In fact, we were asked to wait for a bus.
Not really understanding why and what bus this was, we got in line with those people already waiting. About 15 minutes later, a bus that probably fit 20 – 25 people stopped in front of us. After all the passengers left the vehicle, we were able to enter as two of the last 5 people that fit.
Accordingly, we had nowhere to sit and were standing in the small aisle of the bus. For a few minutes, nothing happened. It already felt like it was getting really hot. We didn't really know whether it was the actual weather or the engine of the bus.
Once we started driving, we soon reached the 1 km-long Thai-Lao friendship bridge, which opened on April 8th, 1994. The whole drive only took about 3 minutes and we reached the other side of the bridge. After stepping off the bus, we immediately walked towards the immigration counters of Laos.
Passport Pictures Needed to Receive a Valid Visa
While walking, we spotted a poster, informing arriving passengers that passport pictures are needed in order to receive a valid visa. Right behind that poster was a person managing a photobooth (how practical!).
For 10 US$ we each quickly got new pictures taken, walked to the immigration official, and happily handed them over together with our passports.
No questions asked, no information given. It took the immigration official a few minutes until he quietly handed us our passports back, including our visa. We stepped out of the immigration building and, of course, were immediately swarmed by people trying to get us into one of their taxis/rickshaws.
When two guys were offering us a ride at the same time, we used that chance and told them that we would go with whoever gives us the best price. Originally starting off with 35 US$, we managed to get a ride for 10 US$ each.
Traveling those last 17 km to our hotel was bumpy but exciting. We attentively observed our surroundings and got excited about the fact that getting into another country was so easy and straightforward (traveling as it should be).
Besides the little extra effort to cross borders separately after the train ride, I highly recommend this way of traveling. It takes a lot of stress away, is time efficient, and is affordable. A few days after our entry, we took the exact trip back to Bangkok, a journey that was equally unproblematic and enjoyable.
Ready to Cross Borders?
When traveling to Laos from Bangkok (or vice versa), there is not really much to consider. The location of hotels barely matters in either of the two cities. In Vientiane, a taxi ride from the city to the border post is indispensable.
Since it can't be avoided, I highly recommend asking your hotel for a reliable and trustworthy contact. Chances are that they will simply ask a friend to help with their business, but at least you know that the person recommended will be there to pick you up.
This is particularly important when leaving early in the morning. It may not be easy to find a taxi/rickshaw standing around somewhere waiting for customers. If you are fine with spending a bit more money, you can order yourself an official driver (private guide) by using LOCA.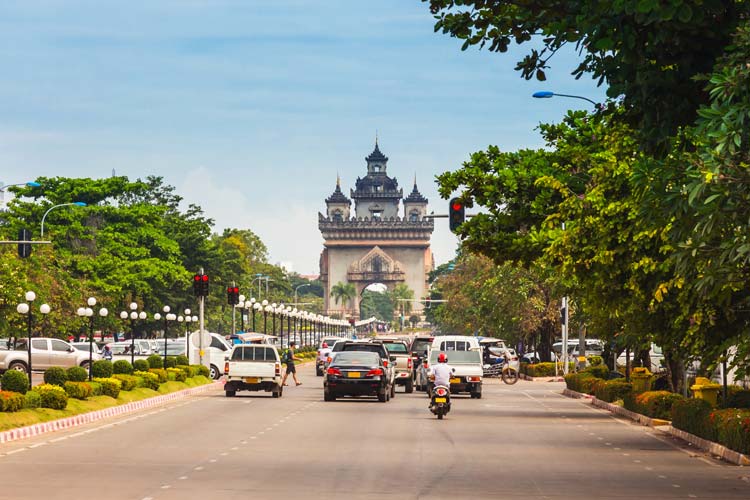 Another reliable option for dealing with taxis is using the DriveUp App, which is specialized in transportation within Laos and Cambodia. As far as Bangkok goes, the Hua Lamphong train station lies exactly in the center of the city.
Since affordable hotels are equally scattered all over Thailand's capital, it's entirely up to your budget. For booking your train (or any other transportation within Southeast Asia), I deeply recommend using 12goAsia.
I have used this website for all kinds of comparisons and bookings during 4 trips to Southeast Asia so far. Not once did I get disappointed by either the service or customer support.
Plan even more fun along your Southeast Asian adventure by booking some unique activities, expert-led tours and skip-the-line tickets to major attractions in Bangkok and Vientiane through GetYourGuide. Find more information and book your tours in advance here.
Inspire your next adventure with our articles below:
Author Bio: Thomas Später is an experienced backpacking traveler that specializes in adventurous trips around the globe. He has traveled to remote and exotic places, such as Namibia or Mongolia and focuses on landscape and wildlife photography to share the beauty of our planet with others. In 2021, Thomas published a (German) book about Overpopulation and overconsumption (Die Überbevölkerung). With his awareness of current global issues, he uses his travels to support particularly local hotels and restaurants to raise awareness for the nature and culture of his destinations.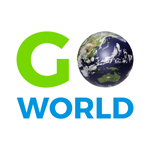 Latest posts by Go World Travel Magazine
(see all)