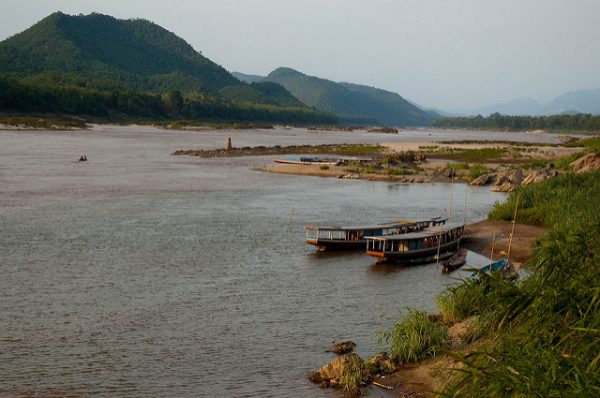 How It Starts
"How far are we going again?"
"Around 200km."
"And how long will that take?"
"Two days, we'll be travelling for about 23 hours in total."
I'm not a mathematician, nor a particularly speedy mover, but even I know that I can run at a faster pace than that.
Not for 200km along the Mekong River, from sleepy Luang Prabang in Laos to Chiang Chong, just inside of the Thai border, granted, but still – this is not exactly fast.
"It is a slow boat…" my guide reminds me.
Still, what had initially appeared to be an idyllic idea was fast striking me as just plain inefficient. London Underground is my usual means of transport, where I roll my eyes when I have to wait more than SIX MINUTES for a train.
I get irate when people walk slowly, stopping to view the beautiful city in which we live rather than move frantically around it.
Travel means getting from A to B – places to go, people to see, things to get done, the ambience one of ticking clocks, buzzing phones, the murmur of business conversations and the musty smell of overpriced coffee.
What on earth was I going to do on this bloody boat?
Travel on the Mekong
Morning arrives. Well, the depth of night, but the prescribed time to awaken for the start of our journey. It's dark and cold, my images of a balmy Asia wrapped in a blanket of purple fuzz.
The redeeming feature is that my bag is significantly lighter as I must wear all my clothing in order to keep warm.
After a songathew ride through the quiet roads of sleeping UNESCO town Luang Prabang, we arrive at the steep muddy flats of the Mekong to board our vessel.
I stumble down, aided by the humble boat owners onto the long spacious and sparse craft. I'm handed a blanket as they do so.
It may be only 6 a.m. but the early start and cold air mean that breakfast is due. "Shall we make a brew?" my Yorkshire pal asks, and so we cuddle our tea and sink our teeth into our baguettes.
Travel in Laos
Morning fuses through mist into day time. A haze envelopes the boat as it starts its course along the Mekong. This is a waterway full of stories.
Through seven countries over 4350 kilometers it runs, and has been a route of transport, trade and travel for thousands of years.
Relationships have been forged, goods bought and sold, communities created, ideas spread, migration formed, and new developments forged.
It continues to be all these things and more to do this day, including a passage for travelers from one country to another.
The Amazing View
Rocky crops lie dotted in the fast flowing water (fast flowing against us) and the driver stoically steers, never once moving from his seat.
Flanked by mountains, the banks are layer upon layer of sandy silt, gently undulating rocks rising up into hills that are not stark or sever but endless gradations of grey in the distance, edged by sniffles of trees closer to shore.
The land is fertile, and so the greens are lush, natural fauna interspersed with terraced crops, tumbling trees occasionally broken with organized square fields.
Occasionally we see long thin sticks perched from a rock, a piece of string dangling into the still water in the hope of catching a fish.
Even more occasionally, I spot a fisherman sitting at the other end. Fishing and farming form the livelihood of over 95 percent of the Mekong village families, and exchanging goods rather than money is still one of the main ways in which they support their families.
As mid-day approaches, things start to warm up. The canvas wind breakers are rolled up and part of the roof unfolded.
The blankets come off, although the sharp bracing breeze stops the idea of any kind of sunbathing.
Lunch is cooked by our hosts, a typical Laotian feast of fried chicken, fried rice, and fried vegetables (spot a theme?), tamarind, chili and lemongrass perpetually evident.
Nourished, I nestle down with my book on my lap, looking up to marvel at how untouched and unvarying the scenery is, yet that it can still hold my gaze and startle me with its beauty.
A Small Visit to Paknqeum
Around 5:30, we arrive at the village, Pakngeum, where we are to sleep tonight. The boat pulls up on a sandy shore, palm trees on the beach and large flat swathes of golden sand stretched out.
Expecting to see Robinson Crusoe rise from behind the dunes, I'm surprised at the tropical feel of this northern part of Laos.
About 100m up a steep shaft of sand are bamboo huts. This is the host village, and we climb to visit them.
This is simple living. Consisting of a handful of bamboo huts on stilts and only three concrete buildings (the school, the village hall, and the council, none with windows) the fishing and farming village is unlike anywhere I have slept before.
It is home to three separate tribes, each with different languages, traditions, and livelihoods. All subsist and survive in the space, growing and working alongside one another.
The children point and giggle at this group of westerners visiting their home. It's just home, after all.
Kids of an age to be having their own iPhones in the UK are enthralled at the magic of seeing themselves on screens as we gather with them for photos.
They giggle and smile and point, a shy warmth to their personalities. After a quick navigation around the 'town', it is time for dinner. Rice, vegetables, warm broth and cool water fill the table.
And suddenly it is night. Darkness descends quickly around here, enveloping the hills and town in pitch black almost instantly.
With such early starts, and the need to preserve precious electricity, the children usually go straight to bed after dinner. But with visitors in town they have a treat – more school! We are to teach them.
Their enthusiasm was striking (other than the few boys having to be dragged from their game of football, but some things do transcend all boundaries) and soon we are surrounded by a cacophony of voices of all ages chanting back colors and calendar months.
Parents peer through the windows to applaud, and it's a genuinely fun evening, surprising many of us. A successful hour's education is rounded off with a riotous rendition of Head Shoulders Knees & Toes and the Hokey Pokey.
As always in this situations, it's hard to know whether the lesson or the play was more valuable, and whether the teachers or students learned more.
An inner sparkle that comes from playing for the sake of playing seems to ignite in us all.
And then it's to bed. The home is simple, three linear rooms, and we are at the front in an empty square space with only a Buddhist shrine and drawings by the seven-year-old daughter, Phra.
Four mattresses, blankets, and mosquito nets are set up on the floor, one for each girl staying. After thank you's and what we hope are the final toilet stops at the shed a hundred yards down the bank we blow out the candles to sleep.
Unable to completely escape the slave to technology urge, I cast a glance at my phone (it has a light) – 8 p.m.
The Night on the Village
The night time is not silent, as in devoid of sound, but there is a sort of tranquility and purity to the noise. No whirring air con, mumbling TVs, perma laptops or chatting.
Other than the occasional scurrying animal, the only noises are the cicadas' symphonic hum and the rush rush rush of the flowing river. Loud but meditative, it lulls us to dreams.
A rapping on the door gets faster and faster. In a deep sleep, I come round in that 'where, what, how' stupor. We've overlaid and missed our wake up, and the rest of the group is waiting to leave.
We're surprised we've slept that well. Thankfully this is not a situation where grooming is necessary and so we fold our blankets, whisper thank you, and leave into the darkness.
The next day is more of the same. The scenery doesn't change much, but hovers un-endingly. It becomes entrancing and its vast sameness trains the gaze to being more attuned to changes.
Fluctuations in the hue of fluffing leaves, the formation of a new plant, trees bending in a different direction are all noted. The expression in the eyes of water buffalo becomes apparent.
The curve of the rock and the meander of the boat is real to the sharpened senses. Observation and appreciation heightened.
As we get further down the river and closer to our border crossing, we are literally sandwiched between two countries: Thailand on the left and Laos to the right.
From our vantage point of neutrality, the landscape and view suggests little difference, and it's true that they have shared heritage and culture.
For people so used to categorizing everything, adhering to timetables and structures, being in no man's land has an odd frisson in itself.
The final couple of hours glide past with grace. Soon we are at the point of disembarkation, and I'm genuinely sad to leave.
Sure, it was not the most efficient form of transportation, but sometimes travel is just as much about the journey.
I didn't do much, I saw a lot of the same, but the things that I felt…well, that is the magic of travel.
Author Bio: Francesca Baker is a scribbler, wanderer and ponderer. Prefers pencils to pens. Read more at www.andsoshethinks.co.uk