Shangri-La Hotel in Bangkok
Bangkok is one of the world's top travel destinations and all the major luxury hotel brands have locations there. In the fall of 2018, Waldorf Astoria will open its first Southeast Asian property in the Thai capital. The Shangri-La Hotel, Bangkok first opened in 1986 and offers a true urban resort experience in the heart of the city. The hotel is right on the bank of the Chao Phraya River and takes up a quarter mile of river frontage.
I had an amazing adventure in Bangkok and spent some of my time at the Shangri-La. The luxury hotel has two wings, the Shangri-La Wing and the Krungthep Wing. I learned "Krungthep" means Bangkok in the Thai language. The Shangri-La Wing was built first and the rooms there are slightly larger. The Krungthep Wing's rooms and suites all have outdoor terraces. Each wing has its own swimming pool and outdoor resort area and the hotel has two lobbies. Here's a look at a beautiful Executive Riverview Suite in the hotel's Shangri-La Wing.
Food Options at the Hotel
When it's time to eat, the Shangri-La Hotel, Bangkok has three main restaurants to choose from: Salathip serving Thai cuisine, Volti serving Italian cuisine and Shang Palace serving Cantonese cuisine. The Shangri-La has its own river cruise ship and offers a Horizon Cruise, where guests explore the city on a delicious dinner cruise with food prepared by the hotel's chefs.
Aside from the luxurious accommodations and warm, personal service, the hotel is also convenient. There's a river taxi stop right behind the hotel (taking you up and down as well as across the river) and a SkyTrain station directly in front of the hotel. With Bangkok's crazy traffic, my favorite mode of transportation was scooter taxi.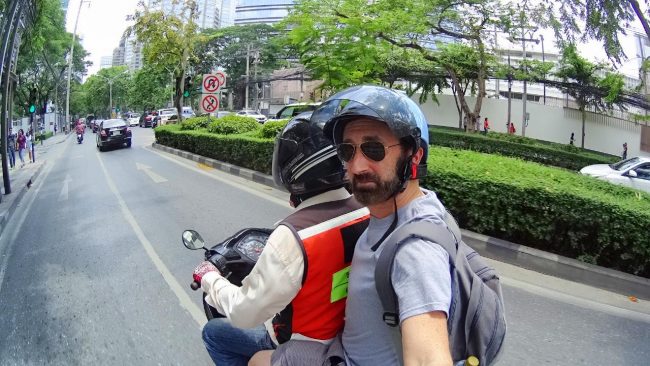 Luxury Hotel Property
I'm a big fan of Shangri-La Hotels and Resorts, the Hong Kong-based hotel brand has over 130 luxury properties around the world. I like how they have common features to all properties, to make them feel more like home. Each Shangri-La has a Shang Palace Chinese restaurant (each property has other restaurants too, but they all have a Shang Palace). There is also a special Shangri-La scent (a kind of white lotus vibe) which is used at every location. So when you walk into one, and you've been to another one, there's a sense memory and a familiar smell. There's also special Shangri-La music, which is always playing on the TV whenever you check into a room or suite, regardless of the location.
I flew to Bangkok on China Eastern Airlines, via their hub in Shanghai. They have two daily flights between LAX and Shanghai and serve almost 200 destinations around the world from PVG. I flew in their excellent Business Class cabin and found the whole experience quite luxurious.
Read more of Freddy Sherman's take on travel on his Go World Travel Blog. You can also follow more of his adventures at luxuryfred.com, on his luxuryfred Instagram feed and on his YouTube channel.