A voice booms suddenly over the loudspeaker on the Queen Elizabeth 2, interrupting our interview outside on the ship's sun deck: "Code 2 in Laundry Room. Code 2 in Laundry Room."
"That means there is water in the Laundry Room," Beatrice DuMont Muller explains.
She should know. For the past six-and-a-half years, Muller has been a passenger extraordinaire, living in stateroom 4062 aboard Cunard Line's venerable QE2. She knows "ship speak."
Wearing a strawberry blonde wig — "I wear a hat in the daytime and a wig at night" — Muller looks a decade or more younger than her 87 years.
"When you live on the ship you get a year younger every year," she says.
No matter how appealing cruising might be, most people would have a difficult time envisioning themselves living year after year as a passenger on a cruise ship. But Muller, who stays in touch with family and friends via e-mail in the ship's computer center, can't imagine living anywhere else.
Does she ever tire of life aboard the QE2 after all these years?
"Oh no," she says. "Every time I get annoyed at something I go back into my cabin and realize how bored I would be with no eyesight to drive any longer, no grandchildren — all my grandchildren are the kids who work here. My two sons come and sail with me. I don't have to cook and shop and clean any longer.
"It's been a fantastic life for me here."
Indeed.
A steward makes her bed every morning and turns it down at night. He tidies her cabin twice a day. Chefs prepare her meals. Entertainers perform nightly on the main stage and the ship's orchestra plays music for ballroom dancing.
And, in addition to all the other amenities of shipboard living, Muller has seen every place in the world that the QE2 sails to — more than once.
Many of the ports are part of the QE2's annual 108-day world cruise, which in January marks the 25th year the 39-year-old cruise ship has been circling the globe. Leaving January 8, the ship will call at 41 cities in 25 countries on five continents.
Before calling the QE2 home, Muller lived in Bound Brook, New Jersey, with her retired engineer husband of 57 years, Robert Arthur Muller. They were on their fifth world cruise in March 1999 when Bob Muller died at age 85 just after the QE2 left India. He had contracted a virus that couldn't be treated because of his severe emphysema.
He could have been taken off the ship and sent to a hospital. "But he said, 'No, I don't want to get off. It's my time,'" Muller recalls. "Dr. Carroll (QE2 physician Martin Carroll) made his passing easy, and the priest on board and the ship's captain and his wife were with him in his last days. His faith was very deep. He just ran off with my Lord, that's all."
The Mullers' eldest son, Allan, 56, of Middlesex, New Jersey, flew to Israel and joined the QE2 in Haifa shortly after his father's death. The  body was kept in the ship's morgue until the QE2 arrived in Southampton, England, where Allan had the remains cremated, and he  subsequently brought the ashes home. Bea Muller remained on the QE2 until it completed the world cruise several weeks later.
"When I got home, the boys said, 'Well, mother, that's where your friends are (on the QE2). Why don't you stay?' So I spent the next 10 months  selling everything I owned and came here to live in January 2000."
Allan Muller and his brother, Geoffrey, 50, of Winchester, Massachusetts, joined their mother on the QE2 that January for a memorial service  at dawn, just as the ship was leaving Los Angeles. Bob Muller's ashes were tossed over the side of the ship.
"It was a lovely service and beautifully handled," Bea Muller says. "My husband always wanted to be buried at sea."
Muller says she hasn't decided if her ashes will be thrown off the QE2 when she dies. "We'll have to see."
Meanwhile, Muller is very much alive, still dancing with the ship's "gentleman hosts," the men who sail on various cruise ships to provide dancing partners for single women. I went home and had a new hip put in because I didn't have any cartilage, so I can keep on dancing," she says. "Dancing, duplicate bridge and trying not to eat too much are my priorities — not necessarily in that order."
Muller must buy cruise tickets, like other passengers.
"You can buy a ticket as far ahead as they publish itineraries, so I keep booking so that they won't take my cabin away," she says. "The only thing they've given me is an agreement that if I want to go home for a couple of months, give them 60 days' notice and I can have my cabin back when I get back."
Each January she meets with a vice president and gets a price for itineraries as far ahead as the company can determine, making sure that she will receive an early-booking discount. "I get a spread sheet and I pay them through the purser's office here every 60 days in advance."
Muller doesn't have a luxurious suite on the QE2. Her cabin is an interior double, with about 120 square feet (11 m²) of space. She has a table for two in the Mauretania restaurant, considered the QE2's least plush dining experiences. "If I'm going to be here forever I must be frugal," she says.
Muller says it costs her "less than US$ 100,000" a year to live as a permanent resident on the QE2, including trips on shore and for the traveling she does at other times.
"I'm lucky enough to have enough income that if I'm careful I can manage," she says.
Muller will have to consider another ship if the aging QE2, the last great British-built ocean liner, stops sailing. In September 2007 the QE2 will mark the 40th anniversary of her launching.
"This ship is the end of an exquisite era of grace and charm. The Queen Mary 2 will be a wonderful lady some day when she gets personality," Muller says of the QE2's younger sister, which dethroned her as Cunard Line's flagship. "That's a possibility. Or, I will go back to Myrtle Beach (South Carolina), where I still have a house, because I'm trying to write a book about the QE2's glamour era, and I've got an agent down there who is trying to push it."
For now, she's booked through the QE2's 2008 world cruise.
"Why should I go home to my vacuum cleaner?" she asks rhetorically. "If I run out of money my sons will keep me here to keep me out of their hair. They're delighted I'm safe and happy."
If You Go
Cunard Cruise Lines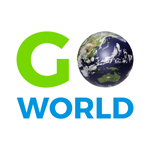 Latest posts by Go World Travel Magazine
(see all)