Trentino, Italy does not readily pop into mind for those contemplating an Italian sojourn. Tuscany, most certainly, Umbria, Sicily — but Trentino? To mention this mountainous province tends to invite head scratching: "Trentino … where is Trentino?"
Look to Italy's far northeast corner, tucked into the shadow of the jagged limestone peaks of the famed Dolomites. To the west, Lombardy; Veneto to the east; Austria bordering the north.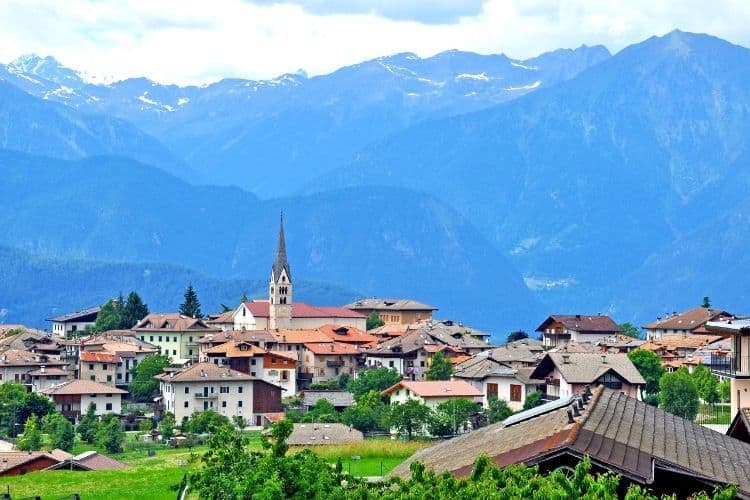 What to See & Do in Trentino, Italy
Best known to daring-do skiers for winter sport resorts like Canazei and San Martino di Castrozza, Trentino remains relatively untouched by the tourists of summer.
Trentino, Italy is tailor-made for those who enjoy traveling on their own. One can hike around a secluded alpine lake in the morning; sample wine at a family-owned winery at noon; stroll along the palm-lined promenade of a spa in the afternoon; dine at a Michelin-starred restaurant; and slip into bed in a medieval castle at the end of the day.
Measuring about 2,400 square miles (6,200 km²), Trentino is only as big as Utah's Great Salt Lake when filled to capacity. But tucked in one small corner here are glaciers, alpine lakes and waterfalls. Castles top almost every promontory — some in rocky ruin, many partly restored, with others seeing service as museums and inns.
Lush hillsides and valleys supply high-quality grapes for renowned Italian wines, and fill the country's market basket with an array of fruits and vegetables, cheeses and specialty meats.
Charming and tidy alpine villages enchant in a tumble of bright geraniums and petunias. Trentino's thermal waters have been visited since ancient times. Here is one of the largest and most famous spa towns in the Italian Alps, Merano.
The town of Trento, population of 55,000, beautifully situated in a wide glacial valley with a backdrop of awe-inspiring peaks, is the capital of this autonomous region.
Off the beaten path of mass tourism, Trento is well worth a visit, with its unique architectural mix of restored late-Medieval and Renaissance buildings and Germanic influences.
Traveling north to south through Trentino, in about 62 miles (100 km) the vegetation changes from alpine to Mediterranean, complete with lemons, olives and oleanders. At its southern end is Lake Garda, shaped like an elongated, upside-down watery version of Italy itself. Italy's largest lake is especially popular with Northern European tourists, who come to sail, windsurf and water ski.
The historic town of Riva del Garda, with its trademark Torre Apponale, a tower built in 1220, is particularly popular.
Can't travel to Italy right now? Visit Italy through these books by Italian authors.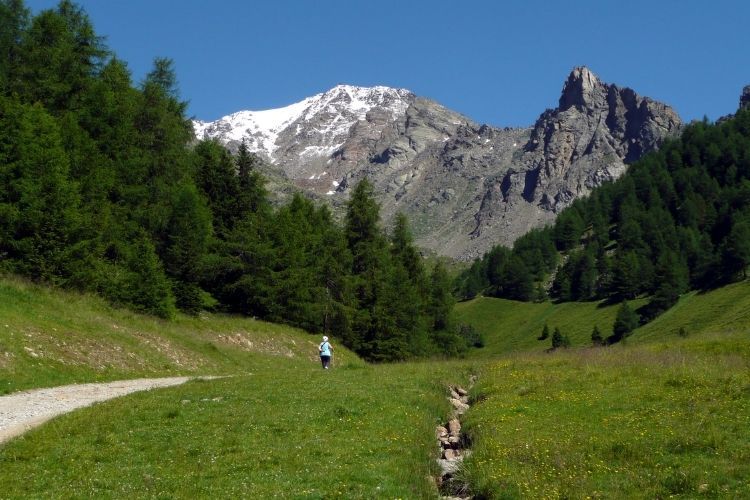 Family Travel in Trentino
Travelers with children in tow will find Trentino a veritable Disneyland of family activities. In addition to Lake Garda's treasure trove of water sports, there are hundreds of marked hiking trails, designated for their levels of difficulty. Families could board a cable lift, step off and begin their walks on the top of the world.
In many valleys, treks are organized in the high alpine meadows where dairymen take their herds for summer grazing.
Cows' noses can be petted and cheese-making observed, followed by a simple lunch laid out on a wooden board to be eaten at a table outside the dairyman's hut. Bicycle paths thread the region, and treks via horseback take riders to within touching distance of the Dolomites.
Two Sides of Trentino, Italy
More accurately, this pleasure-packed region should be referred to as Trentino–Alto Adige, as it actually consists of two different provinces. Trentino (known as Welschtirol in German), historically a part of Italy except for a period during the 19th and early 20th centuries when it was ruled by Austria, feels more Italian.
North of Trentino, Alto Adige, also known as South Tyrol (Südtirol in German), covers an area of 2,860 square miles (7,400 km²). This region was under Habsburg rule for more than five centuries. It first became an Italian domain in 1918 when the Austro-Hungarian empire was carved up and European borders were redrawn.
Alto Adige's ties to the north go back as far as the 3rd century B.C. when Germanic tribes trudged down through the mountain passes or navigated the Adige River, (Italy's second-longest), which bisects the region. Through the centuries the northerners brought their culture, customs and cuisine with them.
So Alto Adige layers its "Italian-ness" with more than a light coating of oompah. In the Alto Adige, nearly every sign is written in both German and Italian, with about 70 percent of the residents speaking a local German dialect.
Foodie Travel in Trentino
A tourist tabloid, Discover the Flavours, makes exploring the nooks and crannies of the region easy, with eight detailed itineraries, complete with maps, descriptions and suggested stops.
While indicating where agricultural products and Italian wines can be sampled along the way, the itineraries also include extensive listings of where to eat, shop and sleep, along with cultural stops considered too good to miss.
That could well be said of the entirety of this pleasure-packed corner of Italy. Trentino — too good to miss.
Book This Trip
Start planning your alpine adventure to Trentino, Italy today! Find everything you need like hotel or VRBO reservations, best wineries to visit, favorite hikes and more on Travelocity and TripAdvisor. Then when you have picked your dates, check out Kiwi for airline deals and ground transportation options.
More Helpful Links
Check out our Italy Travel Guide for more information on what to see and do in Italy.
Request the brochure Discover the Flavours from the Trentino Territorial Marketing Company ([email protected]) or pick it up when visiting Trentino information offices.
Inspire your next adventure with our articles below:
Author Bio: Yvonne Horn