I tackled the coolest volcano on earth. Ol Doinyo Lengai perches on the edge of Tanzania's Rift Valley. The name in Masaai means the "home of God." It's the only volcano in the world exuding snowy natrocarbonatite, a highly fluid lava at a mere 950 degrees Fahrenheit (510 C) — half the temperature of the molten basalt ejected by all other active volcanoes.
My reason for climbing Ol Doinyo Lengai wasn't because it might just melt off my shoe instead of a whole foot. I climbed it because it was the only active volcano in Tanzania and way off the battered tourist track, in the boondocks almost equidistant from its famous neighbors: Mount Kilimanjaro, Ngorongoro Crater and Serengeti National Parks. Ol Doinyo Lengai erupts sporadically, sending small streams of gray lava down the crater rim and spitting hot ash high into the air. This "frigid" volcano sits on the southern edge of the flamingo-breeding central for East Africa — shallow, pink and enormous Lake Natron that stretches to the Kenyan border. Imagine 100,000 flamingoes filling a lake extending 34 by 15 miles (56 by 24 km).
From Arusha, the nearest town, it took a full day of bouncing on dusty roads through Masaai Land past ostrich, zebra, giraffe and the occasional unseen lion to get near Ol Doinyo Lengai. Onlookers sprouted spears and arrows, mostly wearing scarlet and red plaid and adorned with ivory hair combs and a menagerie of earrings — and these were just the guys!
The ladies easily out-pierced First World youngsters, sporting etched cheeks, copious waterfalls of beaded earrings with 10 appliances cascading from each ear with little silver disks on the ends, countless bracelets, medallions and necklaces and dressed in bright pink, orange, red or blue, except those ominously dressed in black.
Black is worn only by recently circumcised adolescents, male and female alike. Though circumcision is banned by the Tanzanian government, it's still widely practiced among the Masaai because no one is available to enforce the law.
I spent the evening taking pictures of smiling waifs with spools the size of corncobs pushed through lower ears and bolts munster-like through the tops because they too would someday soon be fashionably ear-ringed in cascades of colorful beads. The little ones tended snowy goats with suckling kids inside the thorn-tree strewn perimeter of the family boma (a mud-covered hut). Their elders supervised herds of cattle, representing the ultimate in Masaai prestige and wealth. They were tough as leather cows with every rib showing.
I sat in on a command-decision pow-wow held by the local Masaai chief. They settled which acreage of land would be held in reserve for cattle grazing during the coming dry season. The meeting adjourned with nothing to do but quaff a beer in contemplation of reaching the top of Ol Doinyo Lengai, one of the steepest climbs on earth. Its walls jut 2,000 meters (6,600 feet; the summit peak is approximately 9,680 feet/2,950 m) straight up.
Cool Ol Doinyo Lengai sits two degrees south of the equator, which is to say it's hot. The modus operandi for climbing is to begin shortly after midnight, arrive atop at dawn, meander inside the crater, and then scoot back down before evaporating in the blazing African sun. It's an exceedingly good idea, but not for the reason given.
After two hours of sleep, we eventually set off at 1 a.m. — two Swedish jocks, me and a local guide. It became immediately certain the flashlights wouldn't last for the hours required to climb. We followed two small groups whose lights dimmed in lockstep with our own.
Below the top, we'd been stumbling in darkness before we paused near a toasty sulphur vent and napped an hour to avoid challenging the icy wind raging over the crater just above our heads. One of the other groups hunkered down with us. They were uniformly silent except for a slight-figured sandy-haired chap with an English accent moaning about the freezing cold and why they'd ever decided to climb "this (expletive) volcano."
It was worse on the way down. That's when we found out the real reason for setting out in the dark. If we could have seen what we were climbing, we wouldn't have gone. Ol Doinyo Lengai is cut by vertical rivers that allow a single way straight up and no switchbacks to break the grade.
We began at a 25-degree pitch and ended summiting at about 40 degrees, four hours seemingly straight up from the trailhead over 5,000 feet (1,500 meters). It was slo-mo climbing agony levering knee to chest, knee to chest, again and step again. There was silent sympathy with the morose complaint from the next group about why they'd even considered climbing the world's coolest volcano. Any overbalance on the way up would have avalanched us all the way down. Unthinkable.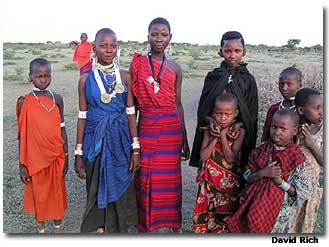 The icy hurricane mellowed at sunrise, allowing us to clamber down into the powdery plain of the crater to face the wind. There was one of the most exotic sights anywhere: a moonscape of continuous eruptions, pointy vents burbling with red-white lava, flows like brilliant orange water under the surface, around and near our feet. We stepped gingerly and carefully, sinking into powder, testing recent flows for solidity in the heavy fog, the cloud that often obscures Ol Doinyo Lengai's primordial top. We shivered and shook, posing in front of 33-foot (10 m) cones burbling lava and venting sulphur in towers above our heads. Several vents emitted strange vibrations, an omen I finally decided meant we should start down and with unanimity we shakily did.
The cloud lifted 15 minutes into our scamper down, but no one had the heart or willing feet to climb back up for photos. We argued how much we'd have to be paid to make the climb again and someone jested, saying in the neighborhood of a billion Tanzanian shillings, a mere million US dollars.
Halfway down I posed the group for photos with the brilliantly green Rift Valley spread out below. Two hours later we were back in camp, aching to sleep the rest of the day and night through, and thankful to have survived baptism by fire atop the coolest volcano on earth.
If You Go
Natrocarbonatite lava glows orange at night. The climb of Ol Doinyo Lengai — undertaken overnight so hikers can also experience the sunrise over the Rift Valley escarpment — is highly challenging. Costs are about US$ 100 a day, per person, which includes a tour of Lake Natron. Tours generally start from Arusha, about 75 miles (120 km) northwest of the mountain. It is safari headquarters to many tour operators, with over 140 companies providing expeditions for anywhere you wish to go, including Ngorongoro Crater, Serengeti and Kilimanjaro.
Tanzania Tourist Board
https://tanzaniatouristboard.com
Tanzania Tourism
www.tanzania.org.za/cities.htm