I
t was the second week of a two-week Kenyan safari. We were in Maasai Mara, the only game preserve in Kenya where you can actually drive off the road, right up to the wildlife. We had already seen all the herd animals. The zebras, wildebeests, gazelles, and giraffes, as well as elephants, hippos, crocodiles, baboons and even the elusive rhino. Now all we were interested in were the big cats, the lions.
In the South-East corner of Kenya and part of the Serengeti, the Maasai Mara is one of the best game reserves in East Africa. The 9,750 square miles (25,000 km²) of vast plain, rolling hills and grasslands of the Serengeti-Mara Ecosystem is home a variety of animals including 450 species of birds, from the tiny sunbird to the ostrich and the large birds of prey. The inner game reserve, established in 1961, is now a national park providing 202 square miles (518 km²) filled with wildlife and void of permanent human settlement. It is one of the few places where you can still the see the safari "big five" — elephants, rhinos, buffalo, leopards and lions. So it's no surprise that this reserve is one of the most popular safari destination in Kenya.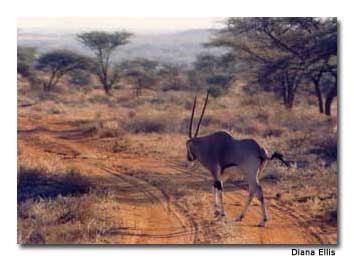 Kitty Kitty. That is what we had been calling them for the last few days. They were lying in the grass under the trees — three males and a female. They were young adults, about three to five years old, and were likely brothers and sister, according to our guide, James. Lions do not reach maturity until about seven years.
Our Land Rover stopped beside them and I put my head through the sunroof. After I had taken a few photographs, I was drawn to one of the males. He lifted his head and looked directly into my eyes. At first, I was fascinated, staring into those beautiful amber eyes. Then I realized that there was intelligence behind them.
I could sense him appraising me.
Is she a threat? Probably not.
Is she edible? Probably.
Would she be an easy catch? Absolutely.
Would she put up much of a fight? Not a chance.
My fascination turned to fear. This was a predator, a killer, not just a larger version of my house cat. And he was considering eating me for lunch!

But would she be worth the effort? Nah
The king of beasts broke eye contact with me and resumed his nap.
If You Go
Kenya Tourist Board
www.magicalkenya.com
Kenya Wildlife Service
www.kws.org