"Forward, back, get down," shouts Antonio, our river-rafting guide.
The bright-blue rubber raft swirls, twists, turns. Rocks loom, the raft heaves, as we navigate the raging rapids in Costa Rica 's fast-flowing Pacuare River. "They're only class II," he yells, "wait until you get to class IV."
We bump and wind through rock canyon walls deep in the rain forest, over rapids sideways, backwards, past a cascading waterfall. The river widens and the turbulence ceases. After just over an hour on the water, we sight the Pacuare Lodge's thatched-roof bungalows. Our gear, safely stowed in red rubber bags, is unloaded. The manager, Willman Salanos, greets us with, "There is no electricity. Be sure and carry your flashlight to happy hour. It gets dark at six o'clocThis environmentally sensitive lodge with its nine bungalows set in an untouched tropical wilderness is the only lodge in the country where practically everything, including most guests, arrive by raft.
I reach my cabin by a stone path that winds its way through a swath of lush green grass. It's set in a gardenlike setting of tropical plants and giant ceiba, or floss silk trees.
The screened bungalow with its polished teak floors, queen-size bed and down-filled pillows, plus a candle and a wind-up flashlight on the bedside table, offers a unique form of luxury. The open-air bathroom with a privacy screen of dark-green foliage uses solar-heated hot water flowing into a burnished copper sink. A lush arrangement of brilliant red tropical flowers rests beside a wooden stand holding oversize white towels.
The owners of this luxury jungle oasis are serious about preserving the fragile ecology. Instead of cutting down endangered rain forest to build the bungalows, they brought in wood from a sustainable tree plantation by raft. Local Cabecar Indians thatched the palm-leafed, conical roofs in their traditional way. With no electricity, the candles, flashlights and lanterns offer conservation with a romantic ambiance.
At happy hour, guests gather at the rustic bamboo bar upstairs in the two-story main building to nibble on yucca chips and trade stories about the joys and pitfalls of traveling. This is only prep time for a candlelit gourmet dinner served communal style on a long table in the lodge's downstairs dining area.
An evening meal might include a fish filet baked in plantain leaves accented with a touch of herbs, white wine and fresh cream, served with a local specialty of cassava, fried breadfruit or wild rice, and organic vegetables. For a grand finale, an organic chocolate torte is served with rum-vanilla ice cream topped with crystallized ginger. The river guides–turned–waiters, wearing large white aprons, keep the wine flowing.
Trips usually last two or three days and include soaring over the top of the rain forest while safely anchored to a steel cable — a once-in-a-lifetime event.
I scramble up a narrow, steep, winding path on the side of a canyon to Station One. Jorge, the onsite expert, gives me a safety talk and hands me a helmet, heavy gloves and a special vest.
Feeling edgy, I climb rungs to the first platform, high in the branches of a giant ceiba tree. The view is astonishing, but the 1,640 feet (500 m) of heavy steel wire connecting the stations is not reassuring.
Jorge clicks my safety harness into the steel cable and calls "tres, dos …" and, at the sound of "uno," I fly off the platform and find myself gliding over the canopy of the rain forest to Station Two. By the third station I relax. By the end of the two-hour traverse from tree to tree, I'm hooked on canopy tours.
In addition to the canopy tour, you can hike through the lush rainforest past crystal streams to the neighboring Cabecar Indian village. Or you can do as I did on a hot, humid day: swim in a cool pool beneath a cascading waterfall.
I arise at dawn the next day for the daybreak tour to learn about orchids and bromeliads, and to add toucans and the Montezuma oropendola, a large, yellow-tailed bird, to my bird-watching list.
And then it's time to hop into the raft for the completion of our 18-mile (29 km) river trip. Bags stowed, we strap on our red life jackets and yellow helmets, and within minutes the raft hurls us into class IV rapids. Spinning, dipping and diving, the raft seems out of control.
"The Bronco's coming up. There's a hole on the right and one in the middle; we'll go to the left," shouts my river guide. Can we make it? We do, and the raft slips into a calm pool beside the canyon wall.
The current slows and the river meanders into civilization. Cars whiz over a bridge. Soaking and laughing, we disembark. Our trip ends, and shortly we will be boarding a comfortable mini-bus for our return to San José, capital and largest city of Costa Rica. The Pacuare River, however, continues its journey to the Atlantic Ocean.
If You Go
Pacuare Lodge is managed by Costa Rica Nature Adventures. Guests choosing to arrive by raft are picked up at their San José hotel and brought down to the banks of the Pacuare River to board the boat.
It is also possible to reach Pacuare Lodge by land, first on the hotel's 4-wheel-drive vehicle, then crossing the river on a gondola, and then hiking the last thousand feet (300 m) on a trail that parallels the river.
Pacuare Lodge
888-PACUARE or 800-9631195 (U.S./Canada toll-free)
++506-225-3939 or ++ 506-224-0505
www.junglelodgecostarica.com
Costa Rica National Tourist Board
www.visitcostarica.com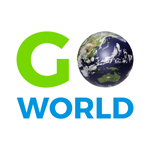 Latest posts by Go World Travel Magazine
(see all)