It's 1525, and about 20,000 native warriors are about to make history out of the troop of conquistadores scouting the bay. The eyes of the Spanish invaders turn to their priest, who calls for divine intervention. One of the flags held aloft starts glowing with a brilliant image of the Holy Cross. Terrified at the sight, the local warriors withdraw and the Spaniards take over the bay.
In Spanish, banderas means flags. That's how Puerto Vallarta's immense, crescent-shaped Banderas Bay got its name, according to one legend recounted by the town's official historian, the late Carlos Munguia.
Another account, by Francisco Cortés de San Buenaventura, nephew of the famous conquistador Hernando Cortés, recalls that the Indians carried arches and spears bearing cotton flags of different colors and designs when entering into battle. This inspired him to name the region Valle de Banderas.
Over the centuries, the bay's 25 miles (40 km) of golden beaches have seen everything from boatyards and shipping terminals to sprawling banana plantations. Offshore, pirates, including Sir Francis Drake and the young Thomas Cavendish prowled these waters looking for galleons loaded with locally mined silver.
In 1851, colonizers began to build a town about midway along the shoreline. The city, in today's western Mexican state of Jalisco, was originally named Puerto Las Peñas (the rocks), but was it renamed Puerto Vallarta in 1918 in honor of Ignacio Luis Vallarta, a former state governor.
The town's debut to the tourism map was sparked by the filming of a movie here in 1964. As things turned out, it was much more than a movie. Director John Huston's The Night of the Iguana, adapted from the Tennessee Williams play, had a cast of superstars including Richard Burton, Ava Gardner and Deborah Kerr.
It was spiced by an off-screen romance between Burton and film beauty Elizabeth Taylor, who'd followed him to Mexico. When word of this got out — Liz was still married to Eddie Fisher at the time — the scandal made headlines around the world.
Soon hundreds of reporters were on the scene, straining to catch a glimpse of the couple cavorting between their secluded villas in an area of town known as "Gringo Gulch."
Between snippets of Dick and Liz, the media sweetened its coverage with shots of the city's sun-drenched beaches and the old-world charm of its cobbled lanes and colonial architecture. The town got millions of dollars worth of free publicity, and it hasn't been the same since.
Today, Puerto Vallarta, known locally just as "Vallarta," is Mexico's second most popular resort city (after Cancun), hosting more than three million visitors a year. Along its shoreline are about five dozen hotels with a total of more than 18,000 rooms, plus seemingly endless restaurants, discos and high-rise condos. The city's population today is over 220,000.
At the northern edge of the city, Nuevo Vallarta (New Vallarta) is comprised of 1,150 acres (4.6 km²) liberally sprinkled with ritzy hotels, million-dollar villas and a winding, five-mile-long (8 km) tropical lagoon.
Marina Vallarta is south of Nuevo Vallarta. Flanking a 550-slip marina (chances are you'll see some of world's snazziest yachts there) are a dozen hotels, along with shopping centers, tennis clubs and an 18-hole championship golf course.
Further south is a three-mile strip (4.8 km) of about two dozen top-rated properties in what's simply called "the Hotel Zone." It ends at the fringes of the vintage business and residential zone known as El Centro (also called Viejo — old — Vallarta). If shopping's your thing, you'll find block after block of stores here offering everything from designer clothing and resort wear to local handicrafts.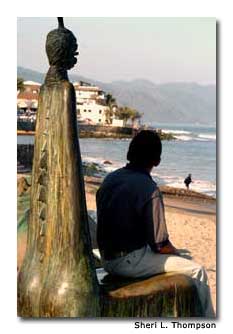 El Centro features a particularly artsy section near the Cuale River where the town was born. It's loaded with boutiques, eclectic hotels and small family-run inns.
The old part of town morphs into Conchas Chinas at the southern edge of town, which holds yet more hotels, condos and restaurants. Almost at the end (about a 10-minute ride from El Centro) is Mismaloya Cove, where Night of the Iguana was filmed. It's also the site of one of Vallarta's premier hotels, La Jolla de Mismaloya.
More than 80 movies and TV shows have been shot at Vallarta since Huston spotlighted the area in 1964. Among the most popular have been Predator, with Arnold Schwarzenegger, and Revengewith Kevin Costner and Anthony Quinn.
If You Go
Puerto Vallarta Tourism
www.visitpuertovallarta.com
Mexico Tourism Board – Puerto Vallarta
www.visitmexico.com
Virtual Puerto Vallarta
www.virtualvallarta.com