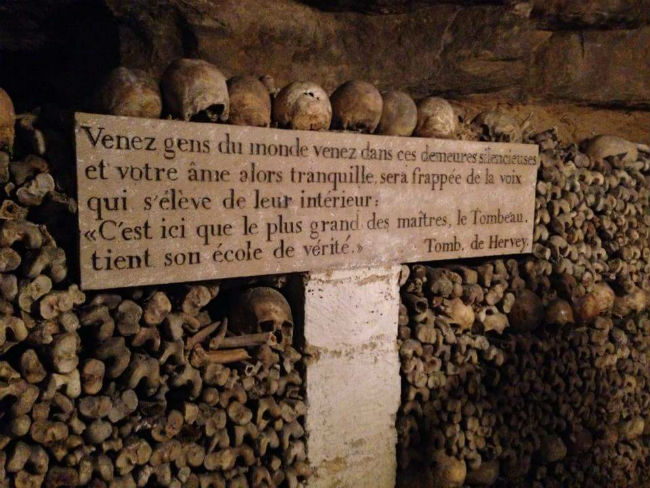 Dear Readers: This post may contain affiliate links, which means we may receive a small commission, at no cost to you, if you make a purchase through a link. All opinions are our own and we only share things we recommend. Thanks for your support.
It's a chilly Tuesday morning and we stand, tickets in hand, near the front of a long line of people in an area of Paris I've never been. I'm here against my better judgment, dragged out of bed at six in the morning so we could grab a cab and get here early enough to be close to the front of the line. I'm cold, not sufficiently caffeinated and dreading this tour. I don't want to see dead people.
Even now I'm not exactly sure how I got here, other than having agreed the night before we left to my teenage daughter's request. At the time, I was up to my elbows with all the last minute details: packing, double-checking passport expiration dates and making arrangements for the cat.
I told her what I'd planned for our trip to France: going to the top of the Eiffel Tower, visiting Notre Dame Cathedral and lunch somewhere special on the Champs Elysees. Her response was she didn't really need to see the Eiffel Tower.
I suggested she find a place she wanted to explore in Paris, thinking I was safe, that any place she chose would be fine by me (it was Paris after all, fool-proof!). But I should have known, left to her own devices she would find something. She discovered a world beneath the city — a world I didn't even know existed — I was going to be dragged underground to the Paris Catacombs.
Streaks of morning light try to brighten the sky, beneath which a long line of people, dressed in jackets and scarfs, shuffle their feet to keep warm, sip coffee out of paper cups and chatter in French, English and languages I can't even identify. With the efficiency of an assembly line we inch forward as guides periodically appear to escort small groups through a black door which I assume is the entrance.
"Bonjour." I look up to see a smiling young man, probably in his early twenties, thin and wearing black-framed glasses.
"Bonjour," I respond in my best French, though I'm decades out of practice.
His brown eyes narrow, almost imperceptibly, as he immediately pegs me as an American and, without missing a beat, continues in perfect English as if effortlessly shifting a gear on a bike.
"I'm Philip. Your guide. How many in your group?" he asks. "I need at least six."
Before I can get the words out of my mouth, Emily jumps in.
"There's just two of us," she says loudly, over my shoulder. My left ear rings with her enthusiasm.
"OK . . . wait here," he instructs us before moving down the line searching for other English-speaking ticket holders.
When Emily woke me this morning in our Paris rental apartment, she was dressed and ready to go, complaining we'd be late, an unexpected role reversal of our usual morning routine. I wasn't used to her being motivated, especially in the morning. The a.m. hours usually made her grumpy and uncommunicative, barely able to manage civility, so I was surprised by the abrupt transformation.
I gulped down half a cup of coffee and threw on some clothes, all the while listening to her complain about how hard these tickets had been to get and that we were going to miss it. I caught up with her as she was turning the doorknob, not entirely sure she wouldn't leave without me.
Philip returns with a family from Manhattan Beach, California — mom and dad, a couple in their late forties and their twin teenage boys, William and Trevor, who look like identical blonde surfers. The twins are distinguishable only by the red and blue jackets they have on over their jeans, and based on the way their hair is trying to defy gravity, may have just rolled out of bed.
After cursory introductions are made, Philip shuffles us towards the entrance. He wants to get started.
"We'll be walking down 130 steps, so please be careful," he says, starting down the stairs before looking over his shoulder, as if remembering something. Does anyone have claustrophobia?" he asks.
Everyone shakes their heads no, so I don't want to own up to the fact that I might. Besides, I'm already on the second step right behind Emily who is stalking Philip, as if she's velcroed to his back. My hand clutches the black railing as we go round and round spiral stone stairs, a vertical tunnel with rock on all sides. The lower we go, the cooler the air becomes and I can feel the dampness invade my pores. I tell myself this won't be so bad but after several revolutions vertigo sets in.
When my feet finally touch the bottom, I struggle to regain my balance before looking around; the ceiling is uncomfortably low and lanterns on the wall feebly attempt to penetrate the darkness. Philip gives us a minute to acclimate. I hear water in the distance . . . drip . . . drip . . .drip . . . a steady, insistent rhythm like the ticking of an eternal clock. The tunnel's mouth opens ahead of us anticipating its next victims.
I'm glaring at Emily right now, trying to get her attention. I silently relay my 'are you kidding me' expression, while everyone tries to squeeze into the tight landing at the base of the stairs, but she's too busy looking around, eyes wide with excitement to pay any attention to me.
The group who left before us is ahead in the tunnel, not visible, but their muffled voices echo in the distance before evaporating into the darkness.
"Everyone ok?" Philip asks, his eyes dart from face to face. Everyone, except me, gives him a reassuring nod. He looks at me a moment longer. I finally nod.
"All right, let's begin," the official tone of his voice compels us to pay attention and the six of us obediently form a semi-circle in front of him.
"Paris is built out of limestone," he says. "Notre Dame, the Louvre, all the famous landmarks are made out of it, dug from the quarries where we now stand."
His lanky frame is silhouetted against the lantern on the wall behind him accentuating his thinness.
"Quarrymen dug here for centuries . . . creating tunnels . . . carving out limestone. We're now underneath the subways which are underneath Paris."
I feel slightly sick as this fact sinks in and look around quickly, but no one appears to share my reaction. The California couple stare at Philip, listening attentively, and the twins stand next to their parents. I'm not sure if they've woken up yet or they've just managed to perfect that teenage look of perpetual boredom. I don't need to look at Emily.
"There are over 200 miles of tunnels, a maze of helter-skelter pathways waiting to be explored by . . . ," Philip is cut off mid-sentence by voices and shoes scraping the stone steps. The next group is coming down the stairs, forcing us into the tunnel.
Loose dirt rolls under my shoes as we follow Philip. The monotony of the tunnel is broken only by trickles of water running down its walls. I try not to think about how deep in the ground we are or the weight of the rock above our heads. We reach a cavity the size of a large room that has several tunnels heading in different directions; another group is already here, I recognize faces who were in the line ahead of us. Philip finds a spot in the corner with enough room for us to gather around him.
"Lots of people have come down here, lost their way and never been found. One man, Phillbert Aspairt, disappeared and was found 11 years later, his corpse clutching his keys, just feet from the exit he couldn't find in the dark."
There is a communal, involuntary intake of breath like a simultaneous sucking sound as everyone absorbs the horror of his story. Philip is amused. Emily's eyes dance as she tries to hide a smile.
Continued on next page