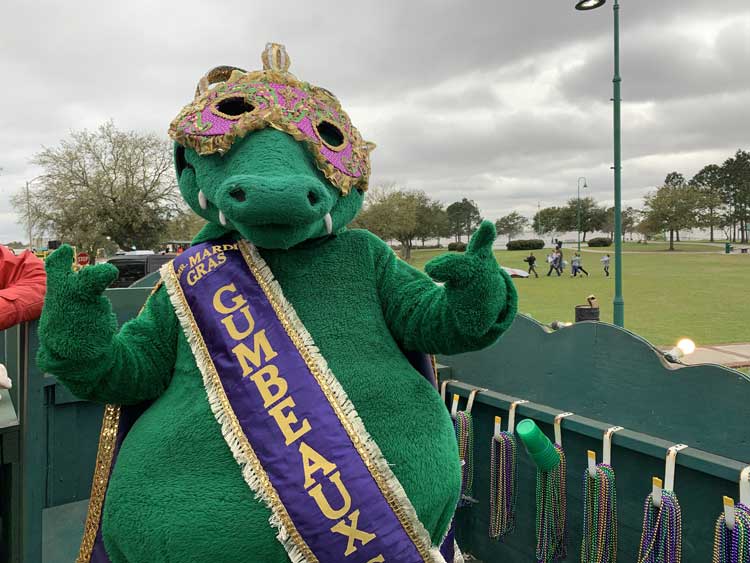 At 7' tall, the big green gator casts an impressive shadow as he sways to the beat of Funky Town. We're on a pulsing parade float, moving slowly down the streets of Lake Charles. It's Mardi Gras in Louisiana.
Mardi Gras in Lake Charles
Gumbeaux the Mardi Gras gator mascot is out front in the Children's Parade. The streets are lined with hundreds and hundreds of young children and their families, jumping to catch strands of beads that are thrown from the floats.
As an official bead-thrower, I'm up to the job. Dodging the dancing gator, I load my arms with dozens of necklaces and take careful aim, hoping to reach the arms of a little one.
Lake Charles Children's Day
Mardi Gras in Southwest Louisiana is a family-friendly affair. Children's Day is a popular yearly event, where kids try hands-on art activities, as well as food, music and dancing. Best of all, it's a good way to pass along treasured local traditions.
As a Westerner, many Mardi Gras traditions are a mystery to me. But that doesn't matter, since locals here have made me feel welcome and part of the fun.
Mardi Gras Museum of Imperial Calcasieu
For Mardi Gras newbies like me, the best place to start is the tiny but extensive Mardi Gras Museum of Imperial Calcasieu. Its six rooms include a large collection of Mardi Gras costumes, many detailing traditions the history and traditions of Mardi Gras in Louisiana, including the story of the King Cake.
Many believe that the King Cake was brought to New Orleans from France in 1870. The cake is decorated in purple (for justice), green (for faith) and gold (for power). A tiny plastic baby, symbolizing baby Jesus, is baked into the sweet pastry.
Whoever finds the baby must either host the next party or bring the next King Cake. I get to sample a King Cake later – and happily, I find a tiny plastic baby in my slice of the sweet confection.
The tradition is just one of many celebrated during the weeks-long Carnival festivities which begin on or after the Christian feasts of the Epiphany and end on Fat Tuesday, the day before Ash Wednesday and the first day of Lent. Mardi Gras is a huge holiday in Louisiana, and everyone is off from school and work on Fat Tuesday.
Creole Nature Trail Adventure Point
Hoping to learn a little more about Southwest Louisiana, my friends and I visit the Creole Nature Trail Adventure Point. This free hands-on museum teaches about local wildlife, nature and Louisiana's unique culture.
We try our hand playing musical instruments in a Zydeco band, learn about local dishes (we can even "smell" the wonderful aromas of Creole/Cajun cooking) and learn about local wildlife.
From the center, you can drive all or part of the 180-mile long Creole Nature Trail All-American Road, which passes along the prairies and marshes of Louisiana's Outback. A free app provides a guided tour along the way.
Gator Chateau
Next, we head to Gator Chateau in nearby Jeff Davis Parish, which is home to rescued, orphan baby alligators. The alligator docent introduces us to several of the little gators, while educating us on how they grow and develop.
Mardi Gras Royal Gala in Lake Charles
One not-to-be-missed Mardi Gras event in Lake Charles is the annual Royal Gala. During this popular Mardi Gras evening, the royal courts of more than 60 krewes parade for the public in full regalia. (Yes, I didn't know what a "krewe" was either, but it's a social organization that puts on a ball or parade during Mardi Gras.)
Each krewe is more stunning than the last one, with sparkling costumes and bright regalia, some standing 12-feet high. The Mardi Gras royalty include tiny princesses and princes, royal debutantes and Miss Mardi Gras of Southwest Louisiana herself.
The whole event has a party atmosphere, and believe me, you won't want to miss it. Tickets are $7 in advance, $8 at the door, and it's well worth the money.
Iowa Chicken Run
Perhaps the most unusual event during my stay is the Iowa Chicken Run. This family-friendly rural parade starts off in the small town of Iowa, Louisiana. Everyone is in their Mardi Gras finest as we load up the parade floats.
Then the music starts, and we head into the countryside, dancing and waving at farmers and locals along the way. Here and there, the parade stops at participating homes. Everyone gets off.
The "Captain" blows his whistle, the Zydeco band plays their accordion and scrub board, and everyone dances. Then, the Captain releases a chicken who runs free. The child who retrieves it receives a $5 reward.
Each home we visit donates an ingredient to make gumbo. At the end of the parade, the ingredients are used to make gumbo for the community, which is served at the Knights of Columbus Hall.
Krewe of Krewes Parade
The grand finale of Southwest Louisiana Mardi Gras is the Krewe of Krewes Parade, an evening extravaganza of parade floats, music, costumes and plenty of beads. Held on Fat Tuesday, it's the biggest event of the season.
A Zydeco band entertains before the parade begins, and couples get up to dance with excellent rhythm and style. I even try a few Zydeco dance steps of my own, although the result is not so impressive.
The crowds grow quickly, and everyone waits with anticipation. Then the music starts up and the beads start flying. It's a family-friendly parade, with lots of candy and beads for the younger ones.
By the end of the evening, I've laughed so much that I've lost my voice. My neck is loaded down with beads, and a green and purple Mardi Gras crown has found its way atop my head.
At any other time, I might feel silly. But here in Southwest Louisiana, I feel right at home in the festivities.