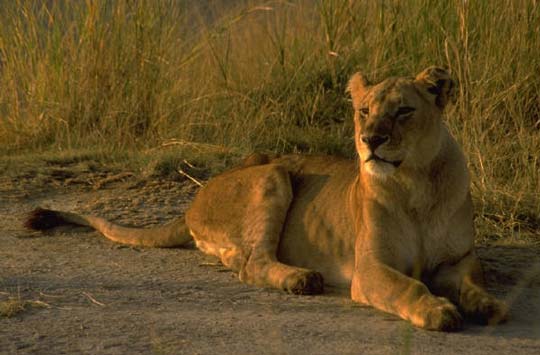 When I began plotting my escape to Mauritius, an island nation off the southeast coast of Africa, all I wanted was sun, sand and rainbow-colored drinks served beneath an umbrella on the beach. Potential maiming by lethal predators wasn't on the itinerary.
But here I am on an open-air bus, bumping along a dirt road on a steamy isle off the southeastern coast of Africa, quite possibly on the way to being mauled by lions.
The Lion Walk at Casela Nature and Leisure Park had seemed like such a good idea as I sat at my computer researching this Indian Ocean oasis. The 14-hectares (34.5 acres) park, home to giant tortoises, tigers, monkeys, zebras and 150 bird species (including the pink pigeon, a relative of Mauritius' famously extinct dodo), was a clear favorite on tripadvisor.com.
Reviewer after reviewer dubbed the hour-long Lion Walk "the highlight of our trip"— including one honeymooner, before hastily adding, "Well, other than our wedding day, of course!" Nice save, buddy.
Now, as my vehicle grinds to a halt, I get my first glimpse of lions, lazing behind a chain link fence in a large, shady enclosure. The beasts, including a massive male with a mane that Tina Turner might envy, are bigger than I expected. Much bigger, I note, silently cursing TripAdvisor, Al Gore (who famously claimed that he "took the initiative in creating the Internet"), and whoever first rubbed two cats together and discovered electricity, which is at the root of all technological evils.
My fears are not abated when employee Ajay Narsimeoloo, a serious-looking young man, hands each of the folks on the tour a waist-high stick. "What's this for?" I ask. "Protection," he replies gravely. What? No rifles? No stun guns? Just a lousy stick?
"Wait, why does mine have bite marks in it?" I quip, a nervous attempt at humor. "Mine's bitten off at the end," jokes Beverley Daniels, a jovial British blonde.
Narsimeoloo doesn't reply, but he fastens his dark eyes on a young brother and sister in our group and leads them off to be measured, as the rules require you to be at least 1.5 meters (nearly 5 feet) tall to participate.
Why? "Because if the lions see you are smaller than them, they think you are something to eat," Narsimeoloo explains.
Jonathan Avice, a handler and guide, chimes in with a few words of advice. "Don't approach the lions when we're feeding them; they can bite you. Stay in a group. Don't shout. NEVER get in front of the lions. You don't want them following you. That's when you might get into trouble." (Gulp). "And don't crouch. They might be tempted to catch you." Cool.
"Let's go," he concludes, clasping his hands together, and I notice, with some relief, that he possesses a full complement of fingers.
We enter another gated enclosure, sticking close together as we shuffle along a dirt trail through long grass and tropical foliage. When we reach a small clearing, two lions suddenly materialize along a path through the jungle, accompanied by a photographer, a man with a movie camera, and another handler with a very long stick, which I can't help but envy.
Lundi (16 months) and Nhunzi (14 months) are both females about the size of German Shepherds. Minus a masculine ruff, they're far less intimidating than the males — until you realize that females are typically the hunters in a pride. But their bearing is relaxed, and they cavort like kittens, tackling one another and batting playfully at each other's heads with massive paws.
It dawns on me that I might just survive, and a wave of anticipation cautiously eclipses my anxiety.
With the lions and handlers leading the way, our little parade proceeds through the sun-dappled forest. We're not far along when the handlers encourage folks to step up and pet the cats. One even encourages me to gently tug on Lundi's tail. She is completely nonplussed, and I relish the feel of her bristly fur.
All is well and good, until Nhunzi silently slips off into the woods. Let me tell you, it's rather worrying to lose a lion, and it no longer seems smart to lag at the back of the pack.
As a couple of cat-herders beat the bush in search of Nhunzi, who eventually rambles out licking her chops, another demonstrates how Lundi will leap into the air to grab meat off the end of the pole. I only hope, for his sake, that it never occurs to the cat that there is something much juicier at the other end of the rod.
This fellow lures Lundi up into a tree, distracting her with a chunk of chicken on his stick, so that we can pose for a picture beneath her. This seems foolhardy in the extreme — turning your back on a lion with someone dangling meat over your head — although it doesn't stop us from doing it.
The only thing sillier would be to simultaneously break nearly every rule we were given —crouching beside Lundi and petting it on the head. But that's exactly what they suggest we do next, with a pole positioned between our bodies and the lion's jaws, so that this moment, too, may be captured on camera.
The handlers beckon to Amy and Adam Judge, 11 and 15 respectively, to pose on either side of Lundi after their brother Luke, 17, steps back.
"Just think," says their father, Colin Judge of Cambridge, England. "You've held a crocodile in Australia, and now you're petting a lion."
I marvel at his aplomb, knowing that when my mother finds out what I've done, I'll probably be grounded — regardless of my age or the fact that I live an ocean away.
Finally, it's my turn, and I approach timidly on Lundi's left side. As I cautiously scratch behind her ears, Lundi doesn't quite purr, but she blinks contentedly and yawns — which appears gratifyingly like a fierce roar in the photos.
I'll take dozens of snapshots of blue-green water, creamy sand beaches and lush valleys throughout my week on Mauritius. But the image of Lundi and me is the one I'll treasure most. It's going to look great on the Christmas cards this year.
If You Go
Getting there: Fly into Sir Seewoosagur Ramgoolam International Airport.
Where to stay: Beachcomber Tours has seven hotels in various locations around Mauritius. All feature live music or a show every night, four have spas, and Paridis Hotel and Golf Club offers convenient access to an 18-hole course. For specials and rates, see www.beachcombertours.co.uk.
What to do: Casela Nature and Leisure Park, www.caselayemen.mu., telephone +230-727-6076. Park admission: adult 300 MUR ($10 USD), child 175 MUR ($6 USD). One-hour lion walk: 2000 MUR ($65 USD).
Amy Laughinghouse is a freelance writer living in London. Follow her on Twitter at @a_laughinghouse.