Kerala was one place that I've always wanted to visit. A state in South India on the Malabar coast, Kerala is known as God's own country — and for good reason. Kerala is a tropical paradise filled with natural beauties, a place with a rich cultural heritage conveyed through sculptures, music and various performances such as the traditional dance called Kathakali.
I love to travel and capture the beauty on my camera so that I can share what I experience with the world. I packed all my filming gear, asked my cousin to join me and headed off.
We landed in Kochi, and stayed for a few days to plan the trip ahead. Then we rented a scooter and explored the city. I quickly learned, however, that it did not offer the natural beauty I was looking for so I moved on to my next destination.
Travel to Kumarakom
In Kumarakom, we stayed at KTDC Waterscapes, a beautifully built resort. This place gave me a wide range of scenic natural beauty to film, and I made sure I took full advantage of it. We took boat rides to explore villages by water. We visited the bird sanctuary next to the resort, and drank the natural palm juice. We got to experience eating food the traditional way, as a variety of food served on a banana leaf.
After a very satisfying stay in Kumarakom, we moved on to a place called Alappuzha, where we had booked a night stay in the very famous houseboat. The boat took us around the  backwaters of Kerala to some stunning views, and I experienced one of the most beautiful sunset I have ever seen.
The boat stopped by a local fish market where we bought king prawns, prepared by the onboard chef and served on the balcony.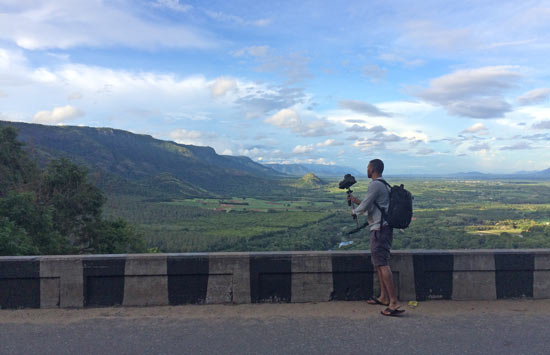 To get to the next destination, Kumily, we took a six-hour bus up the hill. Situated 4,000 ft above sea level, it was pretty chilly. We visited the Periyar tiger reserve; unfortunately we didn't spot any tigers, but we did have tons of fun with the monkeys. The following morning we went to see the classical dance called Kathakali. We also took a tour in an off-road jeep to further climb the hill and be parallel with the clouds.
To get to our final destination, Athirapally, we took an eight-hour bus ride. Athirapally is famous for the monstrous waterfall made popular in the Indian film called Bahubali. All in all, it was a fantastic journey and very adventurous.
Filmmaker Bo: I'm Anup Baria, a passionate Youtube filmmaker, who loves to travel and film everything along the way so I can share it with the world. See more of my work at  www.youtube.com/anupbariavision

Helpful Travel & Shopping Information
Lonely Planet: India Travel Guide