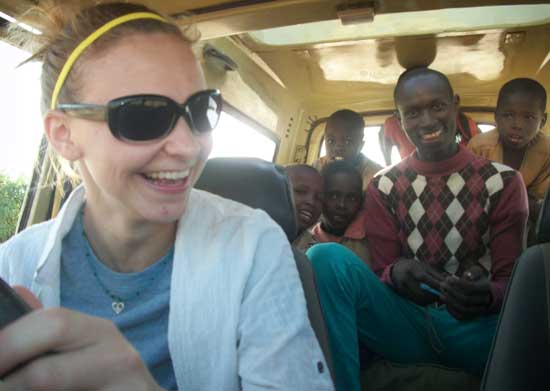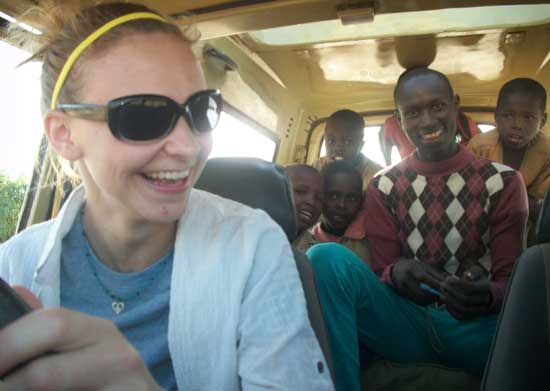 Dear Readers: This post may contain affiliate links, which means we may receive a small commission, at no cost to you, if you make a purchase through a link. All opinions are our own and we only share things we recommend. Thanks for your support.
Safari in Kenya
The story of my first safari in Kenya is pretty standard: a private safari vehicle, feasting on buffet meals, sipping fruit juice, staying at a funky chic safari lodge, and spending the hottest part of the day lounging by the pool watching monkeys steal things from guests. But the story of my second safari in Kenya is quite the opposite. Leaving buffets, landscaped courtyards, and vehicles with shock absorbers behind, my fiancé and I opted for a Do-It-Yourself Safari. Here's how to make it happen:
Step 1: Get to somewhere with good safari opportunities:
The idea of DIY safari came up when we started talking to a friend, Brett, who runs the Samburu Youth Education Fund in Northern Kenya. I was admittedly skeptical about the idea at first; I probably spat out something to the effect of, "I'm paying thousands of dollars to fly halfway across the world. I would just rather do something where we have a guide and a nice car that's not going to break down or something."
Brett's home base in Kenya is dusty Archer's Post. The town itself doesn't offer much for entertainment (although the supermarket does sell red wine and chocolate) but is only a couple kilometers from Samburu National Reserve, which is home to giraffe, elephant, cheetah, lion, ostrich, gerenuk, oryx, leopard, zebra, baboon, warthogs and many more animals.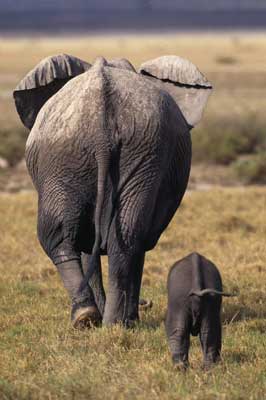 Step 2: Get a Bushka
Not to be confused with Babushka, the Russian word for Grandma, this is a Bushcar. But when said by a Kenyan it is a Bushka. Bushka is Brett's car, which he agreed to let us use for our DIY safari. It's an old Maruti with a maroon, velvet fringed dashboard cover, five seats, and a bumper that is falling off on one side. When we arrived in Archer's Post, Bushka was at the mechanic. We waited for three days and then retrieved Bushka from Isiolo, about half an hour away.
Step 3: Fuel Bushka
There is not a gas station in Archer's Post. But there is a way to get gas. Pulling up in front of the supermarket, Apin- who is Brett's Kenyan employee and became our most trusty companion- hopped out of the vehicle to go retrieve some fuel for us. We were instructed to stay where we were; We were white, he said, and would surely be overcharged if we bought the gas ourselves. After a few minutes, Apin returned with a grocery bag full of liter water bottles full of fuel. He opened the gas tank and dumped them in. Then he pushed and shook Bushka, and walked off to return the bottles to the mysterious gasoline saleswoman.
Step 4: Gather local children
In his brief coaching on DIY safaris, Brett told us to pick up some kids on the way to the game reserve. This way, he said, we would get a locals discount at the gate. The thought of paying about $12 as opposed to the tourist rate of $75 per person per day was appealing (and part of the reason the DIY safari idea grew on me). But I didn't quite understand where we would get kids and how any parent in their right mind would send their kids into lion country with a couple of foreigners.
Now, as we pulled up to the Umoja Uaso Women's Group village, I realized the one thing there is no shortage of in Kenya is children! Excited kids came running from every direction. I opened the car door and they clamored over me to get in. Apin stood up out the sunroof, dictating to them who would come now and who would get a chance later. On the way to the reserve, we stopped at Unity Women's Village to pick up some of their children too. When we reached the gates, the guards stated the price of entry: US$ 150.
"But," my fiancé sputtered, pointing to all the smiling children in the car. "We brought kids."
"Yes, they are free," the guard said. "But you two will pay the normal fee."
Apin stood up out of the sunroof and spoke to them in Samburu.
"These are Brett's mzungus (white people)," he told the guard.
The guard looked at us, a friendly smile spreading across his face.
"Ohhhh why didn't you say so," he said. "I recognized Brett's car, of course, but I didn't know you knew him. You go for free."
Step 5: Commence game drives
As we entered the reserve, relief and excitement at the freedom of our DIY safari settled into me: no set routes and no time limits, just us, bumping along the washboard roads toward the river. From his vantage point on bushka's roof Apin directed us toward the animals he spotted or toward groups of vehicles, which indicated wildlife sightings. He snapped hundreds of photos and advised us on obstacles.
"Bushka cannot pass there," he told us once as we surveyed a fallen tree. "But just try."
The children were silent through the hours-long drives, heeding Apin's warning that noise would scare away the animals. We brought as many as we could on our ten game drives, one day fitting 13 of us in Bushka: some standing in the hatchback, some sitting on my lap, others standing out the sunroof. And although we brought them along to get a discount at the gate, watching them watch the wildlife was a pleasure I hadn't anticipated, and possibly my favorite part of the DIY Safari.
These children have lived 2 kilometers from the reserve all their lives, but many of them have never been inside. They were observant and appreciative, playful and sweet. We wondered if children would value conservation more if they were able to see and learn about the country's wildlife in its natural environment.
On the short drive from the reserve to their homes, the kids would sometimes stand up out of the sunroof and burst into Samburu song. Locals we passed had the same curious look on their faces that we had seen from other safari drivers. It asked, 'What are these two foreigners doing toting around a bunch of Kenyans?'
If You Go
Learn more about the Umoja Uaso Women's Group and accommodations at their tourist camp at www.umojawomen.net
Learn more about Samburu National Reserve and the surrounding area at https://www.samburucouncil.com/reserves.htm
Helpful Travel Info & Products
Allianz Travel Insurance – Travel The World Knowing You'll Be Taken Care Of. Affordable Plans As Low As $17.
Need Luggage? eBags offers Go World readers Free Shipping over $49 + Easy Returns
Lonely Planet: Kenya Travel Guide
Lonely Planet: East Africa Travel Guide
Latest posts by Janna Graber
(see all)