Monkeys intrigue me, and they were certainly one of the initial factors in my choosing to go to Costa Rica for a vacation.
I knew about the country's magnificent scenery, including its lush rain and cloud forests, awesome beaches, relaxing hot springs, and spectacular volcanoes, but I was also attracted here by the country's plethora of wildlife – including its several species of monkeys (Costa Rica is home to four different species).
After all, I wanted to see these various types of monkeys in the wild, study these playful animals, and, of course, photograph them, too.
Howler Monkeys:
I was awakened early in the morning, from my Costa Rican jungle abode, by the distinct, eerie sounds of howler monkeys.
These were not what I was used to in old "Tarzan" movies – the almost playful, pleasant tones of chimpanzees – rather, these deep, resonant, guttural sounds were much more frightening – perhaps meant to tell me that I was an intruder on 'howler property,' and the spooky 'howl' was to warn me or scare me off.
But the sound had a much different effect on me – for it clearly fascinated me – and instead of causing me to leave the area, it actually got me to quickly get out of bed and actively seek out the animals that were making these odd, unique sounds.
I was in Tortuguero National Park, on Costa Rica's Caribbean coast, and surrounded by a maze of jungle canals that meander through a dense lowland forested area.
There are no roads into this remote jungle area (I had traveled via boat to get to my lodge in the park), and now I grabbed my camera and actively sought out these howler monkeys (here, right in the park, one of the most common places to see them in the entire country).
And I didn't have far to go – for these rather ferocious sounding creatures were right on the lodge property. I simply had to walk along our walkways and look up into the trees.
I was, of course, soon joined by many other curious human onlookers, and we all spent a good deal of early morning time just listening to these creatures howl and watching them playing high above us in the trees.
And despite their ferocious sounds, and their somewhat gruff, intimidating appearance, the black howler monkeys seemed to be a little timid of us and, for the most part, they seemed to prefer to remain high up in the trees, away from us.
Biologists tend to think that the distinct sounds of the howlers are simply the males marking the bounds of their territories.
But these monkeys, probably both male and female, also had 'other techniques' for protecting their territory, for if one of us would get too close, or not keep an eye on what was going on, we could suddenly find ourselves 'bombarded' by monkey urine or feces.
Yes, the onlooker had to keep a wary eye that one of these 'rascals' didn't perch itself directly 'overhead' – for 'a direct hit.' And it's not the most pleasant way to begin a new day – to be hit 'right on the top of the head' by a monkey's 'artillery.'
This 'bombarding' actually happened to more than one of this gathered group of humans – and led to a cleansing shower by that individual very quickly (no one wants to be walking around with that smell on them for very long. ).
Spider Monkeys:
These monkeys are also found in Tortuguero National Park, but they tend to be much more elusive than the howler monkeys.
I didn't see any of them near the lodge itself, but when I was exiting the park by boat, traveling through the canals, I spotted a group of them along the water's edge – high up in a canopy of trees.
I actually witnessed them traveling through the canopy with their hand-over-hand motion –and they can certainly move along.
Their spectacular movements reminded me of youngsters at the playground – enjoying the so-called 'monkey bars. ' (the name seemed so much more appropriate after having witnessed this event – but these monkeys were faster and more graceful).
Spider monkeys are brown or black in color, and they're longer and slenderer than howlers (and don't look as ferocious).
White-faced Monkeys:
White-faced (or Capuchin) monkeys are found in diverse habitats, ranging from Costa Rica's high-altitude cloud forests of the central region to the lowland mangroves of the Osa Peninsula.
I found lots of them once I arrived on Costa Rica's Pacific Ocean side and, specifically, in Manuel Antonio National Park.
This magnificent park is the country's most popular, and it's a great place to go to enjoy the incredible beaches (whether you prefer swimming, snorkeling, or simply sunbathing) – and to witness the 'shenanigans' of the white-faced monkeys.
These mischievous creatures seem to be all over the place here – and they're not particularly shy or intimidated. If you want to get some photos of 'the cute monkeys' on your Costa Rican vacation, then this is the place to go.
These agile, medium-sized monkeys make exceptionally good use of their tails – and I saw many of them simply hang from tree branches by their long, prehensile tails.
However, they don't tend to 'pose' for long, for they like to dart about from place to place – and I discovered that they would frolic about, moving from limb to limb, and from tree to ground.
It was almost like a frenzied game of 'touch tag', with the monkeys chasing one another and frolicking about – with little concern for the nearby humans that were gaping at them.
Many people were enjoying the spectacular beauty of the beach itself, but I just couldn't get enough of watching these monkeys.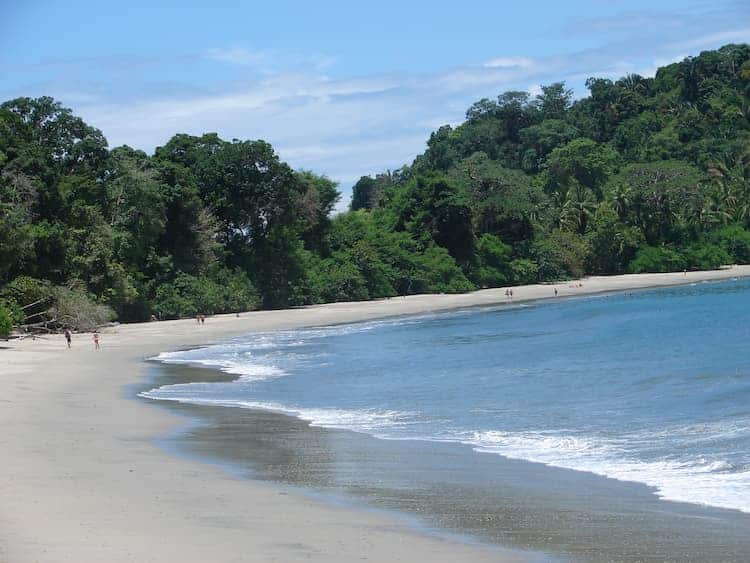 They were incredible to observe in action. I saw one monkey eye a basket that had been placed on the ground by a woman, just about at the point where the beach and the forest meet – and then this brazen little beast jumped down onto the ground, grabbed an apple out of the basket, and quickly retreated back up to the safety of the tree branches.
I then watched this little 'thief' brazenly consume that apple. Later, I also witnessed another monkey consuming someone's piece of watermelon.
Although this 'thievery' is very cute to watch, I found out that these white-faced monkeys are becoming very dependent on the fruit and junk-food feedings of the tourists in the park – and this is becoming a serious problem.
These wild monkeys are meant to fend for themselves, not be 'served' their meals on a platter by tourists.
Therefore, there are signs posted in the park: "Do Not Feed the Monkeys" (and people have been fined and requested to leave the park for breaking this rule.).
These monkeys should be left to feed and look after themselves, and there is a real concern that they will become too 'civilized' and lose their fear of humans, as has happened with some black bears in certain North American parks.).
Squirrel Monkeys:
These small, brown monkeys have very long tails, white ears, white chests, and dark eyes that are surrounded by large white rings.
They are the rarest and most endangered of Costa Rica's monkeys – and are only found in Manuel Antonio National Park and along the Osa Peninsula.
They love their fruit – and are often seen eating bananas, etc. near the many resort hotels that have sprung up in this 'touristy' area.
These active, restless creatures seem, for me, to best fit the stereotype of 'acting like a monkey', for they're rather hyperactive – and mischievous.
They don't seem to want to remain in one place very long, and they tend to travel together in large groups (they're the 'party animals,' so-to-speak). Indeed, I found that Costa Rica was an amazing destination for 'Monkeying Around'.
Book This Trip
Ready to get closer to nature and wildlife in Costa Rica? Start planning your adventure with insider tips on how to get around, hotel and VRBO reservations, local restaurant reviews and more through TripAdvisor and Travelocity.
Plan even more fun by booking some unique Costa Rica activities, skip-the-line tickets, expert-led tours and beach excursions through GetYourGuide. Find more information and book your dates in advance here.
For exclusive flight discounts, car rental options and vacation packages, check out CheapOair.
While you explore Costa Rica you are going to need comfortable walking shoes. AllBirds has top-rated sneakers and slip-ons that are traveler favorites. See their selection and find your new favorite shoes here.
Costa Rica's official website: www.visitcostarica.com
Read about other exciting destinations in our articles below:
Author bio: John M. Smith