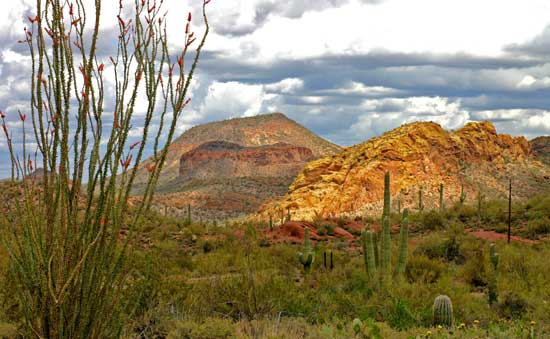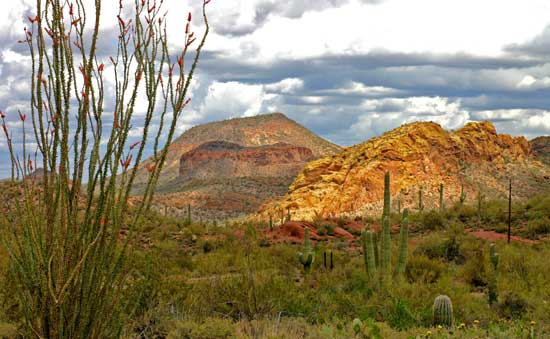 It was the end of a long, chilly winter, and we were ready for warmer climes. When my sister and her husband from Alaska told me that they were going to Tempe, Arizona for a week in April, we knew we had to join them.
Located at the edge of Phoenix, Arizona, Tempe is lovely in the springtime. The desert flowers are in bloom and the weather is warm — but but it's not too hot yet.
Although we had been to the area, just a few hours from the Mexico border, several times before, this time we wanted to stay away from the urban scene and take a day trip to drive the Apache Trail, which we had not done before.
Turns out, it was the perfect time to visit. Glorious weather and fabulous flowers made the trip a treat from start to finish.
Mill Avenue District
Mill Avenue runs through downtown Tempe and is lined with shops and restaurants that make it feel more like a small town than a city enclosed by a major metropolitan area.
People walk here.
The place is hopping from morning till night with students, professors, visitors and business folk grabbing a meal, shopping or just enjoying the balmy evenings with a glass of wine on a patio.
Yes, a few of the shops are chains but there are more local stores, including a couple of neat little rare books stores. And though there are chain restaurants (P.F. Chang's for one), you'll also discover lots of locally owned eateries, such as Café Boa, La Bocca and Urban Pizzeria & Wine Bar, all of which serve delectable Italian fare.
The district ends at the Tempe Beach Park, where a two-mile-long Tempe Town Lake has become a focal point for local events. The manmade waterway offers areas where sun-lovers can gather for family picnics, free concerts, or even rent a paddleboat or kayak.
Be sure to look for the abundant cranes – the flying kind and the construction kind. Tempe is growing at a rapid pace.
ASU campus
One very good reason to stay in Tempe is its proximity to the ASU campus. ASU is now the largest university in the nation, by student population, but the campus is a walkable gem, easily navigated on foot.
If available, take a tour of the ASU Gammage, an auditorium designed by winter resident Frank Lloyd Wright for his friend, former college president Grady Gammage. The auditorium was originally designed to sit in Baghdad, Iraq, but that was not to be. The design, altered slightly to grace the ASU campus, features an imposing circular building with two outstretched "arms" welcoming visitors.
Inside, there's not a bad seat in the house – even those sitting in the nosebleed seats are only 115 feet from, and have a clear view of, the stage. A few minor alterations have been made over the years (carpet was replaced in a pattern taken from one of Wright's favorite ties), but essentially the building stands as one of Wright's loveliest designs.
The entire ASU campus is a botanical garden, heavily landscaped with native and imported plants (from yucca to date palms). And there are dozens of tiny museums and galleries all over campus. One gem is devoted to the exploration of Mars, including a live feed from the Red Planet. At the ASU Art Museum and Ceramics Research Center, you'll find interesting art by cutting-edge contemporary artists and faculty. The Music School has a small performance hall where new compositions find an audience.
The campus also has a Gallery of Scientific Exploration (with an extensive meteorite collection), a planetarium, an archeological research institute and a museum of anthropology, but most can be seen only by appointment, to avoid interfering with classes. Check the ASU Web site for hours they are open without an appointment.
The Apache Trail
This daylong drive that starts in Tempe and skirts the Superstition Mountains had Teddy Roosevelt waxing eloquent – as he did about many places he visited. He raved: "It is one of the most spectacular, best-worth-seeing sights in the world." If he traced the 50-mile trail (partly paved, partly not) in springtime, all the superlatives were heartfelt. The last week of April, the desert was in full bloom. (It varies from year to year, so check with the tourism office before you go if this is important to you.) The mountainsides were laden with wildflowers and cacti blossoms in white, yellow, red, orange, hot pink and purple.
First, we stopped briefly at the Superstition Mountains Visitors Center to get oriented, learn a little history and marvel at the tales of the Lost Dutchman Mine (still lost). We skipped stops at Goldfield Ghost Town and Tortilla Flat – both authentic sites of mining settlements that have been, shall we say, augmented for tourists – and focused on the wildlife and scenery.
Three enormous lakes (really reservoirs) marked our progress. Canyon Lake is heavily visited by city-dwellers from the Phoenix area who want to sail, row, paddle or motor over the water. Marinas offer places to park your own or places to rent for the day. Either way, it's a refreshing respite from the heat in the city below.
Apache Lake is 17 miles long and the most remote of the three lakes, with fewer amenities. But there is a resort lodge where we had a really great hamburger for lunch.
The Roosevelt Dam marks the last lake – not surprisingly, named Roosevelt Lake. It also is more accessible than Apache Lake and has a fair amount of use all year round.
Be sure to stop at the summit of Fish Creek Hill for the overlooks – and to wonder how stagecoaches maneuvered over the steep, winding roadway.
The drive, which then circles through Globe before heading back into Tempe, will take most of the day if you stop to smell the cactus flowers (but not too close!). If you haven't had enough of flowers, also visit the Desert Botanical Garden, located just a few minutes from downtown Tempe. It'll probably be in full bloom, too.
Poet T.S. Elliot thinks "April is the cruelest month" – and that may be true in northern climes, but in Arizona, it can be the loveliest. Timing is everything.
If You Go
Getting there: Most major airlines fly into SkyHarbor Airport in Phoenix. Don't be afraid to rent a car; the Phoenix area is pretty easy to navigate.
Dining: In Tempe, the dining options abound, ranging from the ubiquitous fast-food chains to some truly special eateries. Café Boa has excellent Italian and other Mediterranean cuisine and an extensive wine list. Four Peaks Brewing Company (check out their cool Web site at www.fourpeaks.com ) offers award-winning food and brews, and Rula Bula offers a menu with an Irish flair. The visitors guide (see below) suggests a number of local places to dine.
Lodging: The usual suspects of hotels and motels are available, as well as a handful of bed-and-breakfast inns. See the visitors guide (below) for assistance in choosing accommodations.
Information: For a free visitors guide, contact the Tempe Tourism Office, 800-283-6734 or go online to www.tempetourism.com.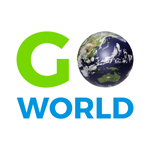 Latest posts by Go World Travel Magazine
(see all)