Housed in a late 19th-century neo-Renaissance building, Budapest's impressive Hungarian State Opera House (Andrassy ut 22) is a fitting testament to Hungary's rich architectural legacy. Inside, visually striking frescoes and gold-encrusted boxes can easily draw attention away from the operas, classical concerts and ballets.
Planning a last-minute trip to Hungary?
Top Experiences and Tours in Hungary:
Where to stay in Hungary:
Find accommodation with Booking.com
Get a rail pass through Rail Europe
Find Bus, Train, and Flight tickets with one search through Omio
Taking in one of the venue's lavish performances allows you to absorb the grand and stately atmosphere that the Hungarian State Opera House emits when in full swing. Typical prices for evening performances start at around 3,300 HUF (US$ 17).
Even if you don't choose to enjoy an evening of pirouettes or arias, a 45-minute daytime tour of the opera house leaves many visitors in awe.
Until as recently as 1873, Budapest (located in northern Hungary) was two distinct cities —the hilly Buda and the flat Pest — separated by the Danube River.
Best Tips & Tools to Plan Your Trip
Budapest today is a vibrant city that offers exceptional cultural offerings, as well as city walks, seasonal festivals and museums brimming with everything from art and history to more unusual sights — such as the intriguing mummified arm of King István, Hungary's first Christian king, in St. Stephen's Basilica.
Enjoy the Coffee Shops and Pastries
Central Budapest is packed with dozens of coffee shops. Diets should be left at home, as you'll easily find your powers of resistance being tested to the limit while here, given the array of sweet treats and cakes available in the city's charming coffeehouses.
One decadent pastry you should seek out is retes, a flaky strudel filled with apples, cherries, cheese or poppy seeds. Perhaps the best place to begin sightseeing is along the main street of Andrassy Avenue, in Pest, where the Hungarian State Opera House is nestled among a clutch of retail shops, smart restaurants and cafes.
Opposite the opera house, Muvesz Kavehaz — Artist Coffeehouse — (Andrassy ut 29) stands out from the crowd. This traditional Hungarian coffee shop displays a character of its own. Baroque-style mirrors lend a sense of elegance and expansiveness, and wicker chairs clustered around small cafe tables add to the atmosphere.
Temptingly displayed cakes, tortes and pastries are ideal accompaniments for steaming cups of strong, dark kave.
If you enjoy walking (and what better way is there to burn off those slices of torta?), you'll appreciate Budapest's myriad streets geared toward pedestrians. The city's beautiful scenery and numerous walking routes are perfect for everything from laidback strolls to invigorating walks.
Notable walks include the peaceful greenery of Margaret Island (some 2.5 km long and positioned in the middle of the Danube, the island is accessible by foot or tram) and Buda Hills, home to the Budakeszi Game Preserve.
You'll Find Many Examples of Stunning Architecture
While walking through the city, don't forget to look up, down and all around, as you'll find stunning examples of architecture, including many buildings in the Art Nouveau style.
Across the Széchenyi Chain Bridge, on the Buda side of the city, is the Castle District. Composed of Castle Hill and Watertown, this area is steeped in regal, military and religious history. Sixty meters above the Danube, Castle Hill is built over an extensive network of caves — spanning some 28 km (17 m) in total — carved into the landscape by thermal springs.
Along with sights such as the Royal Palace, the Vienna Gate and the neo-Gothic-style Matthias Church (Mátyás Templom), you'll find a range of museums on Castle Hill, including the Museum of Military History, the Golden Eagle Pharmacy Museum and the Hungarian National Gallery.
The latter is home to permanent collections by noted Hungarian artists. Some of the major works of art here are the Baroque works of Jakab Bogdany, and 20th-century pieces by artist Karoly Ferenczy and sculptor Ferenc Medgyessy. Several major bridges span the Danube.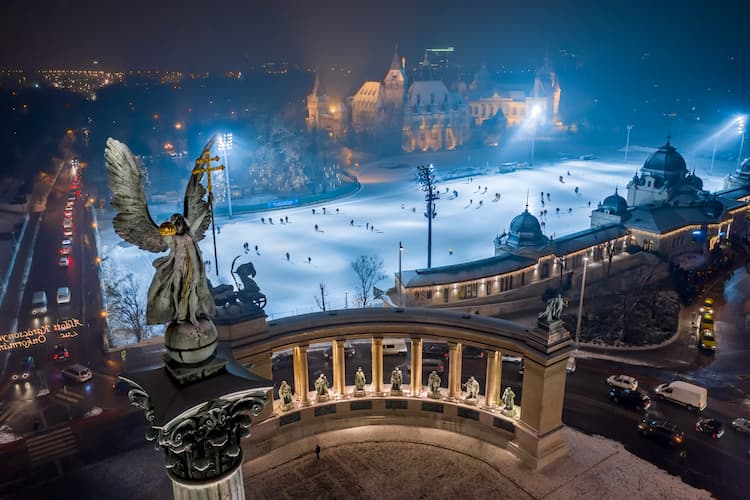 The Széchenyi Chain Bridge, built by Scotsman Adam Clark and completed in 1849, is the most breathtaking and ornate. This oldest bridge in Budapest offers more than a walkway for pedestrians; pause at any point on the bridge and you'll be treated to fantastic views and photo opportunities galore.
The House of Hungarian Wines (Szentháromság ter 6) can also be found on Castle Hill. Visitors here can learn about Hungary's 22 wine-growing regions while sampling choice selections during a tasting tour.
The City Was Built on Thermal Springs
One of Budapest's defining characteristics is that it was built upon approximately 100 thermal springs (about 1,000 springs are found throughout Hungary), which form the basis for the city's renowned spas.
The city is home to around four dozen spas, ranging from medical and therapeutic spas to public baths. A number of major hotels offer spas; the grande dame of them all is the famed Gellért Thermal Bath (Szent Gellért ter 1), in the luxurious Gellért Hotel .
The waters from this spring were originally channeled by the Romans into public baths. The Gellért Thermal Bath, built in 1918, offers a wide range of options, including a thermal pool, an effervescent pool and a wave pool. A naturist sunbathing deck, along with a large outdoor pool, is open from April through September.
A trip to Budapest wouldn't be complete without a stroll through the Great Market Hall (IX Fovam ter) — also known as the Central Market Hall — the biggest covered, indoor food market in the city.
The Great Market Hall is a food-lover's paradise, where you can find stall upon stall offering a colorful display of meats, fish, deli items, wines, fruits, cheese, vegetables — and of course, that Hungarian staple, paprika.
The spice can be purchased here in all sorts of forms, including dried, crushed, fresh, on a string or pickled, in a jar. If the sight and smell of all the wares start to make you feel hungry (and it inevitably will), you can join the locals upstairs and do what the locals do by purchasing traditional Hungarian fare such as csirke paprikas (chicken paprika) or gulyas (goulash) from food stalls.
If You Go:
Budapest is a beautifully engaging city that can easily be compared to other hip Central European cities of note, such as Prague or Warsaw; yet Budapest has retained its own unique Magyar character and charm. Whether your interests are culture, history, architecture, food or entertainment, Budapest is an ideal destination.
Budapest Tourism Office:
Hungarian Tourism:
Inspire your next adventure with our articles below:
Author Bio: Devona Anidi