In the winter of 2022, my husband and I sat down to decide where we'd like to take a trip to celebrate our wedding anniversary. Paris felt like an obvious answer. Then we googled flight prices and a hotel stay in Paris and quickly realized we don't have Paris money yet.
In fact, we have the opposite of Paris money: debt. Such is life when one of you decides to start a company in the middle of a pandemic and the other one is a screenwriter.
So we decided to push off the trip to April and find a place we could make an international trip out of without going into deeper debt. In the back of my mind, a persistent voice that had been quietly repeating Budapest to me since I was in college sprang up again.
I'm sure it has something to do with that Mandy Moore movie where she's the President's daughter and wants to swim in the Danube, but who's to say.
Read More: How to Travel Europe on a Budget
Budapest is Hungary's Best-Kept Secret
Hungary, with its complicated and often tragic history, gets slept on as a place to visit. It doesn't have the obvious romance of Paris, the old-world charm of Prague, the villas of Italy. But it's a city that's made beauty out of the darkness of its past.
That plants flowers in the middle of literal ruins. A city comprised of people who are brusque and impatient, but deeply kind—New Yorkers by way of Central Europe. And because it never seems to be anyone's first pick, it's deeply affordable.
The Most Fun Way to Tour Budapest: By Tuk Tuk
For centuries, Buda and Pest were two separate cities until they were officially made into one in 1873. Buda is the more residential, nature-driven side while Pest has more of a city vibe, full of bars and restaurants and general mischief to get up to. The Danube serves as the dividing line between the two.
As two travelers who don't do nearly enough research before impulse-buying plane tickets, we decided the best way to get an understanding of the city's layout was to book a TukTuk tour. If it's not the best, who cares.
Best Tips & Tools to Plan Your Trip
It was absolutely the most fun way to do it, and significantly cheaper than reserving one of those massive tour group tickets that promises you a sip of water and one bite of cheese for twelve hours of pointing out one landmark and shoving you into a gift shop.
What we didn't expect was a full, occasionally entertaining and often sobering history lesson from our tour guide, Paul.
Budapest's Dark Past
Whereas most cities you visit would give you the rose-tinted version of its past, Paul minced no words. A young, deeply intelligent man with understandable frustrations about the illusion of free will in Hungary's government projects (while ensuring its population doesn't have a voice), Paul walked us down Budapest's past and present with a wealth of knowledge, empathy, and local perspective we couldn't have gotten on our own.
From Hungary's role in World War II to its storied and tragic past (they've been occupied. A lot.), to its brief period where the country thrived under the reign of King Mattias, we learned more in two hours from Paul than any museum could have offered us.
The TukTuk tour is also a great way of understanding the layout of the city—which is very walkable—so that you know where the landmarks are in the inevitable event that you get lost. DO remember to leave a generous tip – unlike most European cities, Budapest does have a tipping culture.
Read More: Glimpses of the Past: Searching for Signs of the Austro-Hungarian Empire
Befriend the Bartenders
If you aren't fussy about the size of your hotel room and like your travel buddy enough to be confident you won't throw them out a window due to lack of space, I highly recommend booking a local boutique hotel like The Emerald, where we stayed, instead of one of the big chains. You'll save money and end up with a richer experience.
One of the best things we did was make friends with the bartender at our hotel. I'll be honest – as a former waitress/bartender, I am absolutely the person who pulls the "I used to work in bars" card so that service people don't automatically hate me. And it works, so, zero regrets.
Martin, the star of The Emerald, not only gave us some of the best and cheapest food recommendations of our trip, he also had a passion for making the kind of impeccably crafted cocktails that would cost $20+ in California. "This is my hobby," he told us with pride.
We got into the routine of visiting Martin for a nightcap at the end of each day, asking him to simply surprise us (things bartenders here hate, but he genuinely seemed to dig) and enjoying getting to know about him, his life, and his family over shared stories and drinks.
Part of the joy of traveling is experiencing a different culture, way of life or of doing things…and that's something that most times, you'll get the most insight into by making the effort to get to know the people who live there.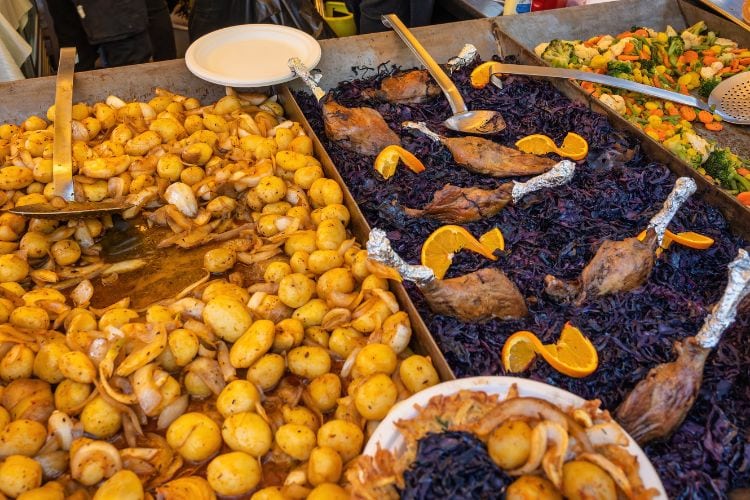 How to Find Where the Locals Eat in Budapest
The thing is, it's hard to know what and where you should eat when you're halfway across the world. And so sometimes you make bad decisions and look on well-known "Best of" sites as if those are going to be a clue on where to find the best food, when you know they're generally not. This is how you spend way too much money on the first two days of your trip and find yourself scrambling on how to stay on your budget for the five remaining days you have left.
Luckily for us, Paul and Martin gave us some excellent local recommendations: a food truck park near the Jewish Quarter, a local pizza chain that always had a line around the block, some of the best Middle Eastern food you'll find on the planet, and the most essential snacks Hungary has to offer– langos and chimney cakes.
But when it came to finding great restaurants and bars that fit our budgetary needs, we found a different hack: look at what shoes people are wearing. This is less creepy than it sounds. Maybe. I hope. But what we learned was that you could spot the places tourists favored versus the local spots based on people's shoes.
The locals, coming from work or everyday lives, were in loafers and heels, significantly more stylish than us, clomping around in our sneakers because we wanted to walk and explore every single place by foot instead of jumping on the metro like sane people.
When in Hungary, Ask the Hungarians
No best-of list from America is going to lead you to the best food in this singular city. It's full of ghosts, and of the people who remain—the ones who persist through impossible circumstances. The best places you'll find will show up where you least expect them to– a random set of stairs that lead you into the speakeasy of your dreams, a tiny door off an alleyway where you'll have the best Hungarian wine of your life, a sausage shop where a middle-aged woman who has no time for your indecisiveness barks at you to order already.
It's not a place you go for tiny portions on aesthetically pleasing plates. As one server said to us when we couldn't finish our (extremely delicious) goulash because we ordered too much: "Hungarian food, it's not light. It's for surviving."
Author Bio: Suhashini Krishnan is a filmmaker and writer whose work has been recognized by film festivals around the country. Her writing has been optioned and developed at various studios. She resides in California with her husband and their two chaotic, disobedient dogs.