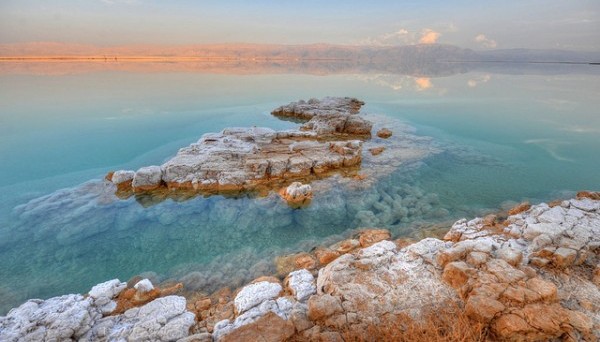 The room was even better than the one on the website: big, airy and contemporary, with sliding doors opening onto a huge deck that looked over the powder-blue Dead Sea and across to the amber hills of Jordan on the other side. I slid the doors open, and Mardena and I stepped out. Man, I thought, looking around, a hundred bucks. With breakfast!
I was pumped. Mardena and I had rented a car that afternoon in Jerusalem and driven two hours to the Ein Gedi Youth Hostel, three buildings built into a rocky hillside above the Israeli shoreline. Sure, for a hostel it seemed a little pricey, but it was nicer than any hotel we'd stayed in. And the view!
We dumped our packs and headed back to reception to ask about hikes. The desk clerk, a young guy with flowing black hair and a wild beard, told us that the best one, a three-mile trek through a canyon named Wadi Arugot, started a half mile south.
It was too late to start that day. The temperature was in the 90s and there wasn't a lot of daylight left. We'd try it the following day.
Hiking in Wadi Arugot
Early the next morning, when I stepped out on our deck, it was already warm and muggy. The forecast was for 102 F, unseasonably hot for mid-May. Our plan was to hike Wadi Arugot first, then drive south to Ein Bokek, an Israeli seaside resort, for a float in the Dead Sea that afternoon.
We got to Wadi Arugot at 9 AM, paid the entry fee, bought two liters of icy water to supplement what we'd brought, and started along a trail that would culminate 3 miles later in a series of "upper pools."
The incline was mercifully gentle, with an occasional clamber over a ledge, and a dip here and there into a rocky stream bed. Ahead, on each side of us, massive sandstone bluffs angled down into the Wadi basin, the "V" they formed backstopped in the distance by a towering wall of rock and sky. Just below us, a stream gurgled along through boulders and bushes.
Continued on next page