Cuba waits with bated breath and heady visions of wildly transferring cyber dollars. Maybe even with open arms. With the relaxed restrictions on American travel to Cuba, tourists are flocking to this formerly off-limits island, but not so much for investment possibilities. They just want to get to Havana before McDonald's.
That, and they are drawn to the bygone 1950s era. A time-travel ride through Havana in a pink '55 Pontiac convertible has a certain appeal as do the narrow cobblestone streets that secret a Hemingway-hangout bar. Yes, there was also that revolution and its interesting honored remnants. But mostly Americans go just because they can, and as long as there is a return plane ticket they will. But with hotels already overbooked, a mass post-embargo influx may be a problem.
Cuba exists in a time warp, a cash economy where there are no U.S. credit and debit cards or ATMs. Roaming international phone service to the U.S. is newly available but by only one provider so far. Wi-Fi is sparse and often slow and is not free anywhere even in the hotels.
Devoid of all the conveniences most of the world enjoys, Cubans lead a less complicated life. They do not pay taxes. They appear satisfied with socialized health care (even if their underpaid providers are not) and free lifelong education that includes university. These benefits keep many on the island. Assuming the embargo will end — and that's assuming a lot — it will take time to catch up technology-wise and only if the government admits it needs to do so.
All that said, the country's century-old Spanish-style buildings are collapsing at a rate of several a day, and although restoration is in progress, it's expensive and so extensive it's hard to see how the many residences of wealthy 19th century sugar-cane-rich families can be saved. Havana is what Miguel Coyula, architect, urban planner and professor at the University of Havana, has named "The last virgin city." They'd like to keep it that way.
Our tour was educational and interactive, a required condition by Cuban tourism, with morning lectures on history, architecture, and religion and visits to museums, dance and music schools, a graphic arts school, a bookstore, and a senior center — people to people. We learned the history of the island, its colonial architecture and its strategic position for trade to the gulf states.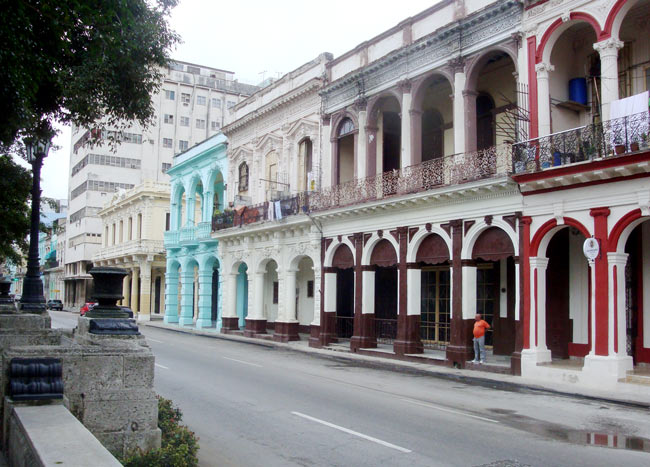 Our accommodation in Havana was the historic Hotel Nacional de Cuba. Built in the 1930s, it was visited by notables including the likes of Frank Sinatra and Winston Churchill. The original wood-paneled elevators are still in use, and tuxedoed waiters still serve in the dining room. After the revolution only Cubans were permitted as guests, but that changed once the Russians decamped along with their money (The Special Period). Tourists were then welcomed back.
We strolled about Revolution Square in Havana where likenesses of Che Guevara and Camilo Cienfuegos, revolution heroes, honor the facades of government buildings. In Santa Clara we visited the Che memorial. On the way to Cienfuegos we wet our feet in the Bay of Pigs and visited a museum that paid tribute to those who died defending that invasion.
Throughout the tour we dined in paladars — private restaurants that welcomed us with a complimentary mojito. Cuban food, contrary to our preconceptions, is not spicy. Pulled pork, black beans and rice were always on the menu. Cuba imports food, which after the demise of its sugar-cane past seems such a waste of fertile, uncultivated land.
Continued on next page