Editor's Note: Travel is complicated right now. Please check local regulations and location openings before you go. We share places, products and activities we recommend. If you make a purchase using a link on our site, we may earn a commission.
My philosophy on successful wildlife viewing goes something like this: "The harder you try to find elusive animals the less you will see. Isn't it much nicer to sit quietly — preferably in a hammock, with a cold drink in your hand — and wait for the animals to come to you?"
Rafiki Safari Lodge
I was thinking this while relaxing in a rustic wooden rocker on the front porch of my deluxe tent at Rafiki Safari Lodge in Costa Rica. Rafiki signifies "friend" in Swahili, and the lodge itself is owned by a South African family. Nestled in the mountains of Central Costa Rica, about 30 miles (48 km) outside of Manuel Antonio National Park, this self-contained lodge even produces its own electricity.
I was lured here by the promise of cool mountain air, a plan to go on a whitewater river rafting excursion down the mighty Savegre River and the desire to see a toucan. I'd been to Costa Rica twice before and had never seen one. This time, returning for a three-month trip, I was determined.
With nine luxury tents that accommodate 27 people, the lodge features an open-air rancho that looks out onto a deep, jungle valley, offering unbeatable views. Lining an outer side of the rancho are lace hammocks. Classical music would play gently in the background as I peered thru my binoculars and waited for nature to come to me.
Loki, my host, had told me that a toucan could fly through this valley every day in the early morning and late afternoon. "You will recognize him by how he looks when he flies," he explained. Toucans fly somewhat askew to compensate for their large and heavy yellow, green and blue colored beaks.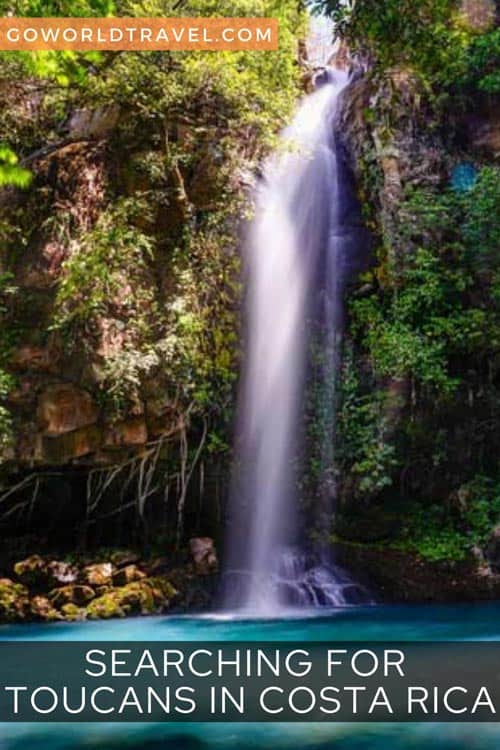 Tropical Toucans
These exotic birds have throats and chests that are bright yellow with a black sleek body. There are thought to be about 37 Toucan species inhabiting the rainforests and lowlands in Central America and tropical South America.
You can only lounge motionless for just so many hours without seeing a toucan. Curious to explore the river and perhaps see a toucan along the waters' edge, we decided to go on a river-rafting excursion provided by the lodge. (Guests have their choice of white-water river rafting, nature hiking or horseback riding.) We piled into the open-air bed of a truck loaded down with rafts and headed for the river.
Getting to the put-in point was half of the adventure. Our guide, Carlo, pointed out trees and flora along the way, as we bounced down the road; he gestured toward a fan leaf palm whose leaves had been cut and folded by miniature bats for protection while they rest. We made a quick stop to scrape a sample from a cinnamon bark tree (Cinnamomum cassia). The smell of fresh cinnamon was mesmerizing: bold, yet sweet.
The descent was slow and arduous. The truck chugged slowly in first gear fighting against gravity and weight for the entire hour. Sweat poured from our brows. Our behinds were sore from bouncing on the wooden benches. Birds called out to their mates across the valley floor. Insects buzzed around our heads.
Wildlife
The early morning air in the sun was still cool. As we went around a bend, Carlo yelled for the driver to stop. Cautiously he jumped out of the truck, bent down low and pointed to a hidden water hole. "Shh," he said, putting his finger up to his mouth, "A caiman lives in this swamp. If you keep quiet, we won't scare him, and he won't submerge in the water. Do you see him over there?"
My eyes tried to distinguish something in the murky water. "What is a caiman? What am I looking for?" I thought. Then I saw it, two bulging eyes with gray rings around them staring up at me. A caiman, it turns out, is an extremely adaptable, medium-size creature similar to a crocodile. It is found in Central and South America usually in lowland, wetland and riverine habitats.
We quietly left the caiman to his morning swim and loaded back into the truck. After what felt like hours, we arrived at the river's edge. We had been transported to an area that is usually inaccessible: a jungle setting, undisturbed, except for the loud cries of trogons and howler monkeys.
Loaded with life jackets and waterproof bags for cameras and valuables, we got into our yellow rubber, inflated, four-man boats and perched on the edges. There was a two-man boat that went ahead of our two boats to scout the way. We're prepared, we think. And then – Bam! We were pelted with river water by the crew from the opposite raft.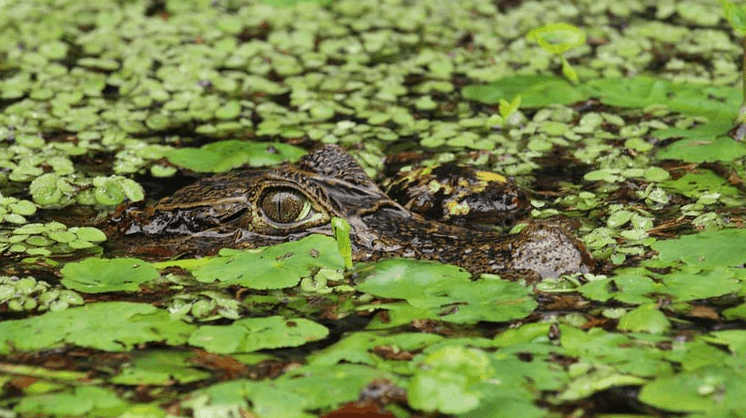 Water Wars
This was the first of many water wars. What an invigorating way to begin our ride! Our second guide, Arturo, was an avid birdwatcher and pointed out many birds as we descended the river. One minute he pointed out a kingfisher couple as it wove back and forth across the river talking in their high, chattering " neeeeah" notes. The next, he pointed out herons as they passed us, rattling in their loud, explosive, scratchy " kyowk" voice. Even an elusive Baird's trogon, so tiny it got lost amongst the leaves of a tree, sang for us in its soft-pitched sotto voce. But, alas, we didn't see a single toucan.
Although the river was low, we were thrilled with many rapids. A few people even "accidentally" fell overboard. We perfected our rowing before we entered the infamous the "River-Stole-My-Casio-Watch" rapid.
Ice-cold beers were waiting for us at the put-out point. We headed back to the lodge feeling happy, satisfied and exhausted as the sun was setting over the mountains. The next day, we were lured by the joyful screams from my 12-year-old niece as she went down the water slide into the river-fed swimming pool.
Rafiki's owners wanted the distinction of having the fastest water slide in Costa Rica. They built a C-shaped, smooth cement slide that descends about 50 feet (15 m) from the rancho to the river-fed pool. I decided to give the slide a try, saying a quick prayer at the top, took a deep breath, and then sat down.
I thought again, "What am I doing?" then took off before I could answer myself. Before I could take a breath, I had gone down the slide, bumped my elbow on the C curve and was dumped unceremoniously into the refreshing water.
Surprisingly, my dog, Rocky, followed me down the slide. He had accidentally slipped and fallen onto the slide. He was splayed out, fully extended, desperately trying to grab onto safety. I wish I had a picture of everyone's faces as they realized that the next being on the slide was a dog, not a person.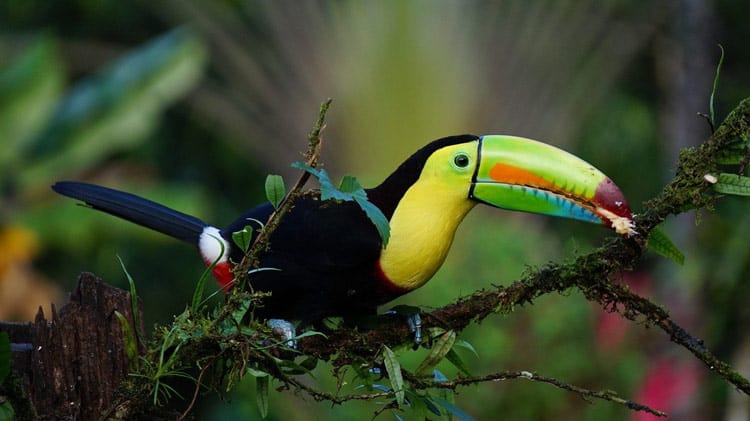 Toucan Alarm
My last morning, sitting on my balcony, breathing in the wet morning air and drinking a cup of mild Costa Rican coffee, Loki came running toward our tent.
"Look, there's the toucan!" he said pointing at a bird noisily flitting around the valley announcing himself to he world."
I looked out into the jungle and my eye could follow the distinct sound of " RRUK-RRUK-RRUK", the toucan's call. Suddenly, there it came fluttering through the valley. My theory had worked; I had finally seen a toucan.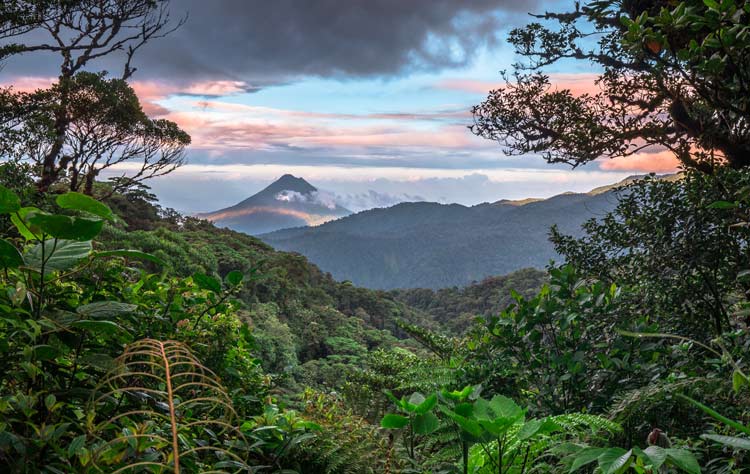 If You Go
Costa Rica Tourism Board – www.visitcostarica.com
Rafiki Safari Lodge – www.rafikisafari.com