Editor's Note: We're all dreaming of travel ahead. Here's some inspiration for future adventures. We share places, products and activities we recommend. If you make a purchase using a link on our site, we may earn a commission.
Seeing All You Can in Chicago
Chicago likes to use numbers to entice visitors.
Here are a few: It built the world's first skyscraper; it has three of the world's tallest buildings, the Sears Tower, the AON Center and John Hancock; it has the world's largest municipal building, the Harold Washington Library Center (with two million books); and it has the world's largest indoor marine mammal pavilion, the Shedd Aquarium.
These statistics are just the tip of the iceberg. A first-time visitor, especially one who is just here for a weekend, has to prioritize.
Check out tours around Chicago like the Gangsters and Ghosts Walking Tour or the Private Tour With a Local through GetYourGuide. Plan your experience with expert guides and learn all you can about this exciting city here.
Whether it's architecture, music, museums, art, shopping or dining, a plan is a must because trying to pack it all in will only frustrate you (however, you'll vow to come back). While you can't do everything in a weekend, you can do an awful lot.
Know Your Chicago Facts
First, take a look at the city, located on the shores of Lake Michigan. The first settler here was fur trader Jean Baptiste Point du Sable, who made his home on the Chicago River near where it emptied into Lake Michigan in 1779.
Years later, in 1830, the Town of Chicago was incorporated, with just 350 people. Today, the city claims almost three million people. One of the most important events in the city's history was the 1893 World's Columbian Exposition.
The event was perhaps the last and the greatest of the 19th century's World's Fairs during which many of the city's cultural institutions were born.
For example, the Museum of Science and Industry was first the Columbian Exposition's Palace of Fine Arts. The city's orchestra and library were first established during this time, too.
Not to dwell in the past, one of the city's newest marvels is Millennium Park in downtown Chicago, which was inaugurated in July 2004. The 24.5-acre park boasts a Frank Gehry-designed music pavilion, as well as giant sculptures. The US$ 450-million park is merely the latest in Chicago's history of stunning projects.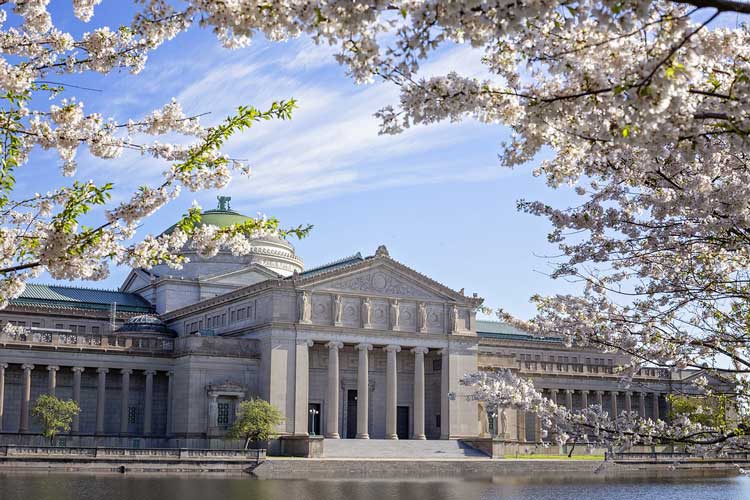 Find a hotel or Airbnb in Chicago
Before You Go to Chicago
Without a doubt, one of the best deals of the city is its free Chicago Greeter program. A local volunteer will take up to six people (more if it is one family) on a tour of whatever interests them. There are more than 40 themes to choose from (including antiques, churches, public art to the zoo.) Or, if a specific neighborhood interests your group, that's fine, as well.
Whether it's Little Italy, North Michigan Avenue or The Loop, or anywhere in between, there's a local waiting to take you. Reservations can be made as much as a week in advance.
If that's too much trouble, visit the Chicago Cultural Center. You can get a one-hour, free tour of the downtown area, which is a great get-acquainted-with-the-city tour.
Find a tour around the Chicago Cultural Center here with GetYourGuide. Book a tour stress-free with their new cancellation policy that allows you to change plans up to 24-hours before the tour.
Now, here are some suggestions on how to plan out that weekend Chicago tour.
Friday
A fitting first experience in this city is to take a ride on the famous "L" train. If you are flying into O'Hare Airport, this is a cinch and a cheap way to get downtown. Built in 1893, the Chicago Transit Authority constructed the elevated trains to accommodate the crowds expected for the 1893 World's Columbian Exposition.
During the six-month fair, 26 million people visited. The trains remained after the exposition was torn down, and the train route encircles the main business district called "The Loop." Many hotels are easily accessed from the train. Just a half-block away from one stop is the Palmer House Hilton.
Whether you decide to stay in the enormous hotel or not, a visit is a must. The Palmer House is the longest continuously-operating hotel in North America, in business for 133 years! It's a landmark in a city of landmarks, and its location in The Loop is ideal for exploring the city on foot.
One of the most stunning features of the hotel is the lobby ceiling, which is made up of 21 individual oil paintings, completed at the turn of the century. The French décor throughout the hotel is also quite impressive.
The Chicago Cultural Center is a must-see, regardless of whether you choose to do a greeter tour. "The People's Palace," as it is called, was completed in 1897 and was the city's first library. It houses the world's largest Tiffany stained-glass window (a 38-foot or 11.6-meter dome) valued at more than US$ 35 million. A free audio tour is offered, or you can wander through on your own.
After you tire of touring, catch dinner and a show at The House of Blues. You can fill your belly with southern food and feed your soul with some Chicago Blues. A variety of bands play here. If you'd rather, visit on Sunday morning for a gospel brunch.
Saturday
Architecture is one of Chicago's main attractions, and one of the best ways to get an overview of it all is to take a boat tour. The Chicago Architecture Foundation gives an excellent tour aboard Chicago's First Lady.
The 90-minute tour leaves from Michigan Avenue and the Chicago River. The trained volunteers give commentary on more than 50 buildings along the way.
GetYourGuide has skip the line tickets for the 5-star rated Architecture Cruise Tour on the Chicago River. Book in advance here.
After the boat tour, go for a stroll along the "Magnificent Mile," where shop after shop beckons along Michigan Avenue. When you get hungry, any number of cafes will tempt you for lunch. A fun detour, especially for families, is the Lego Store in the Shops at North Bridge mall.
Huge Lego creations, such as Darth Vader and giant insects, are pretty neat, and Lego products can be found here. Many visitors just have to go to the original Marshall Field's, which opened in 1852, and is the flagship store. It's a tourist attraction, even for non-shoppers.
It's the second-largest department store in the world and even has a museum of sorts, detailing its history. If you haven't eaten yet, you can have a meal in one of the store's six food venues. Or, maybe go in search of some of Chicago's deep-dish pizza.
If you do plan on doing some shopping make sure you're prepared with a little extra space. eBags has luggage brands from around the world at discounted prices so you can find durable, expanding luggage that will last years of travel. Check out their selection here.
Every resident has an opinion on where the best slice is to be found. Why not ask a store clerk or cab driver where their favorite is?
Tonight, see who's playing at Blues Chicago. This club features only Chicago-based blues artists and has a special focus on female performers. If one location is not to your liking, check out the other one.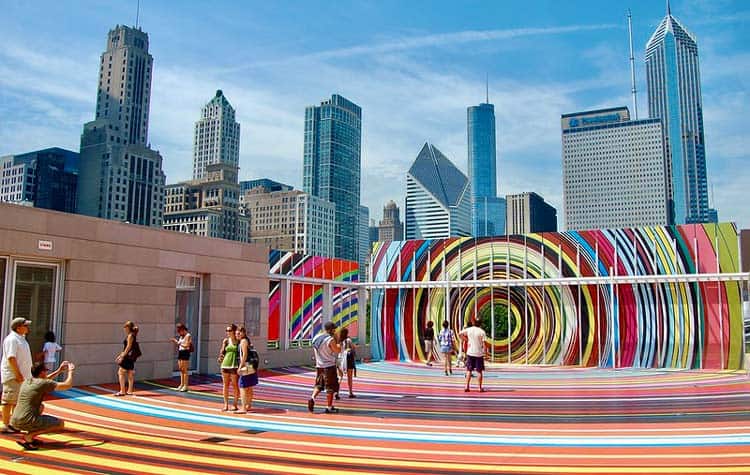 Sunday
Dedicate today to museums. First, visit the Art Institute of Chicago, which is practically a required stop. Perhaps Nighthawks by Edward Hopper is one of its most famous paintings, or maybe it's Inventions of Monsters by Salvador Dali.
Regardless, a visitor could easily spend an entire day here (or even the whole weekend), but you can't! There's too much to see yet. Stop for a quick meal in the Café or Garden Restaurant.
After your whirlwind tour here, go to Museum Campus, where you'll find the John G. Shedd Aquarium/Oceanarium, the Adler Planetarium & Astrology Museum, Arboretum and the Field Museum.
You won't really be able to do justice to any of these institutions, but you can get a flavor. At the Shedd, check out the Wild Reefs-Sharks at Shedd exhibit. Take in a show at the Planetarium, and at the Field, you must visit Sue, the largest, most complete T-Rex fossil found to date.