Deserted beaches, crashing waves, candle-lit dining, starry skies… you get the picture. If you're looking for a setting to woo your beloved, the province of British Columbia in Canada's west is the place.
But don't take our word for it: this province is so rife with romantic potential that last season, the producers of ABC's The Bachelor, whose job it is to set millions of hearts aflutter each week, chose not one, but two, BC locations for their finalists' dream dates.
Last November, 20 million fans watched as contestants Byron and Mary traversed on an adrenaline-inducing ziptrek line, followed by an intimate evening at the Fairmont Chateau Whistler. Later that same episode, Byron and another bachelorette Tanya got to know each other while exploring Vancouver's False Creek and reveling in luxury at the Fairmont Hotel Vancouver.
Exciting as they are, these two trips just scratch the surface of romantic possibilities in BC. The choices are limited only by your imagination, but here are some personal favorites especially selected for Valentine's Day.
If fine dining, city lights and a sophisticated urban setting work for you, opt for a date in Vancouver. Start the morning with a latte and muffin by the water — or treat each other to handmade chocolates, fresh strawberries or even some tasty pastry — at the Granville Island Public Market (604-666-5784; www.granvilleisland.com), where dozens of food and craft stalls stimulate every sense. After breakfast, hop onto one of the little foot passenger ferries that sail every few minutes across False Creek to the city's West End (False Creek Ferries: 604-684-7781; www.granvilleislandferries.bc.ca, or Aquabus Ferries: 604-689-5858; www.aquabus.bc.ca).
From there it's a seaside stroll or quick cab ride to the Stanley Park Seawall, the locals' favorite place to walk hand-in-hand. You don't have to walk (or cycle, or in-line skate) the whole 5.6 mile (9 km) circuit. Every part of the route, with its ocean, forest, city, and mountain scenery, is delightful. For a more private walk, take one of the less-trodden paths around Beaver Lake or Lost Lagoon.
Next, head across the graceful sweep of Lions Gate Bridge to North Vancouver and stop for an adrenaline rush at the Capilano Suspension Bridge (604-985-7474; www.capbridge.com). You'll want to hold hands on the bridge as it sways 230 feet (70m) over the raging waters of Capilano Canyon. While you're there, check out the Treetops Adventure, where more bridges take you to viewing platforms high in the trees. A less-visited suspension bridge at Lynn Canyon Park (604-981-3103; www.dnv.org/ecology) is just as scenic, and a little more private. Top off the day with a mile-long (1.6 km) ride on the Grouse Mountain Skyride (604-980-9311, www.grousemountain.com) and admire the blanket of city lights below.
Dinner? In Vancouver, the options are almost overwhelming. You could stay on Grouse Mountain and enjoy the Pacific Northwest fare and stunning views at the Observatory Restaurant (604-980-9311; your Skyride fare is free with dinner reservations), or head back to town. A few favorites for candlelight dining and impeccable food are Villa del Lupo (604-688-7436; www.villadellupo.com), serving Italian fare in a cozy heritage house, and Bacchus in the Wedgewood Hotel (604-608-5319; www.wedgewoodhotel.com), with its sensuous ambience and modern French cuisine.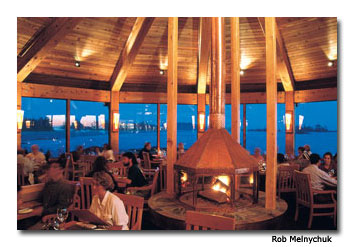 From Vancouver, you're just two hours from Whistler. Consistently ranked the best place to ski on the continent, this year-round destination is also a top spot to walk hand-in-hand in the snow, cozy up together by the fire, or try one of Whistler's myriad once-in-a-lifetime romantic experiences. You can, like the Bachelor team, race through the trees on a zip line, or take a moonlit walk on snowshoes followed by fondue at a mountainside cabin. Or you can opt for a dreamy horse-drawn sleigh ride or a thrilling helicopter flight over the area's peaks and glaciers. One call to The Whistler Activity and Information Centre (877-991-9988 or 604-938-2769; www.tourismwhistler.com) will arrange it.
And here's a local tip: at the top of Blackcomb Mountain, behind Horstman Hut, is a spectacular viewpoint called Proposal Point. If you get the answer you want, one of two wedding planners in town (Inspired Group: www.inspiredgroup.com; or Platinum Weddings: www.weddingsofwhistler.com) can create a destination wedding for you.
Another great place to curl up by the fire is Tofino. Here, on the Wild West coast of Vancouver Island, the weather doesn't flutter — it pounds. Valentine's Day falls in the midst of Tofino's storm-watching season, when high winds and towering waves lash at the coastline. Two great places to watch the show, each with an excellent restaurant on site so you don't have to venture out, are the Wickaninnish Inn (250-725-3100 or 800-333-4604; www.wickinn.com) where the glass-enclosed Pointe Restaurant has a 240 degree view of the shore, and Long Beach Lodge Resort (250-725-2442 or 877-844-7873; www.longbeachlodgeresort.com), which overlooks the sandy expanse of Cox Bay.
Storms aren't, of course, guaranteed. Many winter days dawn to mild sunny weather and clear blue skies, leaving visiting lovers with little to do but stroll along the deserted sands of Long Beach, explore the rainforest trails, or go for a dip in the thermal waters of Hot Springs Cove with Ocean Outfitters (weather permitting; 250-725-2866 or 877-906-2326; www.oceanoutfitters.bc.ca). The Tofino Visitors' InfoCentre (250-725-3414; www.tofinobc.org) has details.
Or, maybe you're an old-fashioned traditionalist. To you, romance means flowers and lace, carriage rides and walks in the park. In that case, Victoria, the provincial capital on the tip of Vancouver Island, is the place for your dream date. You can get there on a cruise through the island-dotted Strait of Georgia on BC Ferries (250-386-3431 or 888-223-3779; www.bcferries.com) or, for an even more dramatic entrance, via float plane straight to Victoria's Inner Harbour (Harbour Air Seaplanes: 604-274-1277 or 800-665-0212; www.harbour-air.com from Vancouver. Kenmore Air: 425-486-1257 or 800-543-9595; www.kenmoreair.com from Seattle).
Once there, you can take a private horse-drawn Cinderella-style carriage ride around Beacon Hill Park (Victoria Carriage Tours: 250-383-2207 or 877-663-2207; www.victoriacarriage.com), linger over afternoon tea — try the White Heather Tea Room (250-595-8020) or the incomparable Empress Tea Lobby (250-389-2727 or 800-441-1414; www.fairmont.com/empress), then dine somewhere with candlelight and wine. Café Brio (250-383-0009 or 866-270-5461; www.cafe-brio.com), Brasserie L'Ècole (250-475-6260; www.lecole.ca), and Camille's Restaurant (250-381-3433; www.camillesrestaurant.com) have all won the hearts of locals with their fine regional fare and intimate tables for two.
That night, cozy up in a canopied bed at one of the city's many heritage inns. Try Abigail's Hotel (250-388-5363 or 800-561-6565; www.abigailshotel.com) or the Beaconsfield Inn (250-384-4044 or 888-884-4044; www.beaconsfieldinn.com) for their country house ambience, or the Fairmont Empress (250-384-8111 or 800-441-1414; www.fairmont.com/empress) for its old-world elegance.
Bachelor fans who want to replicate the Vancouver or Whistler dream dates can book a Bachelor Package at the Fairmont Hotel Vancouver or the Fairmont Chateau Whistler. The overnight date includes Champagne and strawberries, a romantic dinner for two, a night in a luxurious suite, breakfast in bed… and that final rose.
If You Go
Tourism British Columbia
1-800 HELLO BC (North America)
Romance British Columbia Style
www.romanceinbc.com