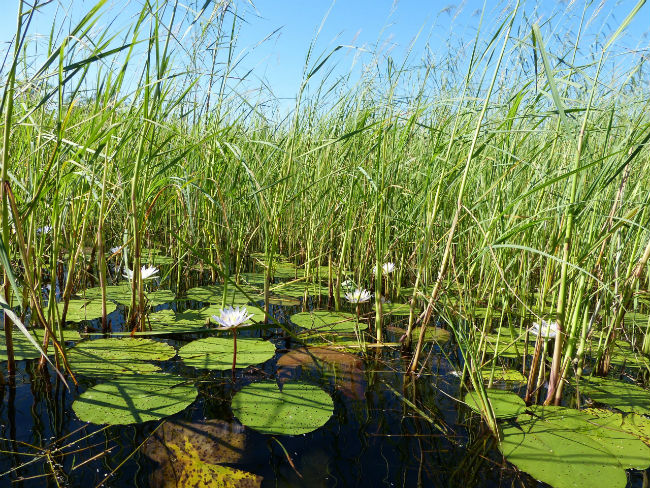 As if to make up for it, birds are in abundance with chirps, twitters, and tweeting providing the sound track for our adventure. Many are of such fine-feathered iridescence, that they appear Tiffany designed.
Flowers, too, are in abundance, with entire bouquets brightening the papyrus and reed greenery. Of course, there are many water lilies. Handy things, lily pads. Forgot your hat? Try a lily pad, as Focus modeled.
Sitting back in the padded seat and backrest thoughtfully provided, and no longer concerned that a little fidget would put us in the drink, I'm struck by the Okavango's beauty. We'd seen plentiful exotic animals in Namibia's Etosha National Park, with the certainty of a Botswana menagerie in Chobe National Park yet to come. No need to add Okavango exotic sightings to my Africa checklist.
It is then that my mokoro partner spies three sets of periscope eyes floating in the cove of the island we are passing. Our flotilla of four comes to a halt.
Hippos. With a great harrumph and grunt, one rears its head out of the water and opens its massive jaw wide. It's not something you would want to encounter if coming up for air after a surprise toppling.
Oh, oh – now there are two sets of periscope eyes.
Focus demonstrates fast poling.
Nguma Island Lodge in Okavango
The porch of my permanently tented cabin at Nguma Island Lodge awaits, a fine place to relax with a glass of South Africa wine in hand. Monkeys scamper about, swinging out of the trees and walking the tightrope banister of the boardwalk that ties the lodge's 12 tents to the log-structure dining, bar, and lounge overlooking the lagoon.
At check-in, we were warned not to leave anything in our open-to-the-sky bathrooms, separated from the sleeping area by a screen door. The monkeys would steal it.
But now, a pre-dinner sunset cruise awaits. We make our way to the far edge of the lagoon as the oncoming evening's golden light, framed by dark trees, turns pinky-purple. The best is yet to come. As the sun settles into the horizon, the lagoon turns into a fire of reds, orange, terracotta.
To add an array of animals to the scene would be, well, redundant.
If You Go to the Okavango Delta:
ElderTreks has scheduled two "Splendors of South Africa" departures for 2018, March 13 and September 18.  Price: $9595 for a 23-day itinerary. www.ElderTreks.com .
Author Bio: Yvonne Michie Horn is a Santa Rosa-based travel writer. See www.YvonneHorn.com and www.TheTravelingGardener.com