I'm on an e-bike cruising along the quiet streets of Leogang, a village of 3,200 in the shadow of the Austrian Alps. Tidy Alpine homes with flower boxes and stacks of firewood line the winding village path that leads into the countryside, where cattle graze in lush green pastures.
In the winter, skiers descend on this region. The nearby Skicircus Saalbach Hinterglemm Leogang Fieberbrunn is one of the largest ski areas in Austria, with more than 70 lifts and 167 miles of ski runs.
A Visit to Saalfelden Leogang
But in summer and fall, the region of Saalfelden Leogang takes on a whole different feel. It's the perfect time to visit. Located at the base of the ski resort, Bikepark Leogang, the first-of-its-kind mountain bike school and park, kicks into high gear.
Riders of all levels and ages can take lessons and ride at the park. I try the beginner's course, slowly moving along the track and jumping with trepidation, and then gaining more confidence.
Best Tips & Tools to Plan Your Trip
That afternoon, my friends and I head out for a hike, which is a popular pastime here. The Saalfelden Leogang region has almost 250 miles of trails. We take the gondola to the top of the mountain and then follow a trail that promises to add sound experiences to the amazing views.
Along the path are five different TONspur Islands, each with a different sound installation. The idea is to listen and enjoy the scenery with all your senses. The combination is compelling. At one stop, I relax on a chair and listen to a soulful orchestral piece. It's a fascinating alpine experience.
Read More: A Weekend in Vienna, Austria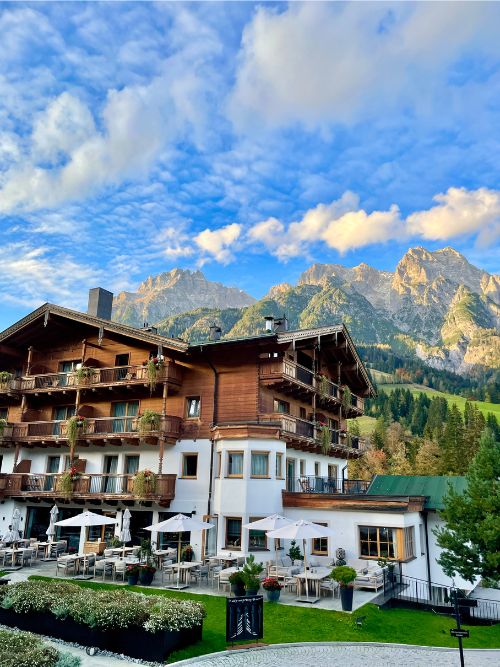 Innovation Meets Tradition
It's just another example of how tradition blends with bold innovation here. That originality extends to local farms and dairies, too.
I stop at one farm stand that sells produce from self-service chilled lockers. You select the fruits, vegetables and even meats you want, and then open the locker with your credit card purchase. Other artisanal farmers in the valley produce organic products, from cheeses to locally-grown saffron.
I get to sample many of those regional products at the award-winning Dahoam restaurant. Executive Chef Andreas Herbst's alpine kitchen highlights local producers. His signature multi-course experience, a "Great Journey through Leogang," provides a culinary tour of local products used in exquisitely prepared dishes. The restaurant is a must-visit in Leogang.
Hotels and many restaurants in Leogang are family-run businesses that go back generations, but they've added modern touches that take their locations to the next level.
Naturhotel Forsthofgut
My base in Leogang is the family-run Naturhotel Forsthofgut, one of the top resorts in the region. Nestled against the Leogang Mountains, the resort offers multiple pools, spas, sauna, playgrounds, a children's art room and even an equestrian center.
It's the kind of place a family can visit and find everything they need for a memorable holiday – even without leaving the resort.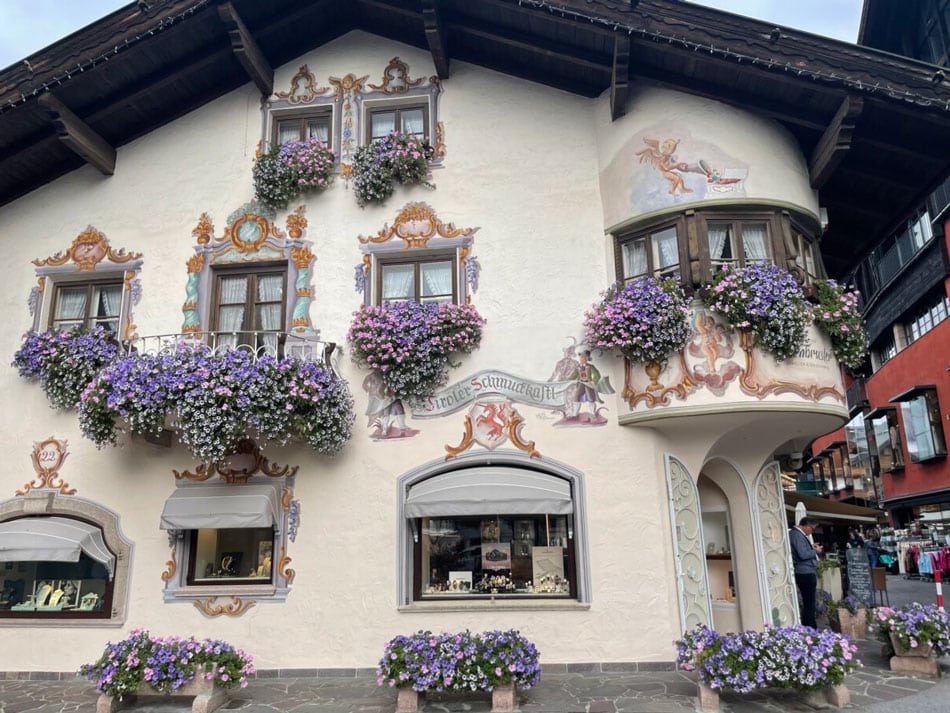 A Visit to Seefeld
The small town of Seefeld is another treasured Austrian village. Located between the mountains and valley on Tyrol's high plateau, its combination of pastoral landscape against rugged mountain peaks is straight out of a postcard.

With a population of 3,400 residents, you can walk Seefeld's historic Old Town in just a few minutes. Filled with local artisan shops, family-owned restaurants, and elegant shops, it's well worth the time. We stop for a local beer and a snack at Hotel Klosterbräu, which has been in the same family for 200 years.

Later, my friends and I visit the nearby Toni Seelos ski jumps and the Seefeld Sports Area. Many skiers train at these World Cup and Olympic venues.
The town of Innsbruck is just a short drive from Seefeld, and one afternoon, we visit the Folk Art Museum, which houses some important collections of Austrian cultural treasures. I especially enjoy seeing the nativity scenes, painted chests and traditional Austrian clothing collections.
Next, we stop at Swarovski Crystal World in Wattens, one of the top attractions in the area. It houses 18 rooms called the Chambers of Wonder with dazzling displays by talented artists. The tree in its Silent Light installation has more than 150,000 Swarovski crystals. My favorite, though, is the glistening ruby-red slippers of Dorothy from Wizard of Oz
Read More: Following the Western Danube River Through Germany, Austria, Slovakia, Hungary and Croatia
The Luxury Alpin Resort Sacher
The highlight of my visit to Seefeld is my stay at the iconic Alpin Resort Sacher, a five-star wellness hotel that combines alpine tradition and luxury with ease. Owner Elisabeth Gürtler and General Manager Anton Gustav Birnbaum are the consummate hosts, and immediately make me feel welcome, as I'm sure they do all guests.
A member of The Leading Hotels of the World, the hotel is part of the Sacher Family Hotels. This family-run group is best known for the famous Hotel Sacher in Vienna. Ms. Gürtler served as managing director for many years before turning over the reins to her children, Alexandra and George. Then she set her eyes on turning the Alpin Resort Sacher in Seefeld into the top resort it is today.
The Brilliant Mind Behind Alpin Resort Sacher, Ms. Elisabeth Gürtler
If you mention Ms. Gürtler to most Austrians, they will recognize her name immediately. She is a savvy businesswoman who has played an important role with treasured Viennese institutions like the Spanish Riding School and the Vienna Opera Ball.
Her careful eye for detail is plain to see when staying at the Alpin Resort Sacher. The design is elegant and useful at the same time. Guests' needs are anticipated before they are even requested, making for a very pleasant experience.
The best part of the hotel is its 50,000-square-foot wellness oasis, which is so large that I find myself wandering from room to room, wondering where to start. There are saunas, steam rooms, cozy relaxation and quiet rooms, hot pools and cool pools. By the end of my time there, I am feeling relaxed and invigorated.
All too soon, my week exploring these quaint Austrian villages is over. But along with my suitcase, I pack a sense of contentment. The beauty of the Alps, the people I met and my time in nature have all contributed to a feeling of well-being. That, for me, is one of the reasons I travel.  
How to Reach the Austrian Villages of Seefeld and Leogang
If you're flying from the United States, the easiest way to reach Seefeld and Leogang is to fly into Munich, Germany.
From there, you can rent a car or take a train. It's between 1.5 to 2 hours away. It's also easy to reach both towns by train from major European cities like Vienna. Innsbruck Airport is just 12 miles from Seefeld.