This is not your grandmother's Christmas gathering.
Yep, there's a buffet line or two, just like the relatives serve up every year, but you can also expect quality live entertainment, ice slides, carriage rides and strolls through lighted tropical gardens in Nashville, Tennessee.
As hub of the country music world, the city has become a year-round destination, but Christmas is something special in the state capital, thanks in large part to Gaylord Opryland Resort, where Christmas is a month-long event.
The largest non-gaming hotel in the United States, the resort is an entertainment centerpiece of Nashville with holiday preparations beginning July 4 as horticulturists start hanging white lights throughout the property. The Annual Lighting Ceremony is held in mid-November, but visitors can still enjoy the twinkling decorations through early January. But that's just the scenery.
Gaylord Opryland has done its homework and created and developed a wide assortment of Christmas-themed events. It's wrapped them up in a tidy little package called "A Country Christmas," a 21-year-old celebration that attracts more than one million visitors each year. That's a lot of houseguests.
If Grandma or Aunt Edna start to complain about the time they spend in the kitchen, share this tidbit with them: At Gaylord Opryland, among the culinary team's responsibilities is the preparing of 18,000 pounds (6,718 kg) of turkey, 10,500 pounds (3,920 kg) of sweet potatoes and 800 gallons (30,28 l) of gravy throughout the holiday season.
Food isn't the only thing on the menu. "A Country Christmas" allows guests to choose from music, entertainment, food and shopping options to suit your family's taste. After you have arrived and parked your car, strap on your walking shoes to take in the sights and sounds of Christmas. You won't need your vehicle before departure day. Entertainment and shopping are a few steps or shuttle ride away.
The resort's indoor gardens and common areas make Gaylord Opryland a destination in itself. For many couples, this is where engagements and marriages begin.
Weather isn't a factor here because the gardens are housed beneath glass-domed roofs, creating a climate-controlled environment that can be enjoyed year-round, 24 hours a day. Most of the 2,881 guest rooms have balconies that overlook one of the three domed gardens, providing views of the interior landscape.
The Garden Conservatory maintains a temperature of 68 to 72 degrees F (20 to 22 C) — a comfortable contrast to the December outdoors. Walkways, waterfalls and fountains invite guests to experience the Christmas décor up close. The Cascades Atrium features a tropical garden with a four-story waterfall. The Delta, a New Orleans-inspired setting complete with flatboats, features native Tennessee fish and wood ducks. During the holiday season, the gardens are home to 15,000 poinsettias and two million white lights.
Crafted by more than 40 artists from Harbin, China, "Ice!" is an interactive indoor exhibit of more than 1.5 million pounds of the cool stuff shaped into larger-than-life sculptures. Photographers are positioned throughout the show to snap shots of children and adults sliding down ice slides. It takes the artisans more than a month to shape the ice into a winter wonderland. There are nativity scenes, a waterfall, an ice castle and more. Kept at a cool 9 to 13 degrees F (-12 to -10 C), you may feel the need to walk quickly. But chill out. Highly insulated parkas are provided. Enjoy the scenery.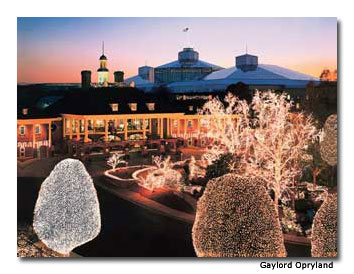 The "Music City Holiday Spectacular" makes its debut this year and serves as the headliner of the 2004 "A Country Christmas." Broadway-style entertainment comes to the Roy Acuff Theatre, adjacent to the resort. It's a stage performance that celebrates the city's musical tradition and serves up familiar songs along with inventive theatrics like aerialists, a dramatic retelling of Christ's birth and, of course, Santa who conducts an audience-wide orchestra. Kids and adults alike will enjoy this musical collage of Christmas music and dance.
"The Linda Davis Family Christmas Show" has been a part of Gaylord Opryland's Christmas celebration for three years. Grammy-award winner Davis, her husband and two daughters star in this musical production that consistently sells out year after year.
Its success relies on its mix of musical entertainment and traditional Christmas fare served family-style. Children from the audience are invited to join in as Santa Claus makes an onstage appearance. The show is held in a Gaylord Opryland ballroom. Ticket prices include dinner and the show.
"Uncle Scrooge's Christmas Banquet" takes place aboard the General Jackson Showboat. Enjoy the five-course feast and a musical production along with the cast of characters from Charles Dickens' book "A Christmas Carol" as you travel down the Cumberland River.
An annual favorite at Gaylord Opryland is its "Outdoor Nativity Display." White sculptures come alive with special lighting effects and a reading from the "Book of Luke." Take in a view of the entire property and its Christmas lights on a horse-drawn carriage ride.
Still have some shopping to do before Christmas? "Treasures for the Holidays," located in the resort and open through December 22, showcases handmade and novelty gifts from more than 80 craftsmen and vendors. The nearby Opry Mills Mall is also a short walk or shuttle ride away.
While at Gaylord Opryland, check the schedule for shows at the 4,400 seat Grand Ole Opry House, since it has been home for almost 80 years to the world's longest running radio show, featuring the best in country, bluegrass and more. The Grand Ole Opry is adjacent to the resort. Showtimes and prices vary.
Despite the extensive schedule of entertainment and sightseeing options, "A Country Christmas" can easily be enjoyed in three days or less. It's a trip that can be as pricey as you want. Shows and attractions range from a few dollars to around US$ 50 each. Vacation packages are available. The scenery is free.
If You Go
Nashville Convention & Visitors Corp
visitmusiccity.com
Gaylord Opryland Resort
gaylordopryland.com
(888) 999-OPRY (6779)