Nestled deep in the Caucasus, a mere whisper from Georgia's second-largest city, black-robed monks flit among shadows framed by stone mosaics. Nary a mobile phone in sight, their presence stirs the imagination, conjuring images of medieval derring-do featuring fire-breathing dragons, duels to the death and damsels in distress.
Sure, this alpine region is also a hair's-breadth away from where Russian and Georgian troops fought to bloody ends in 2008, but here at Gelati Monastery life has a certain unchanging quality. And why shouldn't it? First established in 1106, this UNESCO World Heritage Site has seen armies as diverse as the Persians and Mongols roar by below, only to be defeated by the topography of a country roughly the same size as West Virginia.
Though Gelati may be far removed from its heyday as a sort-of Oriental Hellas, as it was originally intended, it is still nonetheless impressive. Perched atop a pastoral hill with spectacular views of the valley below, a quiet stream runs through the grass-covered grounds, while the ensemble of two main buildings complements each other superbly. Inside the main chapel are many fine mosaics and frescos. Though the quality varies greatly — some of those raiding armies did, on occasion, sack the complex — they provide better examples of Georgian medieval artwork than any museum collection. A couple hours pass quickly here, particularly if one were to bring a picnic complete with homemade khachapuri (cheese bread) purchased from a roadside stand.
Kutaisi itself evokes a dusty version of an alpine village in the Eastern bloc. Though new construction abounds — such as the parliament building on the outskirts of town — it still feels more suited for horses than horsepower. Much of the city has remained empty since the days of the Cold War. Hotels are also sparse, meaning unless one wishes to stay in a guesthouse (the quality of which can vary wildly), the best bet is to stay in Tbilisi and make a day trip to the area. That's precisely what I did, though the marshrutka — or minibus — was so crowded I was forced to crouch on a metal stool for the three-hour drive.
But arriving in the area is certainly worth the exertion. A few kilometers northwest of Kutaisi is Prometheus Cave, a subterranean netherworld built on grandiose scale. Though there are several caves in the region, this one is by far the largest. Although a several kilometer-long concrete pathway leads visitors through the winding halls, much of the cave — which was only discovered in 1983 — remains unexplored. Despite its sheer size and relative deepness within a heavily forested gorge, it's not as cold as one would imagine. It is, however, exceptionally damp, due in no small part to the practically stagnant river that flows throughout. A jacket, I ruefully realized, would have been a good idea — if only to keep me dry from the moisture that percolated from the gargantuan stalactites.
After my thorough soaking, it was time to dry off. Nearby — and on significantly higher ground — lies Motsameta, a monastery that may be the most underrated in western Asia. Perched precipitously atop a practically sheer cliff (given the seismic activity in the region, it's nothing short of a miracle it hasn't crumbled into the Rioni river below), the compact church evokes a more rustic Swallow's Nest. While the vistas are unsurprisingly stunning, Motsameta attracts crowds throughout Georgia for an entirely different reason: the belief that if one crawls under the small ark inside the chapel three times and makes a wish whilst touching the hallows, it will be granted by the saints interred within.
Wishes granted or not, the thousand-year-old Motsameta makes a pleasant introduction to the region. It's a stone's throw away from volatile South Ossetia, but feels far removed from the violence. Motsameta is also a popular spot for locals to baptize their children. It's not uncommon to witness such a ceremony during a visit. Just remember to dress appropriately — women are required to cover their hair, and men cannot wear shorts. I silently thanked Levi Strauss as I watched a baptism, though I thought the baby was eerily quiet for being completely submerged in what must have been ice-cold water.
Coupled with a casual tour of a cozy museum or two (the Kutaisi State Historical Museum is particularly notable), a packed schedule is all but guaranteed in this city that just recently opened a new international airport. But no visit is complete without a stop at Bagrati Cathedral, the hulking complex that serves as a potent symbol of Georgian sovereignty.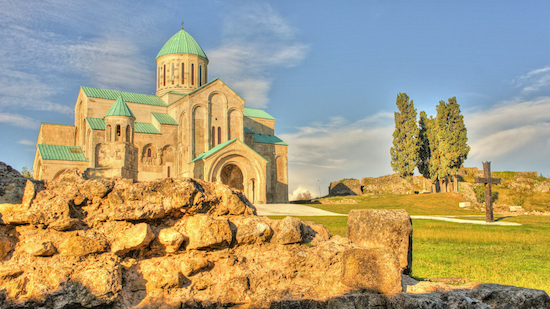 First built in the early years of the 11th century under the direction of King Bagrat III (from whom its name derives), Bagrati was at one point considered a masterpiece. In 1692, it was devastated in an explosion by invading Ottoman troops, causing the ceiling to collapse and leaving the once-imposing church in ruins. Or what used to be ruins.
A controversial restoration has returned the church to the way it looked a millennium ago and today visitors can wander freely through the cavernous halls with impunity. Though the restoration has endangered the church's status as a UNESCO World Heritage Site, its impressiveness is impossible to understate. The only knock — if such a place can have a downside — is that it does not offer the same sweeping countryside vistas as Gelati or Motsameta. But after a long day of following in the footsteps of kings and queens of old, it makes a fitting climax to any adventure.
The shadows gradually lengthening as the late summer sun slowly fades from view, even the indignity of another stool-bound marshrutka ride couldn't dampen the spirit. After all, visiting this region — romanticized by the likes of Aleksandr Pushkin and Leo Tolstoy — just north of the Cradle of Civilization is literally akin to stepping back in time. Amongst the surest evidence: an apple is first and foremost a fruit.
If You Go
Visit Kutaisi Tourism or Visit Georgia for more information, or contact the Kutaisi Tourist Office at +995 (8)431 24 11 03.
[mappress mapid="876″]