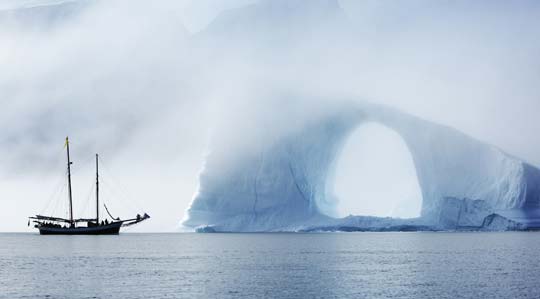 It may not be at the top of everyone's bucket list, but more and more travelers are discovering Greenland. Sure, it's not really "on-the-way" quite anywhere, but this vast, remote northern land is worth the time and effort to get here.
Discovered and named in AD 910 by the Viking Erik the Red (Erik reported that his discovery, Graenaland, was green, rich and ripe for settlement – one of the first recorded occurrences of overstatement concerning real estate), Greenland is home to some 60,000 hearty people.
Visitors travel to Greenland for whale-watching (the waters are home to some 20 species of whale), world-class heli skiing, wilderness fishing and even the amazing northern lights. But even among those intrepid travelers who have visited Greenland, there are very few who have journeyed to the isolated eastern coast – known to Greenlanders as the "back door".
This remote land has a noticeably different feel to it than the more populous west coast.  East Greenland remains dependent on hunting and subsistence fishing.  Tourism has not yet really arrived here, so there is still time before changes come to this beautiful area.
This summer, there will be a new (yet very traditional) way to explore this unspoiled region — sailing its pristine coastline and visiting its spectacular fjords and small, colorful villages on an old-fashioned schooner.
The Great Canadian Travel Company, one of North America's foremost experts in travel to "The Top of the World now offers a 10-day, 9-night voyage "Greenland by Schooner" adventure. Departures are available August 10, 17, 24 and 31, 2012. Such adventure doesn't come cheap, but if you're eager to explore this pristine northern lands, then the $4880 price tag won't scare you.
You'll start your journey by flying into Reykjavik, Iceland. After an overnight stay, you'll depart by air for Constable Point, a small airfield on Hurry Fjord in Greenland's Jameson Land.  Here you embark on the two-masted, 50-passenger wooden schooner Hildur and set sail between magnificent icebergs that drift down after calving from glaciers originating in the Inland Ice.
You anchor at Hekla Havn, site of an old Inuit settlement and wintering camp of the first scientific expedition to this part of Greenland over a hundred years ago.
On day 3, guests explore Hekla Havn and its surroundings. Those wishing to trek across the island will be picked up by the ship on the western shore. Sail west to Ankervig through the narrow Føhnfjord with the magnificent basalt mountains of Gåseland on the port side and the 2000-meter-high granite cliffs of Milne Land on the starboard side.
On the fourth day, trek the Hjørnedal, a steep valley penetrating into Gåseland from Ankervig. This area, with some of the lushest vegetation of the eastern coast, has a warm stable climate throughout the summer. That evening, sail north through Rødefjord to anchor in Harefjord.
The next day is spent ashore in Harefjord scouting for musk oxen, which normally graze on the south facing slopes. Then, an easy hike to the top of the ridge between Harefjord and Rypefjord for a breathtaking view of Renland and the Inland Ice. Continue sailing, now eastwards, through the Øfjord to anchor at Bjørneøer.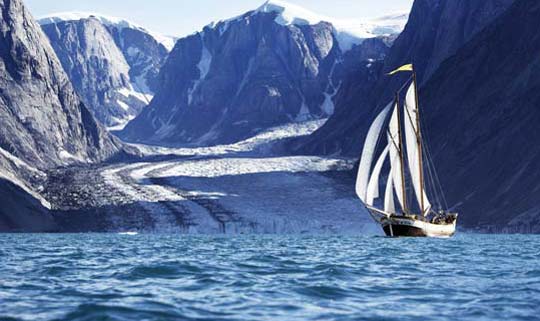 The following day, after a visit on shore in Bjørneøer, sail up Nordvestfjord for a short visit to an old Inuit settlement on the island of Mågetuen, then sail east to an abandoned trading post at Sydkap. That evening, there will be a bonfire and BBQ at the rocky beach where a local hunter helps prepare musk ox meat.
On day 7, depart in the early morning for the crossing of Hall Basin to Ittoqqortoomit, where there is accommodation at the local guesthouse for two nights.  The small village is the most northerly settlement on the east coast of Greenland. The 500 inhabitants make their living mostly by subsistence hunting of seals, narwhal, musk oxen and polar bear.
Quaint little houses dot the rocky slopes with magnificent views of Kap Brewster and the Volquart Boons Coast to the south.  Here you can visit the village's general store to purchase local handicrafts of bone, soap stone and hides.
On day 9, you sail to Constable Point, disembark for the return flight to Reykjavík, where you overnight before returning to North America.  The Greenland by Schooner program includes accommodation and all meals on board the schooner, the services of crew, all excursions and arrangements as noted in the itinerary, round trip airfare between Reykjavik and Constable Point, accommodations for two nights in Reykjavik, and airport transfers in Iceland.  Airfare between North America and Reykjavik is not included.
If You Go
The Great Canadian Travel Company
800-661-3830
https://www.greatcanadiantravel.com/greenland-schooner