Don't ask me the names of the songs, but all I know is I can't get the melodic twangs of the Greek bouzouki out of my head. The bouzouki is the six- or eight-stringed lute instrument – double-stringed like a 12-string guitar – that's the basis for the unmistakable "Zorba the Greek"-like tunes plucked by the lounge band that I've been hearing all week during our Celestyal Crystal cruise in Greece.
And on Greek night, after a themed love story performance with traditional Greek dances and costumes, passengers storm the stage area to sing and dance Greek style – well, sort of.
"They want to feel Greek, and even if it's difficult for them, they'll still try to do it," says Tereza Alerizou, the assistant cruise director. "Most of the guests don't understand Greek. But it doesn't matter. The idea is to get in the mood, shout "opa" and put your hands up and dance."
Celestyal Cruise Sails the Aegean and Mediterranean
The Crystal is one of Celestyal Cruises' two medium-sized ships that sail the Aegean and Mediterranean seas. As the only Greece-based major cruise line, Celestyal prides itself on full cultural immersion.
Onboard classes include cooking lessons to make cheesy tiropitas or how to follow the graceful steps of the circular, hand-holding Kalamatianós folk dancing.
Through onboard lectures, I learn of the health benefits of omega fatty acids in extra virgin olive oil, and about the supervolcano that formed Santorini's scenic cliff-sided caldera after a mighty eruption around 1600 B.C. sank half of the island into the Aegean's briny depths. I learn about Crete's ancient Minoan culture, and how the teachings of Socrates and Plato more than 2,000 years ago remain good advice today.
Eclectic Aegean Cruise
Yet on the first stop on the Celestyal cruise, I see the medieval Galata Tower from my stateroom window – yes, Istanbul. That's because I'm on Celestyal's new seven-night "Eclectic Aegean" cruise that debuted in the fall of 2019 with a return to Istanbul and also to Çanakkale, Turkey, where shore excursions depart to the World War I Gallipoli battlefields and to the ruins of ancient Troy.
Eclectic's Greece stops include Santorini, Mykonos and Heraklion, Crete, and also to Volos on the mainland to visit the soaring hilltop monasteries of Metéora.
"Turkey and Greece have a long history between them," Alerizou says. "With Istanbul, Greece and even ancient Byzantium, it all comes together. It's all history, so you can see how it was, what happened and how it is now."
Port Stop in Instanbul
In Istanbul, I visit the bustling Eminönü port where vendors sell steaming apple tea and grill chestnuts atop smoky kiosks. It's where ferries chug from the city's European shores to its Asia side and up the Bosporus Strait to the Black Sea.
I see fishermen cast their lines from atop the Galata Bridge that crosses over the Golden Horn waterway with its natural harbor, where Byzantine and Ottoman fleets once anchored.
Today, 21st-century skyscrapers juxtaposed with the sky-piercing minarets of bulbous mosques dot this magnificent skyline, reminding me of what French Emperor Napoléon Bonaparte once said of this historic crossroads: "If the Earth were a single state, Constantinople would be its capital."
"Istanbul is so exciting because different traditions and cultures have come together and existed side by side," explains onboard lecturer Caroline Mellow who holds daily lectures on the locations visited during the cruise. "So many have tried to conquer it and it's still thriving, and still such a wonderful place to be."
The Hagia Sofia and Blue Mosque
A short walk from Eminönü leads to the multi-domed Hagia Sofia and Blue Mosque in the Sultanahmet district. First a church built during Byzantium in the 6th century, conquering Ottomans converted the Hagia Sofia into a mosque in the 15th century.
Today it's one of Istanbul's most popular museums with both Muslim and Christian features including the minbar pulpit and restored Byzantine mosaics that sparkle in the daylight.
I also visit the dark and musty subterranean Basilica Cistern with its mostly Corinthian and Ionic temple-like columns that once held 100,000 tons of water as a reservoir. Today, it's one of the city's most unusual attractions and an underground venue for concerts.
I make a final stop at the L-shaped Spice Bazaar overflowing with Turkish saffron, apple and orange tea, and tubs of dried fruit and nuts. But it's the Turkish delights or lokum coated with powdered sugar I want, leaving with several boxes to take home.
Back onboard the Celestyal cruise, I dine in the Olympus Restaurant, which specializes in Greek and Mediterranean cuisine. On the menu this night: leg of lamb with roasted peppers, or stuffed cabbage with avgolemono sauce, all with oregano- and lemon-spiced potatoes. My server offers me Greek wine as well – 2013 Domain Mega Spileo Grand Cave Dry Red, in fact, recommended with roasted lamb dishes.
The next day at Çanakkale, we visit the solemn World War I battlefields on the Gallipoli Peninsula off the Dardanelles Strait. Plaques on stone walls along with waterside grassy patches, some of them cemeteries, describe the yearlong 1915 battle in which British and Allied forces failed to advance on to Istanbul and to open up the Dardanelles as a supply route to Russia.
They were defeated by the Turks defending their homeland, with a monument to Col. Mustafa Kemal, later known as Atatürk, the father of modern Turkey.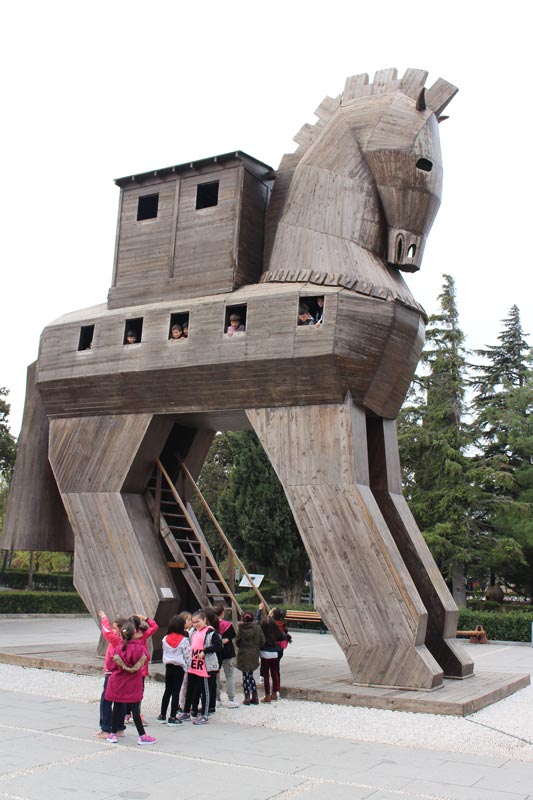 The Ruins of Troy
A short drive and return ferry ride across the Dardanelles in the afternoon bring us to the ruins of Troy, which many believe was the site of Homer's epic, "The Iliad." A wooden Trojan horse is a reminder of the tale where the ancient Greeks stormed Troy to retrieve their kidnapped princess Helen.
Little of this supposed history, however, can be seen in Troy today as the archeological site with a crumbling maze of redbrick and stone walls instead reveals more than 4,000 years of settlements broken down into 11 time periods.
"The expectations are a little high," warns Turkish tour guide Ercan Yavuz. "After the movies and books, visitors think they're going to find a magnificent city. They should be really patient and have a tour guide."
The Trojan War as described by Homer took place around the 13th century B.C., with ruins from close to that time period including the foundations of the grand Pillar House, possibly a palace. A museum houses pottery, ax heads, bone needles and other artifacts from the site.
At Volos, my shore excursion takes me about two hours inland to a group of medieval monasteries perched atop stunning sandstone towers at Metéora. Yes, there's a lot of climbing involved as stairwells lead up to the monasteries' small icon-filled chapels, balconies and lookouts with sweeping views of the valleys below.
Of the area's six main monastic communities, we visit two, including Rousanou dating to 1527, atop a narrow rocky spine and with the Last Judgment fresco among many others in its chapels.
Our remaining shore excursions are to the Greek Islands. The partially restored ruins of the stone complex, the Palace of Knossós, are the highlight of my stop at Heraklion (Irákleio), Crete's capital and largest city.
The ruins offer a glimpse of the island's ancient Minoan society dating to about 1900 B.C. The red-walled Throne Room, the Royal Apartments with their replica fresco of dolphins, and frescos of women reveal a sophisticated society with art, beauty and fashion.
"The frescos are so stylish and immaculately put together that I think on the red carpet they could give the Kardashians a run for their money when it comes to posing," says lecturer Mellow. Original frescos and other Minoan artifacts are housed in the Heraklion Archeological Museum.
Santorini and Mykonos
Finally seeing Santorini and Mykonos is a dream come true. Although our stops there on this cruise are only a half-day at each port of call, it's just enough time to get an idea of the islands' beauty for first-time visitors like me. In Santorini's town of Oía, it seems I waited all my life to snap photos of the cliffside blue church domes that vividly accent the whitewashed structures seen in iconic island images.
Our visit to Mykonos is in the evening, allowing me explore the nightlife in town and along the waterfront known as Little Venice. Walking the town's cobbled narrow streets and seeing the half dozen or so 16th-century windmills is also a thrill.
"Mykonos is not only parties and windmills, it has excellent different kinds of cheese that you do not find on any other of the islands," Alerizou tells me back on the ship. "Crete has some of the best olive oils."
In fact, that's apparently what Celestyal cruise has in mind with its new partnership with Diane Kochilas, creator and co-host of PBS' "My Greek Table" and a New York Times leading cookbook author.
Starting with an October 2020 Eclectic cruise, Kochilas will host cooking demonstrations onboard and will also lead culinary-themed shore excursions on Mykonos, Crete, Santorini and Volos, stopping in at restaurants, shops and markets for a look at how regions influence the different flavors of Greek cuisine.
"Whenever you travel someplace, you want to experience a culture as realistically and authentically as you can. Food is a great conduit – it's the most immediate expression of culture," said Kochilas, when interviewed at the 2020 New York Times Travel Show.
"I'd like to incorporate dishes that are local from port to port. Passengers may have already eaten something on Crete or Rhodes or Corfu, so maybe they'll seek out a Cretan olive oil, or a sesame confection or a wine that they may not find in the United States to take back home with them."
All of Celestyal's Greek Island, Eclectic Aegean and its new "Three Continents" cruises depart from the Port of Piraeus, less than 10 kilometers (about 6 miles) southwest of Athens.
Eclectic cruises sail in the spring and fall shoulder seasons, with the next round of sailings from April 4 until May 9, 2020, when temperatures are mild, crowds fewer onshore excursions, and with still many sunny days complementing crisp sea breezes and clear island views.
Because of Celestyal's midsized ships, the 162-meter-long (531-feet) Crystal and the 215-meter (705 feet) Olympia, passengers are fewer, thus promoting a closer relationship with crew members.
"It helps bring everyone together to feel more comfortable, like a family," says Alerizou. "We don't make cocktails with rowboats, but guests know each of us and we like it that way."
For more information: https://www.celestyalcruises.com/en/cruises