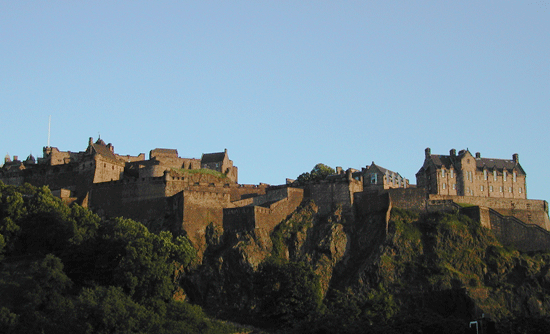 A city of arresting beauty, Edinburgh is a place at once antiquated yet vital, traditional but eclectic. Famous as much for its fortified castle as its yearly Fringe Festival, Scotland's capital is filled with an unending diversity of sights, sounds and smells.
From the cobbled streets of the Royal Mile to the princely architecture of Holyrood Palace, Edinburgh is a city begging to be explored.
And yet, a visit to the Scottish capital can be expensive. Apart from accommodation and transport costs, the admissions fees of different attractions can push your budget.
But it doesn't have to be. Some of Edinburgh's best sights don't cost a penny. Read on for the top 10 free things to do in Edinburgh.
1. Bring the Past to Life
Edinburgh has a truly archaic feel to it. The past can be found on almost every corner, whether in the form of a striking bronze statue, immortalizing the figure of a famous Scot, or in the weathered facades of its architecture.
But even though history is woven into the city's very fabric, sometimes its particulars remain locked away, its secrets unreachable.
Unlock them by grabbing a Scottish power breakfast (black pudding optional) and hitting the streets on a walking tour.
There are countless to choose from, but while informative and great fun, they tend to be rather expensive — except Sandeman's.
Two and a half hours long, it covers a range of topics from the Enlightenment to witch burnings, and Harry Potter to the Stone of Destiny. Best of all, it is completely free.
Walk through graveyards, down winding staircases, and along cobbled lanes, as your guide recounts the stories of the city, and brings Edinburgh's spirit and past vividly to life.
2. Walk a Mile
Regarded as the heart of the city, the Royal Mile forms the main thoroughfare of the Old Town, linking the ancient seats of Scottish Power – the castle and Holyrood Palace – together.
Made up of a succession of streets, it's bursting with pubs, cafes and restaurants, all sitting alongside whiskey, tartan and souvenir shops.
Spending in any of these establishments is undoubtedly expensive, but a walk down the Mile — with its towering tenement buildings, ornate churches, and narrow closes that branch off elusively — is completely free.
Its friendly buzz invites exploration and if you're there during the Fringe, be prepared for a wild ride – the Mile becomes packed with street performers, musicians and tourists, an electric atmosphere permeating the air.
Year round, there are also plenty of free attractions lining the Mile, from the elaborate St. Giles cathedral and the world-famous Museum of Childhood, to Parliament Square and the Heart of Midlothian.
3. Get Lost in the Old Town
Once you've finished inspecting the Royal Mile's delights, scout out the rest of the Old Town. Traverse the Grassmarket, previously a medieval market place and the site of public executions.
It's now filled with traditional pubs, quirky shops and great restaurants. A stone's throw from here is the Cowgate, a low-level road situated under George IV Bridge.
Not particularly impressive during the day – it's been called 'the bowels of the city' on more than one occasion – its many pubs and clubs come alive at night.
Edinburgh University's central area is also worth a look. Made up of two squares, it contains some fascinating architecture, including the 'Hogwarts-esque' Teviot Row House, the oldest purpose-built student union in the world, and McEwan Hall, a stunning, 19th century circular building.
4. Get Political
The Scottish Parliament is quite unlike anything else in the city. Constructed from steel, oak and granite, it appears to have germinated from the very soil, a living entity.
Situated next to Holyrood Palace, there's lots of room for independent exploration.
Peruse the exhibition and artwork in the main entrance hall, or check out the Debating Chamber (parliamentary business allowing) where heated debates on Scotland's future trajectory occur.
You can also take a free tour to learn about the history, procedures, work, and design of this utterly unique building. Don't miss the inspiring Cannongate Wall, where the words of famous Scots are inscribed into different types of Scottish stone.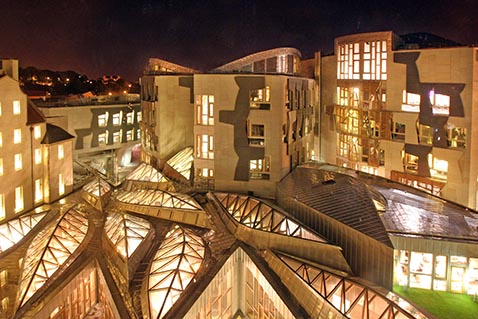 5. Meet Bobby
No trip to Edinburgh would be complete without meeting Bobby, the city's most famous canine.
This little Skye terrier spent 14 years faithfully guarding the grave of his dead master, and has been immortalised in Scottish history ever since.
Find the bronze statue dedicated to his memory on George IV Bridge, and spare a moment to pat his nose. Locals say it brings you good luck.
Then visit the site of Bobby's long vigil, Greyfriars Kirkyard, with its lesser known but just as fascinating history. Here, Franciscan monks and paranormal activity go hand-in-hand with the birth of Lord Voldemort himself.
6. Become a Culture Buff
Exciting enough that Edinburgh is filled with museums and art galleries galore, the best thing is most have no entrance fee. One must-see is the National Museum of Scotland, located on Chambers Street not far from the Royal Mile.
Exhibitions include everything from Dolly the Sheep to samurai armor, Isle of Lewis Chessmen to the process of evolution.
While there don't miss either the Grand Gallery, a huge, light-filled atrium detailing Scotland's contributions to the world, or the roof-top viewing platform, affording fantastic views of the Old Town and beyond.
Other free museums include the Writer's Museum, dedicated to three of Scotland's literary heroes – Scot, Stevenson and Burns.
Or try the Museum on the Mound to pour over one million pounds in cash and Scotland's oldest banknote.
If you're more of an art lover check out the Scottish National Gallery (located at the bottom of the Mound) that has pieces from Van Gogh, Cezanne and Titian, amongst many others.
There's also the National Portrait Gallery, recently refurbished to its 19th century splendor, and the National Museum of Modern Art containing cubist, surrealist and impressionist works.
7. Beach Out
Something you wouldn't expect from cold, wind-struck Edinburgh is a traditional seaside town. But a short bus-ride away is just that – Portobello, the city's only beach.
Popular for sunbathing and swimming, on sunny days it's often packed out with locals relaxing.
The promontory that runs beside it, lined with cafes, ice cream parlors, and fish 'n' chip shops, has a faded glamor which only adds to the town's charm.
If you fancy going further afield there are several other beaches within an hour of Edinburgh.
Try visiting North Berwick, a picturesque fishing village only 20 minutes away by train.
Explore the town's pretty streets while taking in the magnificent views of Bass Rock. Or, go to Seacliff to avoid the crowds and take in the dramatic ruins of old Tantallon Castle.
8. Climb a Volcano
Looming protectively, Arthur's Seat observes Edinburgh with a watchful eye, a guardian protecting its charge.
Lying within the royal Holyrood Park – a sweeping, wild landscape – this extinct volcano is an immensely popular spot for locals and tourists alike, a result of the spectacular panoramic views found from its peak.
Several routes lead up to its 251 meter summit, ranging from a breathless climb up steep, rocky steps to a gentle stroll that leads you gradually upwards.
But be warned: its uneven and stony pinnacle makes the final ascent, no matter which route you take, rather tricky. Scaling this last hurdle is undoubtedly worth it – from the summit:
The whole city is laid out before you, appearing as a perfect miniature; Leith, North Berwick, and the Pentland Hills, weather permitting, can be clearly seen in the distance; to the east, stretching ever outwards, the sea.
But Arthur is not the only attraction the Park has to offer. In fact, he shares the skyline with the striking Sailsbury Crags, a long ridge of vertically faced rock, perched like a natural fortress over the city.
There are several trails along this escarpment, although the going can be tough. If a more gentle wander is preferred, don't worry – there are multiple routes throughout the rest of the park, and plenty to see – from unusual flora and fauna, to lochs and medieval ruins.
9. Catch a View
While spectacular, Arthur's Seat does not have a monopoly on great views. Found to the east of Princes Street, Calton Hill has a slightly different – but just as beautiful – perspective on the Scottish Capital.
See from Holyrood Park to the city centre, from castle hill out to the Firth of Forth. After enjoying the panorama, take a stroll along Hume Walk and pay your respects to Rabbie at the Burns Monument.
Or, try to climb the giant steps of the unfinished acropolis – a memorial to those Scots who lost their lives in the Napoleonic Wars – and crane your neck at the towering Nelson Monument, that watches over the city. There are also two observatories to check out.
If you're feeling particularly adventurous, head over to the Pentland Hills to the South West of the city.
Routes range from gentle to strenuous, but whatever you do keep one eye on the ever-changing Scottish weather! From the top you can see Edinburgh, east Fife, and on particularly clear days even Ben Lomond.
10. Explore the Green Places
Edinburgh contains an abundance of greenery, parks, and gardens, giving the city a spacious, palatial feel. Alongside exploring Holyrood Park, you can picnic in The Meadows, a spacious expanse with grassy pastures and tree-lined lanes.
Or admire the fountain and flowers of Princes Street Gardens, overlooked by the Castle and Gothic Scot Monument.
Most spectacular of all is the Royal Botanic Gardens, a mere mile away from the city center. With a plethora of different plants from around the world, traverse over 70 acres of landscaped surroundings, and bask in the quiet tranquility.
With a number of gardens on display, amble along the Chinese Hillside's winding paths, go tree hunting in the Arboretum, or find shade in the Woodland Garden.
If you have a few extra pennies, make a trip to the spectacular Glasshouses and experience a walk through ten different climatic zones.
If You Go
Visit Scotland/Edinburgh
Auther Bio: After living in Edinburgh as a student for four years, Rachel Laidler knows all about exploring Scotland's capital on a tight budget.
Currently situated in the Scottish Highlands, come 2014 she'll be traveling alongside her boyfriend through Southeast Asia and Australasia.
Latest posts by Janna Graber
(see all)