My Love for Rainforest
Maybe it's the high oxygen content, maybe it's a latent primordial gene; whatever it is, I love the rainforest. Which is surprising, because I hate being hot and sticky, and I'm not too keen on over-exerting myself.
Still, there is something about exploring land that has not been changed by humans — well, not much — that appeals to me.
Bearing this in mind, it is understandable that I felt drawn to Malaysia's Taman Negara, one of the world's oldest rainforests, estimated to be a staggering 130 million years old.
Travel in Malaysia has many rewards, but Taman Negara has to be one of the best.
Taman Negara National Park
Taman Negara National Park is a three-hour drive and a four-hour boat ride from modern, eclectic Kuala Lampur. I arrived at Kuala Tembeling Jetty, purchased a park permit and climbed down the steps to the dock.
The boat, loaded with luggage and a dozen passengers, headed up the Tembeling River. I felt like I was the star in my own National Geographic documentary. Between walls of green, the boat motored up river, the breeze offering respite from the heat and humidity.
People fished with nets and poles. Children refreshed themselves splashing near the shore. Water buffalo with only horns and noses sticking out of the water avoided the sun. Other boats whizzed by.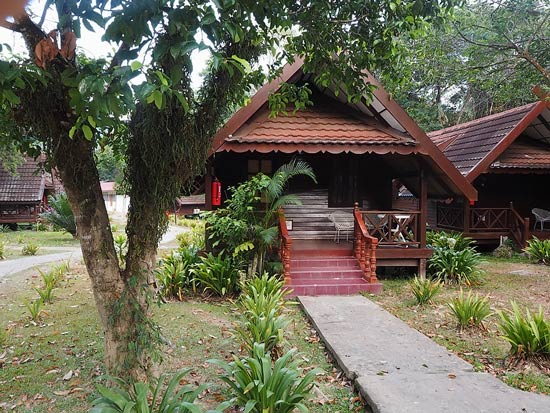 The Beautiful Ride
We passed an adventurous group poling along on bamboo rafts; others were kayaking and tubing. The ride was beautiful, with an occasional bit of white water to add a momentary thrill. All too soon the trip was over.
Only minutes after the boat docked at the eco-resort of Mutiara Taman Negara, I was soaked in perspiration, and as I lugged my bags up the steps. I wondered if I only liked the rainforest when experienced on TV. Sometimes I am not realistic about how much I am willing to rough it.
At the top of the steps, I caught my breath, looked around and heaved a sigh of relief as I took in the resort's large, modern, open-air dining area and landscaped grounds. 
My Cabin
It has a walkway that meanders from cabin to cabin. My cabin had electricity, a hot shower and, best of all, air conditioning.
A video documentary presentation in the Educational Center explained the dynamics of Taman Negara, where more than 10,000 plant species and about 350 animal species make their home. Spotting big animals, such as wild elephants and members of the cat family, is highly unlikely here. But macaques made the resort their playground, and an occasional monitor lizard wandered around.
In the morning I set off with Jo, my guide, for a three-hour nature walk. We set an easy pace, stopping for mini-lessons on various plants and their uses, and to inspect a wide array of bugs I never would have noticed without Jo's keen eyes. Amid this "jungle" is the world's longest canopy walk, 1,673 feet (510 m) long and 148 feet (45 m) above the forest floor.
Gingerly, I walked on the wobbly, narrow boardwalk with high net sides, keeping a required 15 feet (3 m) behind the person in front of me. The canopy walk goes from tree to tree, with a viewing platform encircling each tree.
It took a while to feel secure enough to enjoy the experience of being in the rainforest canopy. I stopped to catch sight of a bird and listened to the symphony of the rainforest.
Back to Taman Negara Camp
Returning to camp, it was time for a shower, a short rest and lunch. There are a variety of things to do in Taman Negara, including visiting caves, cooling off in swimming holes and whitewater rafting.
I opted to visit the Orang Asli, which means "original people" in the Malay language. The first-known human occupants on the Malay Peninsula continue to live a nomadic hunter-gatherer lifestyle. The Batek, as they call themselves, are gentle, shy people. The village was home to about 20 people.
At first, the children hid behind the adults, so I took off my shoes and sat on the edge of the mat under their lean-to shelter. Soon curiosity replaced fear, and they began to smile. One of the Batek men showed me how they make fire without using matches, and how he makes poison darts for his blowgun, used for hunting.
We learned that the Malaysian government unsuccessfully tried to provide schools, but they are not in accord with the Batek's nomadic ways. Once a month the government sends a doctor to check on their health and provide needed medicine, however, the Batek people prefer the traditional medicines made from rainforest plants.
Our Night Nature Walk
In the evening, Jo and I headed out for a night nature walk. At a "hide," a one-room structure on stilts overlooking waterholes and natural salt licks, we watched samba deer. There are several hides in the park where visitors can spend the night should they so desire.
Once again Jo amazed me with his ability to find scorpions, spiders, moths, walking sticks and an incredible array of interesting little critters, each with its own adaptive survival characteristics. Time went too fast. There were still trails I hadn't walked, pools I wanted to swim in and other activities left undone, so there was no joy in leaving.
Back on the river, enjoying the river vignettes, I put Taman Negara on my "gotta-do-again" list.
If You Go
Taman Negara National Park
www.taman-negara.com
Mutiara Taman Negara
www.mutiarahotels.com/mutiara_tmnnegara
Malaysian National Tourism Office
www.geographia.com/malaysia