Food tours are one of the best ways to get to know a city. I like to take them not only to learn about the regional cuisine but to get to know the area from a local's perspective.
It's a meld of food, history, culture and geography. Plus, an extra bonus is the exercise you're getting while walking.
Learn and Sample the Best Food in Venice
On a recent trip to Italy, I joined a "Get Your Guide Street Food Tour of Venice." Our guide Silvia led us through lovely squares, past impressive churches and other historical highlights and to various produce and fish markets.
We sampled some of the best food in Venice while hearing all about the "City of Canals" and its colorful past.
As we strolled through a number of the picturesque squares, Silvia explained that these squares are "campos" and not piazzas. She noted there's only one piazza in Venice – Piazza San Marco.
But there are many campos. Like most people, I assumed the two were the same, but the difference is that a campo was once a field; whereas, a piazza was never a field.
Best Tips & Tools to Plan Your Trip
When you get off the main touristy sections of Venice, you'll discover the more peaceful side of the city and get a glimpse into everyday life in this fascinating town.
Children play in the street, clothes hang outside the windows to dry, women shell fava beans on the steps and neighbors chat amongst themselves. It's here where you'll discover the shops, cafes and markets often frequented by residents.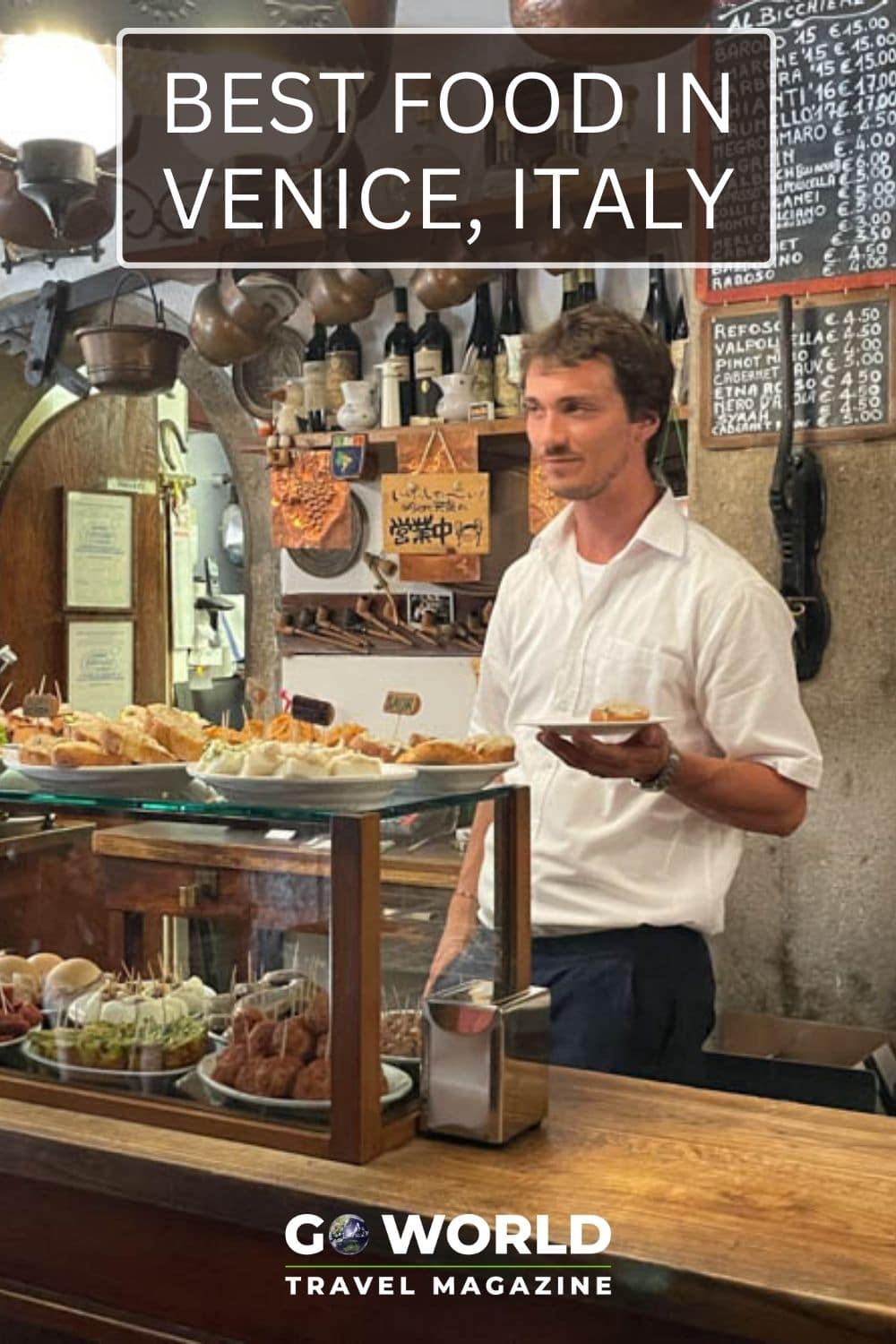 Cheese, Glorious Cheese
The food tour included tastings at five places. The first stop was at Casa del Parmigiano, a traditional family-run shop that's been in existence since 1936.
You'll find cheese, glorious cheese, plus meats, regional fruits, oils and balsamic vinegars and wines. We sampled some Montasio cheese and Nostrano salami.
Montasio is an Italian cheese originally produced in the 13th century by Benedictine monks at their monastery in the mountains north of Venice. Made with cow's milk, this cheese is delicious at whatever its age. We enjoyed it in several stages of maturation.
The Nostrano salami is traditionally made with the finest quality pork thigh meat. It's seasoned with several spices and is mild with a touch of sweetness.
Do as the Locals Do and Enjoy Some Tapas, Venetian style
Our next stop was Do Mori, a small, dimly lit bácaro or Italian pub, that accommodates about ten people standing up. founded in 1462, it's the oldest bácaro in Venice, and is reputed to have been one of Casanova's favorite hangouts.
Do Mori serves seasonal homemade cicchetti, or Venetian tapas, and wine. It's an old-school place with a cozy, dim-lit interior, adorned with wine barrels, old photos on the walls and antique copper pots hanging from the ceiling. No chairs, no tables, just a long wooden bar, where people stand and eat, drink and socialize.
We sampled the cicchetti, of which there was an ample selection. Everything from fried meatballs to crostini topped with sardines, shrimp and zucchini, roasted pumpkin with brie, prosciutto with honey and peppercorns, calamari with eggplant and more.
And there were also tramezzini, crustless oversized sandwiches stuffed with deli meats, cheese, veggies and tuna. Plus the ever-popular baccala mantecato, or salted codfish simmered in milk and whipped into a creamy mousse. I think the latter is an acquired taste, which I have yet to acquire.
Italian Bakeries Will Lure You in With Their Aromas
At Mauro El Forner, the aroma of freshly baked bread and pastries fills the air. This well-known bakery is more than eighty years old and boasts the experience of four generations of bakers.
They use only the highest quality products and maintain traditional artisan techniques. And they make over fifty types of bread plus a variety of Venetian sweets.
We tasted Sfogliatine, a typical cookie from the region. The Italian word sfoglia means sheets, which describes the layers of puff pastry dough in the cookies. They are then coated with an apricot glaze and baked to a crisp for a light, not-too-sweet, delicious treat.
When in Venice, Drink a Spritz, or Two
Our fourth stop was at Basegone, a bar, ciccheteria and winery. In addition to the wonderfully innovative cicchetti, this establishment specializes in spritzes, from Aperol and Selecta to Campari and Cynar.
Aperol spritz is the most popular and you'll see tourists and locals alike drinking the neon orange libations everywhere in Italy. I liked each of the spritzes except for Cynar, which is very herby and artichoke-based.
Embrace Gelato in Italy
The tour ended at the award-winning Gelateria al Doge. Tucked in a corner of the Campo San Toma neighborhood, the shop has a walk-up window where you order your gelato. Choosing your flavor, however, can be a process, as there are more than fifteen flavors available – all homemade, of course.
If you're a chocolate lover, you'll be in heaven, as they have eight versions of chocolate, like the signature Crema di Doge, a candied orange and chocolate melt-in-your-mouth concoction. Or the spicy chocolate (with pepper!) or dark-pink Himalayan salt and cocoa.
And if you'd rather drink your gelato through a straw, the shop blends a variety of milkshakes. And there's traditional Sicilian granita, too.
As I walked away, I murmured, "Gelato, amore mio, I wish we could always be together!"
Book This Trip
Ready to start planning a fantastic foodie getaway to Venice? Get prepared with knowledge on how to get around, hotel and VRBO accommodations, local restaurant reviews, insider tips on the best shopping and more through TripAdvisor and Travelocity.
Be sure to make the most of your trip by booking foodie activities in Venice, skip-the-line tickets for top attractions and expert-led tours through GetYourGuide. Find more information and book your dates in advance here.
Pack all your travel essentials and still have space to bring back all your shopping in Venice with the expanding carry-on suitcase from AWAY. Discover the rest of their top-rated travel bags here.
Author Bio: Debbie Stone is an established travel writer and columnist, who crosses the globe in search of unique destinations and experiences to share with her readers and listeners. She's an avid explorer who welcomes new opportunities to increase awareness and enthusiasm for places, culture, food, history, nature, outdoor adventure, wellness and more. Her travels have taken her to nearly 100 countries spanning all seven continents, and her stories appear in numerous print and digital publications.