In 1902, William F. "Buffalo Bill" Cody built The Irma, a classic Victorian hotel that he named after his youngest daughter. He called it "just the sweetest hotel that ever was."
Cody History
By this time, Cody (born 1846) had become a beloved American icon after a career as a Pony Express rider (at age 14), trapper, frontiersman, Union soldier, Indian scout and, finally, showman and producer of the world famous Wild West show for 30 years.  It was while working as a scout for the Kansas Pacific Railroad that he got the nickname "Buffalo Bill" since his job was to kill bison to feed the crew. Without a doubt, he performed his job well! As a result of his daring adventures and expertise in everything he did, he earned the Congressional Medal of Honor for bravery.
Largely because of Cody's celebrity and also due to his good business sense, a group of investors approached him to develop an agricultural community in Wyoming's Big Horn Basin. Cody knew the area well, and, being the dreamer that he was, envisioned a tourist town that would be the east gateway to Yellowstone National Park, created in 1872. His namesake, Cody, became a town in 1896.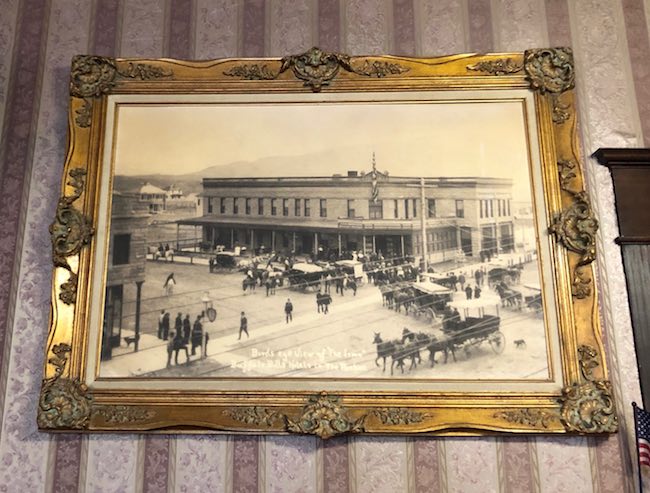 The Irma Hotel
When Cody hired church architect Alfred Wilderman Woods to design The Irma, he wanted a fancy hotel like those in established western towns to encourage easterners to visit and dispel the image of the wild west. On the other hand, his show and persona were all about the west being wild, "so it was a delicate dance for him," said Jeremy Johnston, curator of the Buffalo Bill Museum in Cody. "The town as it developed struggled with that as well," he added.
Listed on the National Register of Historic Places, The Irma's thick exterior walls are made of river rock and locally quarried sandstone. Rock, ores, minerals and fossils from the Big Horn Basin make up the fireplace. Its famous cherrywood bar—rumored to have been a present from Queen Victoria after Cody's command performance for her in 1888—dates to the time of construction. Therefore, it's likely not from the Queen. In addition, had Cody received such a present, he was the type of showman who would have broadcast it all over the world, according to Johnston. Not a word was said. Nevertheless, it's a gorgeous piece of furniture where I understand Ernest Hemingway was frequently seen.
Cody was a hunter and often invited his friends, who included European royalty, for hunting parties in the area. Could some of these trophy heads have come from those times?
Dark wood paneling, romantic wallpaper and flowered carpeting give a nod to the style of the Victorian era. Alas, there were no elevators then and there are none now. But if you ask at the front desk, they will summon someone to schlep your luggage up the stairs.
Rooms at The Irma
Of 39 guest rooms, 19 are historic, named after people who lived there during the era. The rest have been updated. All have private baths and air conditioning. I choose Room 14 named after Agnes Chamberlin, who came to Cody to work at the Cody Enterprise, the newspaper started by Bill Cody. She eventually started another hotel across the street from the paper that exists today, The Chamberlin Inn. Number 12 is Bill Cody's room; number 16 is Irma's suite. She died in 1918, a year after her famous father.
My room has a few pieces of period furniture, creaky floors and flowery carpet and wallpaper like I would expect from an historic hotel. It is old school, with an old telephone, phone book and bible in the bureau drawer. A TV and coffee maker are the only contemporary items in the room. WiFi is spotty or non-existent.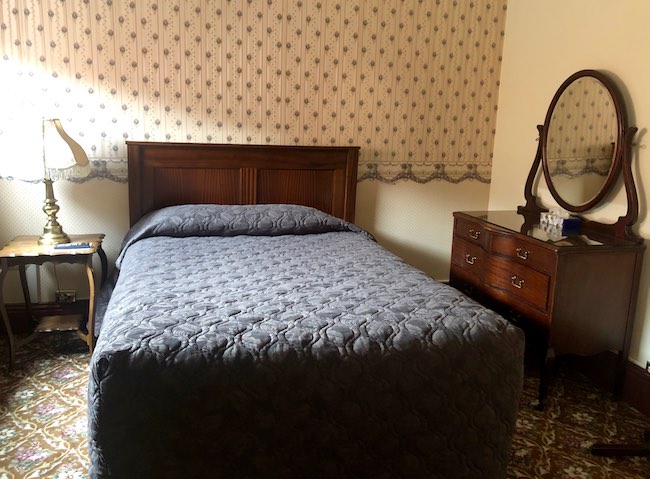 The most interesting part of the room is the black-and-white tile bathroom, with penny tile floor and pull-chain toilet flush. However, separate hot and cold water faucets took some getting used to, and I never could figure out the drain stopper. But its authenticity is cool!
Cody at The Irma
Colonel Cody kept two suites for himself and his family when he visited town. In his hotel office, he likely planned his other ventures that he negotiated later in life. This vintage photo (circa 1907) shows Cody (far right) at the then registration desk at the Irma. He still had his trademark mustache and goatee that had turned grey, but the long hair in later years probably was a wig. "Scouts grow their hair long," he said in an 1887 interview. "Our business is in the open, rain or shine, and we have found from experience that the greatest protection to the eyes and ears is long hair." Moreover, it was a mark of bravery showing they escaped getting scalped by the Indians! For Buffalo Bill, it was his brand. When someone suggested he tuck his locks into his hat, he replied, "If I do that, it will cost me a fortune."
Dining at The Irma
In the main dining room you'll see tourists and locals, real cowboys who sit at the cherrywood bar nursing their beers. The dining room offers breakfast, lunch and dinner buffets every day throughout the summer and weekends during winter, as well as full menus. Its lunch and dinner specialty is prime rib. Being a vegetarian, I am happy perusing the buffet and salad bar, which is plentiful.
The Governor's Room hosts private parties, but I peek in to look at the photos on the walls. The style of the room is typical of the rest of the hotel. There's also a very nice boutique with western-style clothes.
More Buffalo Bill Quotes
On Women: "If a women does the same work a man does and just as well, she should have the same pay. I pay the women in my show just as much as the men, to be sure I do the square thing."
On Native Americans: "The Indians have been badly used. They have their side of the story. For honesty and virtue, I think the Indians are ahead of the whites. Where is the white man who would not fight if everything were taken away from him? They were here first, and have a better right to be here than we have."
What To Do In Cody
If you didn't know who Cody was named for, you will after you roll into town. Statues, photographs, paintings, businesses all around town carry the name William F. Cody or Buffalo Bill. If you become fascinated with the man, as I have, the best place to find out more is the Buffalo Bill Museum housed in the Buffalo Bill Center of the West. Four other museums are here: Cody Firearms Museum, Draper Natural History Museum, Whitney Western Art Museum and Plains Indian Museum.
Cody Trolley Tour gives an hour's overview of Cody and his town.
On the original site of the town of Cody sits Old Trail Town, a collection of real cabins, horse-drawn wagons and artifacts from Wyoming's past relocated by a Wyoming archaeologist to create an 1880's town, complete with boardwalk and dirt street. Butch Cassidy's cabin and Jerimiah Johnston's grave are highlights.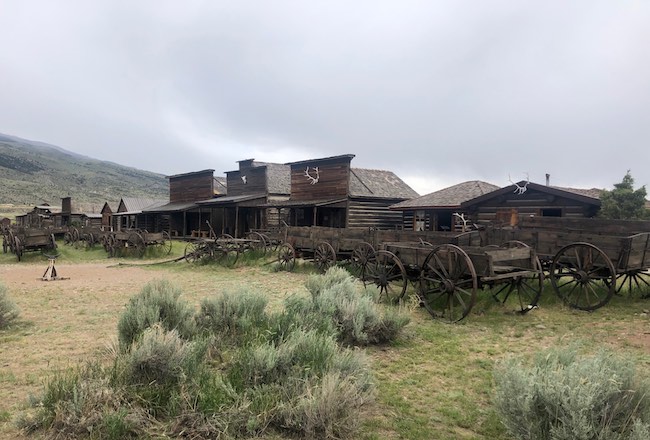 A more modern take on the American West is at By Western Hands, an upscale gallery, museum and workshop of functional artisans from around the west. Free exhibits showcase amazing pieces in wood, metal, leather and glass that celebrate western design.
When night falls, you have a choice of an authentic rodeo right in town (every night from June through August) or Dan Miller's Cowboy Music Revue in a theater next to The Irma. Miller and his multi-talented musicians (one of them his daughter) give a fast-paced performance of new and old western songs that reminds you that you are in Wyoming!
There's so much more to see and do in Cody—all the mountainy activities like fishing, hiking, horseback riding, rafting, firearms shooting—and then there's Yellowstone National Park just next door! I will devote another post to my visit there and a stay at the Lake Yellowstone Hotel.
For more information on Cody, please visit codyyellowstone.org.
The Irma, 1192 Sheridan Avenue, Cody, Wy 82414; 307-587-4221; www.irmahotel.com
Claudia Carbone is an award-winning travel writer based in Denver. Read about other hotels she's visited in Sleepin' Around.