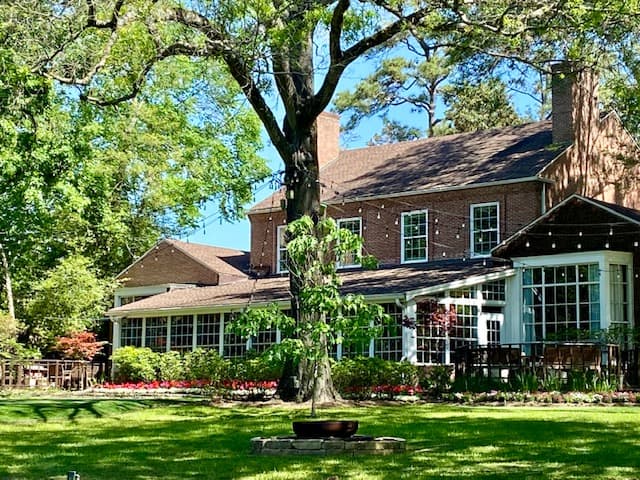 "I have stayed at The Houstonian and it was an extraordinary experience. I highly recommend visitors to Houston stay there." Max Angerholzer, CEO of the George and Barbara Bush Foundation.
When George Bush came home at the end of the day – and I mean home to Texas not the White House – they could fall into the lap of luxury in The Houstonian Hotel's stand-alone Manor House and eventually stretch out in one of the hotel suites.
When I say luxury I don't mean the kind of over-the-top mirrored, gilded, mirrored, Versailles style luxury a recent president's properties are known for. I'm referring, rather, to The Houstonian Hotel's warm, understated elegance. The kind of natural, campus setting that would foreshadow the Navy pilot-turned Yale first baseman-turned oilman-turned Congressman-turned envoy to China-turned RNC party chair-turned CIA director-turned U.S. vice-president's Bush's future access to a similarly tree-filled retreat called Camp David.
"When Bush became Vice-President in 1981 The Houstonian's Manor House, where he'd also stayed as CIA director, became the place they came back to whenever they returned to Houston. Then they moved right into the hotel in 1986. Anyone could stay in that same suite," said David Jones, a Houstonian who provided advance work for his friend George Bush and is the immediate-past CEO of the George and Barbara Bush Foundation.
Steve Fronterhouse, The Houstonian's general manager, gave me specifics.
"We were the home of the Bushes on two separate occasions. The Manor House, which is now a special occasion venue, and then in Suite 271 and once in the Manor House. And when they moved to a nearby home it remained a pleasure to serve them for decades," said Fronterhouse.
Living in and Loving a Long Relationship
After his presidency concluded in 1992, the Bushes' subsequent home and the President's office were in the Houstonian Hotel's neighborhood.
"The President and Mrs. Bush were great people and into health. They had a real legacy of fitness," said Fronterhouse, who noted the 175,000 square-foot Houstonian Club offers three heated swimming pools amongst the many options for activities, including state of the art exercise equipment and a paved, isolated wooded walking trail the president is said to have traversed securely many times. "It wouldn't be uncommon for guests and members to come across him walking out there."
President Bush, at least once, ran though the hotel, in a story Jones recounted. He said upon arrival in the underground parking garage, President Bush got the idea that instead of waiting for the elevator to take him up to the second floor he might be able to beat Mrs. Bush by sprinting to their suite up the stairs and through the hallways. Jones said moments later when Mrs. Bush reached their suite and turned on the lights, her hilarious husband, who had jumped under the covers pretending to be already sleeping, rolled over and asked, "What took you so long?"
It was fun for me to retrace those steps and visualize the President tearing up the stairs. I noticed a sign in the stairwell on the door leading to the hallway which read: "You have burned seven times more calories than had you taken the elevator."
President Bush got haircuts at The Houstonian and Mrs. Bush enjoyed the spa.
It was golf that gave one of Houston's historic athletes, Jim Perry, who captained the University of Houston's basketball team, the opportunity to meet the President and Mrs. Bush at the hotel.
"Sportscaster Jim Nantz had his 'Three Amigos' golf fundraiser in Houston with PGA Tour players Fred Couples and Blaine McAllister and there was an event at The Houstonian Hotel," said Perry, a friend and school chum of Nantz. "It's beautiful there with great food."
Bush was so devoted to sports, Fronterhouse said the former president would pop in in the middle of the day. "He'd cut out of meetings at his office during the day and come to the pool and swim and then get dressed and get back at it."
Bush's office in the Galleria area has been preserved since Bush's passing in 2018 remaining intact and in use today by the George and Barbara Bush Foundation. Max Angerholzer is the new CEO of that organization. "It is very useful to us to show people the President's office. And I have stayed at The Houstonian Hotel and it was an extraordinary experience. I highly recommend visitors to Houston stay there," he said.
Enclave and Oasis Hidden in Houston's Urban Environment
The Houstonian Hotel is near sky rises and business offices but itself, it is more of a campus than a hotel. It's a 27-acre, healthy hideout with 289 rooms and guest suites with floor-to-ceiling windows amidst big, mature trees in an enclave that didn't just lodge the Bushes – it literally served as their home beginning in the 1980's.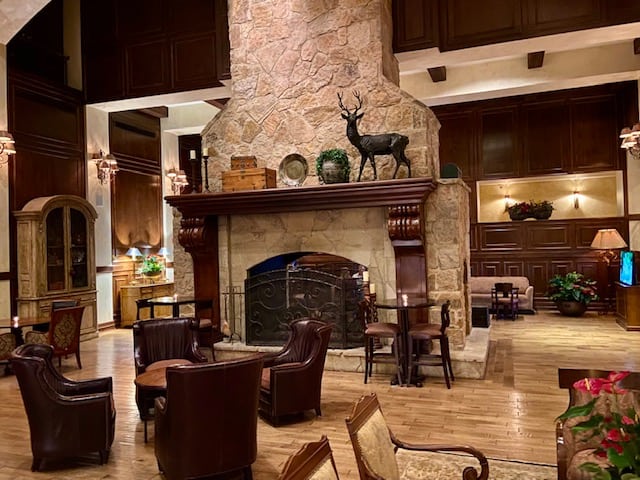 The Houstonian proves it by proudly presenting guests with the same chocolate chip cookies the First Lady would bake – and the recipe. And when I asked the concierge if I could send gift boxes of the cookies to local celebrity preacher Joel Osteen – and also some to my mother in Michigan (who adored Barbara Bush) – the answer was an immediate, enthusiastic "yes!" (Houstonian staff members prove to be awfully good at positive responses.)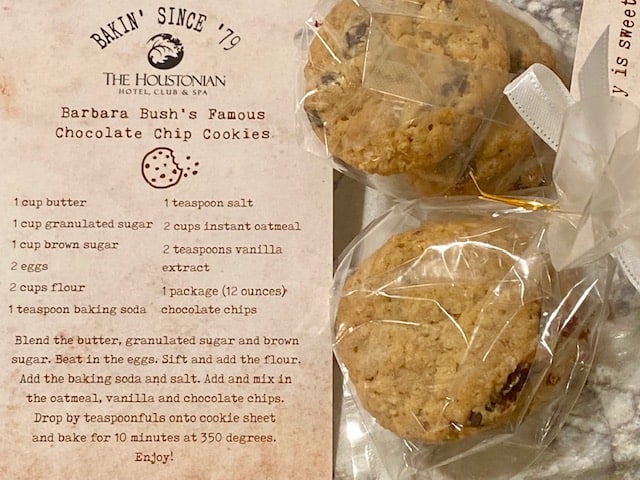 Journalist Jean Becker, now a Houstonian, worked for and with Mrs. Bush collaborating on a number of books and became her husband's chief of staff after he left the White House – a decades long experience she wrote about in her own book The Man I Knew – the Amazing Story of George H.W. Bush's Post-Presidency.
"President Bush was the number-one sports fan in Houston. He loved the Astros, Texans and Aggies," said Becker, who attended some of the games with Bush. She visited with me at The Houstonian Hotel just before her book was published. "He loved Tex-Mex food, too. He and Mrs. Bush have a rich, happy life in Houston."
Becker, due to the all-consuming nature of her work, like the Bushes, split her life working with them by living in Houston in the winter and Kennebunkport, Maine in the summer.
"They had two homes and they loved them equally. The people in Kennebunkport wanted to believe they loved them best. And people here in Houston felt Texas was best for them," Becker said with a smile.
There was occasional interplay. Kennebunkport resident Stephen Spenlinhauer and his wife Alicia visited their friends the Bushes many times in Texas.
"The Houstonian is a beautiful location. We've stayed there many times over 20 years. We all gathered there once and took the '41 Train' to the Bush Museum and Library for the grand opening," said Spenlinhauer, who now serves on the board of the museum, which is at Texas A&M University in College Station, less than two-hours away by car. "We usually came in the fall and always had fun and went to lunch or out to play."
The Bushes were not only visible at the hotel but also in restaurants, events, and even at grocery stores.
"Houston was their home for much of their lives," said Angerholzer. "In many ways they are still the 'First Family' of Houston.'"
Houston's international airport is even named for Bush – an airport used by the world leaders who were summoned by then U.S. President George H.W. Bush to gather for the 1990 G-7 Economic Summit.
Dining In and Out
"You never knew who the Bushes might have with them in tow. World leaders and friends. We saw a lot of them," said Alex Brennan-Martin, proprietor of the city's prestigious Brennan's of Houston restaurant. "When President Bush's son George W., who had been Governor of Texas, was running for president, during the hanging chad vote count incident, we got a call that the Bushes were coming to Brennan's. It turned out they brought George W. and Laura with them. They were just trying to relax. George W. Bush is a hoot. He's been here many times. He's a good ol' boy…and I mean that as a compliment."
Brennan recounted Mrs. Bush coming in with six of her grandsons for dinner.
"Whenever the Bushes were coming to Brennan's we would get a call about 15-minutes before they'd arrive. The advance folks would arrive and case the place. We always kept a table close to the Bushes for the Secret Service agents. They just blended right in," said Brennan-Martin, who said the short notice had him hopping with other preparations. "President Bush loved chili-fried oysters over a roasted corn sauce. We haven't had it on the menu for years but when he was coming in, we knew to prepare it. He had it the last time he dined with us."
Brennan-Martin showed me where President Bush sat during that last meal at Brennan's.
"He came in with Jim Baker (the Texan who Bush named U.S. Secretary of State) and some of his other old friends sometime after Mrs. Bush had passed away. President Bush was in declining health and he was actually concerned he'd cause an inconvenience to the wait staff and other diners with his wheelchair and told us to seat him anywhere we wanted. I told him we'd put him right where we always put him."
Brennan-Martin said that was another example of how the former "Leader of the Free World" was one of the humblest people he'd ever met.
"I remember after he'd lost the election he came in and the entire restaurant stood and applauded. The Bushes didn't like a stir but they loved it when young people would say hi or ask for an autograph," he told me. "President Bush always remembered the server's names."
The Houstonian Sets the Bar
A server back at The Houstonian also fondly recalled serving the Bushes who they said came in frequently for lunch. Jones told me other guests at The Houstonian respected the Bushes' privacy and gave them space. "It just worked here for them. Someone might be having lunch next to President Bush and he had no issues with smiling and waving. He knew there might be a wedding going on – and he might even drop into it," said Jones.
I chatted with the bartender as I sat at the bar in what the hotel has named "The Bar." I wondered if the name was a tribute to Barbara Bush, whom George often referred to as "Bar." I decided, as I lifted a margarita, to presume that it was without asking, and drank to the woman President Bush also dubbed the "Silver Fox."
In terms of also evoking the Bush legacy, Becker said the more than 100 year-old Texas oak tree in front of the hotel was not purposely decorated in salute to President Bush's 1988 presidential acceptance speech during which he invoked the phrase "a thousand points of light."
"There are actually 100,000 points of light in that incredible oak tree," revealed Fronterhouse of the white lights that give the massive trunk and sprawling branches a glow every night under which guests can walk and even stage small event gatherings. It's a brilliant display and a stirring experience in front of a hotel President Bush could also have appropriately and equally been referring to in that acceptance speech when, just before the points of light reference, he used the phrase "an endless enduring dream."
Read more on Michael Patrick Shiels' travel blog, The Travel Tattler. Contact Travel Writer Michael Patrick Shiels at [email protected]